Click Here for More Articles on STUDENT CENTER - COLLEGE EDITION
Brooklyn College Presents 'Bring A Weasel And A Pint Of Your Own Blood' Festival Of Plays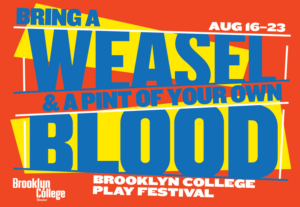 The Department of Theater at Brooklyn College is one of New York City's outstanding institutions in the training of theater artists. With the assistance of a generous grant from the Tow Foundation, the Department of Theater, in conjunction with the MFA Playwriting Program, headed by co-coordinators Mac Wellman and Erin Courtney, will present the annual Weasel Festival, hosted by The Public Theater (August 16-23). This festival of new works, previously produced by the playwrights, will feature performances of plays written by Arika Larson, Eri Nox, Tanya Everett, and Cherry Lou Sy, all of whom are recent graduates of the MFA Playwriting Program at Brooklyn College.
As the only department within the City University system to offer a comprehensive selection of graduate programs in Theater (Acting, Design & Technical Theater, Directing, Performing Arts Management), we capitalize on our New York City location and the expertise of our nationally recognized faculty in order to give our students an excellent yet financially accessible education in the art, craft, study, and appreciation of theater. In doing so, this year's Weasel Festival will feature current students and alumni of the Brooklyn College Graduate Acting Program and be designed by current students from the renowned MFA Design and Technical Theater program.
Smart, imaginative and eclectic, the festival will present four new works in two programs. 'Program X,' directed by Tara Elliott and Eri Nox will feature the shes by Arika Larson and QUILTBAG by Eri Nox. A and Bea b y Tanya Everett directed by Dennis A. Allen II and Animus Anima//Anima Animus written by Cherry Lou Sy and directed by Eugene Ma will be featured in 'Program Y.'
The "Bring A Weasel and A Pint of Your Own Blood" festival was founded in 2006 by Mac Wellman and a group of alumni MFA playwrights from Brooklyn College, Erin Courtney, Kate E. Ryan, and Karinne Keithley Syers. The festival was designed around the task of adaptation and inspired by 13P, the festival was self-produced by the playwrights. This year, the playwrights were given the prompt of responding to the paintings of Hilma af Klint. Erin Courtney, a former graduate of the program and an Assistant Professor who has taken on the role of director of the MFA playwriting program as of Spring 2019, chose af Klint after viewing the Swedish painters' retrospective at the Guggenheim Museum: "Hilma's paintings are large scale abstractions that were ahead of their time. They are bold, mystical, ineffable, and undeniable in their potency. It seemed like a perfect fit for the Brooklyn College playwrights."
Partnership between The Public Theater and Brooklyn College is made possible by The Tow Foundation.
Tickets are $10.00. Purchase both Program X and Y and save $5 on your order. Join us at The Library after evening performances for a post show Happy Hour. Get 10% off with your Weasel Festival ticket.
For reservations at The Public Theater call Taub Box Office at 212.967.7555 or online https://publictheater.org/brooklynfestival || For tickets at Brooklyn College call Brooklyn College Box Office at 718-951-450 or online tickets.brooklyncollegepresents.org/Weasel
Related Articles
More Hot Stories For You