BWW Previews: THE GOOD SWIMMER World Premiere at BAM Fishman Space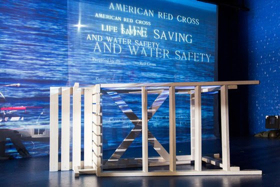 The saying, "Good things come to those who wait," could certainly be applied to the world premiere of The Good Swimmer playing at BAM's Fishman Space as part of the Next Wave festival from November 28th-December 1st. Defined as a pop requiem for the youth of the Vietnam War, this collaboration between Heidi Rodewald (music) and Donna Di Novelli (lyrics) directed by Kevin Newbury has been the better part of a decade in the making since the two women began working on the piece at a Eugene O'Neill Theater Center residency and left with three songs based on text from out-of-print lifesaving manuals that would become the foundation of The Good Swimmer -- the title song, "Red Cross" and "Double Drowning".
Rodewald is well known for her partnership with Stew on alternative explorations of the modern musical such as Passing Strange and The Total Bent, and Di Novelli and Newbury have careers that span theater, film and especially opera. Together -- with an exceptional choir of young singers from their teens to 20s and a nine-piece band led by the powerful vocals of David Driver with Rodewald herself amongst the musicians onstage -- they pooled their diverse toolkit of talents to create a moody, emotional song-cycle that addresses the ongoing issues of war, sacrifice, loss, heroism, idealism and, most of all, saving lives. Along with vivid and haunting imagery from Greg Emetaz, set design by Victoria "Vita" Tzykun and movement choreography by Raja Feather Kelly, The Good Swimmer is set in 1964 -- the early days of the Vietnam War (the time of The Gulf of Tonkin incident that lead to the USA's involvement) -- among a group of young lifeguards.
Di Novelli drew inspiration for the libretto from elements of Antigone (repurposed in the character of "the sister" lifeguard, played by the sole female in the chorus, the magnificent and well-cast Sophia Byrd who returns to BAM's Next Wave 2018 after her debut in Place which premiered at BAM Harvey Theater in October). The lyrics are all from found texts sourced from a variety of historical resources: defunct life-saving manuals, field guides, weather and tide reports that have been radically re-contextualized by Di Novelli and are surprisingly poetic and potent. Set to Rodewald's haunting, mesmerizing score which is watery and fluid with a pervasive sense of melancholy that suddenly launches into a bombastic rock soundscape, these vintage yet seemingly timeless expressions of humans helping each other, are enlivened.
I was fortunate to be granted the exclusive opportunity to interview Heidi Rodewald and Donna Di Novelli and observe their rehearsal process as the cast, crew and creative team toiled tirelessly over the weeks bookending the Thanksgiving holiday that are leading up to the world premiere at long last. Choreographer, Raja Feather Kelly meticulously investigated the choirs' movement abilities by first opening them up in a circle discussion by asking their astrological signs and dance backgrounds. It turned out to be a great way to get the college-aged professionals to get comfortable and feel accepted for who they are in the space.
When I returned to check out the rehearsals at another date, this exploration had led to dramatic gestures, full of meaning in their simplicity and trust in the timing and words.
The band had also entered into quite a journey in their process of bringing life to such a variety of musical styles from waves of transcendental progressive rock with wailing guitars and a cascade of percussive crescendos to piano-laden spirituals and mournful melodies from the trumpet, sax and violins. But the most rewarding experience in the process was sitting down to chat with the creators themselves, Heidi Rodewald and Donna Di Novelli.
Cindy Sibilsky for Broadway World: I've been given a sneak preview of the title song The Good Swimmer. What a powerful piece! It's heroic, a little melancholy and downright catchy too. The lyrics "the lifeguard may not be concerned about the good swimmer" makes me think of an "every man for himself" mentality, where in contrast the lyrics "but the lifeguard knows, if he lets one in, others less capable will follow". This strikes me as evoking a sense of crowd mentality and the saying "if everyone was jumping off a bridge, would you?" Can you speak to the lyrics and their meanings as well as how the music shapes and serves the song's emotional context?
Donna Di Novelli: You know that the lyrics are all found text from different sources, but this piece comes from an old lifesaving manual from 1937 no longer in operation. There are many layers to this piece but for us, we are looking at a family of lifeguards in 1964 at the beginning of the Vietnam War. Part of The Good Swimmer is about how the lifesaving urge and ethos gets thwarted and turned into a military idealism and aspects. It's actually about trying to protect and save lives but what happens when that person goes to war and others follow him? A lot of it has to do with trying not to create heroes from soldiers so that others don't follow. That's sort of it in a nutshell. But to work with found text and to give it to Heidi Rodewald -- what she does with it, those melodies, one song after another -- it's incredible! There have been plenty of arguments between us but never about the songs because we both love found text and what Heidi does with it.
HR: The whole piece is just metaphors. We are talking about a swimmer then talking about going to war so for every single bit of this the metaphors are just all so beautiful that it makes it easy to write interesting music to this found text because the way these sentences are built -- most from 1937 -- the wording is exciting because it's just a manual but it's about saving lives, so there are metaphors in every single thing. There's a song called "Double Drowning" about how you're learning how to save somebody and they could pull you down with them and you'll both drown -- could there be a deeper metaphor for everything? Every bit of these songs mean something to everybody in a different way. We are not hitting people over the head with it, we are just saying: here are the words. I feel like that's why it works. It sells itself right there. All of our conversations over the years, this is so interesting to us and we are all so excited by this, all of the things you can do with that.
DDN: A lot of this piece is about the different journeys people go on -- what strikes somebody and not another and how do we keep them engaged without giving them a narrative. There have been many iterations of this -- including one with a narrative -- and in this version we really cut it down to the quick, to the abstractions. We feel that the songs are still delivering the emotional connection with the audience. And not just the text from lifesaving manuals -- there is a song which comes from a sonar manual from 1964 instructing someone how to listen to the sounds of the sea. It's poetic because of the juxtaposition from one song to another and how they accumulate together.
HR: The idea that Donna and I came up with is to beat out the essence of the story, the way we are telling it and what it's really about. I love that this has been going on for years and we've had a million discussions about how do you get to the heart of this.
BWW: You two have been working on this show for the past eight years and it's about to receive its world premiere for BAM's Next Wave Festival. Why were you so determined to tell this story and what made you persist so long?
HR: I think it's the way we are telling the story and what's kept us here for so long is what these songs are about -- empathy -- especially right now. It's this natural thing that human beings experience when they save somebody. This manual is all about how to hold someone tight enough but where they can still breathe. There's a lot going on in the world but I still feel we are doing something useful and important, it's about kindness. Kevin keeps saying this about the manuals -- nobody can argue that here is a book that everyone agrees with, there is no division or political line, it is just about saving lives. No matter what has transpired during our process or if we are disagreeing, the text itself pulls me back in. I'm proud of the music because these had to be great songs to honor the words and what they're about.
DDN: This has been such a long journey and we came at it for other reasons in the beginning but it has evolved to this. It has certainly taught me a lot. If this piece only reminds us of our instinct to save lives and that to rescue is a human impulse then that is enough, though it does so many other things. We need empathy so much today. In 2011 when we began, it wasn't the same kind of driving force. For me it began, at that point, with Antigone -- a sister who loses her brother to war. Then, since it is not a question about burial, it became the issue of how do you honor a soldier without turning him into a hero so that others follow? I think what this piece does is honor the lifeforce of these young soldiers because the statistics are that the largest group of G.I.s who died in Vietnam were under 22 and served for less than 3 months but were remembered mostly for how they died. Because our piece is set in 1964, people didn't really know much about this war at that time but then over a million lives (including Vietnamese) were lost.
HR: The recruitment process for people becoming lifeguards and military had a very similar ideology -- 'Be someone! Save lives!'
BWW: What was your process in working both together and on your own to create and perfect this piece?
DDN: We started together with our residency at the Eugene O'Neill Theater Center and we sat on our summer porch looking at the water and left with three songs we developed together. I write alone and then Heidi does the music alone but the creative process was going back and forth with one another trying to define 'What is this?'
HR: We'd change -- sometimes I would do what she proposed or other times she'd hand me something and I would tear it apart or we have a different chorus in our minds for which part must repeat over and over again. It starts when Donna pulls this amazing text out and then we have to figure out -- ok, what are we going to do with this?
DDN: The process of using found text in such a way is called Erasure Poetry by which you can take any text and from it create poetry by deduction. I am not really adding things but I am taking away a lot. We were just talking with Raja, our choreographer, about how to show loss and there is nothing more potent about showing loss than when you are erasing things.
BWW: How has it been working together with your different experiences, musical styles and backgrounds?
DDN: Heidi made me cooler! (both laugh). I have done musical theater and opera and started out as a playwright.
HR: Donna is fancy.
DDN: No! (laughs). I can't even respond to that.
HR: You know what's hilarious? Donna is mostly from the opera world and Kevin is opera and we were doing our workshop presentation at HERE, which is all opera and Kim Whitener is also opera so all the sudden, the guy I work with, Stew, is saying 'Oh Heidi is all opera now.' He was trying to make me sound all fancy and we got a good laugh about that. I'm just a simple pop songwriter.
DDN: It has been really natural and organic because we connected so much on the text and one song after another, we just knew if that song was going to work.
HR: Yeah, it's these words, they just work. Plain and simple.
BWW: Why does this story need to be told now?
HR: These words are so powerful and timeless in their meanings and metaphors -- they just destroy us, these words -- truly now more than ever before.
DDN: I agree. There might be a slight thing too about these old manuals we are working from. The language is so beautiful as is the care in which the writer took to write that manual. I have looked at manuals from today and there is nothing beautiful about that language. This, in comparison, is art.
HR: Also in the manuals, the photographs and the diagrams, all the visuals are just so beautiful.
DDN: You'll see some of those from our incredible videographer Greg Emetaz's imagery. He's going to take you into the world of these books.
HR: There's something too about water as a part of the story. I could stare at the water all day, even footage of water. I love the stillness. Water is life. Or death.
DDN: That's right. Our director Kevin always says no matter what we do, it has to have more than one meaning.
BWW: I know it's early in the process, but how has working with Kevin Newbury and the cast further shaped the piece and what are you looking forward to seeing unfold in the rehearsal to ready-for-the-stage process?
HR: Well, this is what we are doing discovering right now. Because I am in the band, we have a stand-in for me to be able step out and observe from a creator's perspective. This is when all of these ideas we have talked about are coming together. It is such an interesting process to watch unfold and I feel very lucky that we get to spend our time working on something we love so much that is so meaningful to us all.
DDN: And how are all of these elements going to work together? We don't know. We are just exploring it -- the video elements, the choir that Kevin brought in from Chicago and Indiana because they were the right ages, the movement vocabulary of Raja, all of it is coming together for the first time.
HR: In regards to the choir -- we have tried various incarnations over the years, but once we found this choir it was the eureka moment that brought everything together. It's the perfect fit. A choir sound really works well with this piece and now here we are in the rehearsal process for the world premiere with all of the right elements finally in place. All of our conversations about what we wanted to achieve in theory is finally happening for real. The other beautiful thing about choosing the choir of young voices to tell this story is that decision has to lead us to the plan for the future of The Good Swimmer. Our intention is that when we do the show again, in whatever city we are touring, we will use a local choir -- a college choir, a youth choir -- and they will in the show. They'll be given direction and movement with simple, meaningful gestures thanks to Kevin and Raja, and these kids will have an opportunity not to just see the show but be a part of it. It becomes both an educational and a shared, participatory experience. With this, you can take the show anywhere as almost every town has a choir who have sung together and feel comfortable with each other. The ages range from about 18-22 years old and we'd send the music ahead of time then spend a couple of days working on the choreography with them. They'd get to do the show and be a part of a piece of living art that is already put together with their unique contribution added into it. We are really proud of this as our the goal and plan for the next stages of The Good Swimmer.
The Good Swimmer world premiere runs at BAM Fisher (Fishman Space) 321 Ashland Place from Nov 28-Dec 1 at 7:30pm. Tickets: $25. For tickets and more information: www.bam.org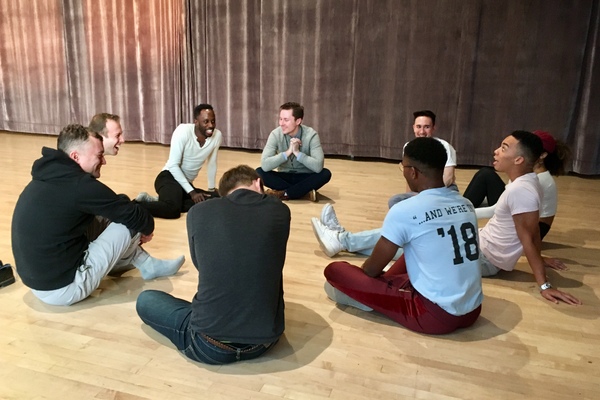 Choreographer Raja Feather Kelly and director Kevin Newbury have a rehearsal discussion with the Good Swimmer Choir: Jeremy Weiss, Sophia Byrd, Naseer Sleets, Joey LaPlante, Luke Bob Robinson, Papa Holt, and Kennedy Kanagawa. Photo by Cindy Sibilsky.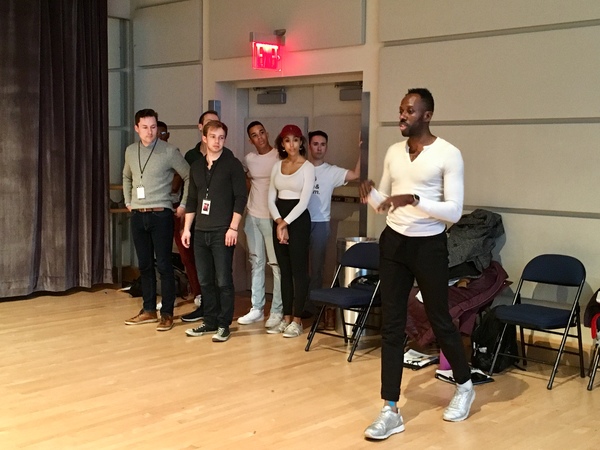 Choreographer Raja Feather Kelly instructs The Good Swimmer Choir. Photo by Cindy Sibilsky.

Heidi Rodewald, Kevin Newbury and Donna Di Novelli observe rehearsals. Photo by Cindy Sibilsky.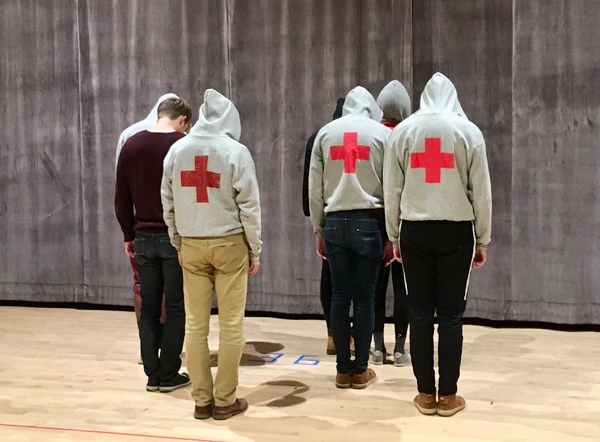 The Good Swimmer Choir in rehearsal. Photo by Cindy Sibilsky.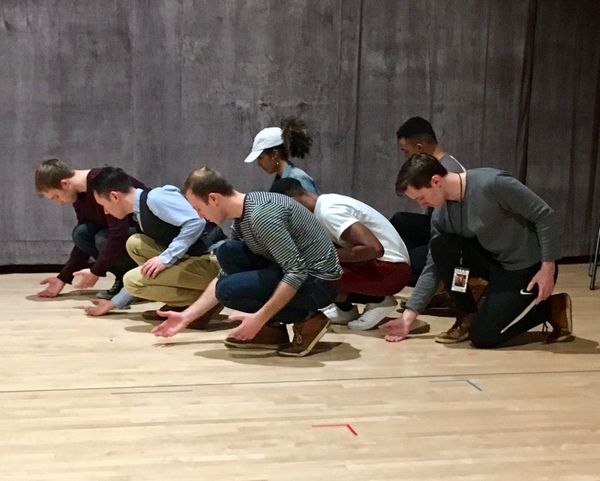 The Good Swimmer Choir in rehearsal. Photo by Cindy Sibilsky.

The Good Swimmer Choir in rehearsal. Photo by Cindy Sibilsky.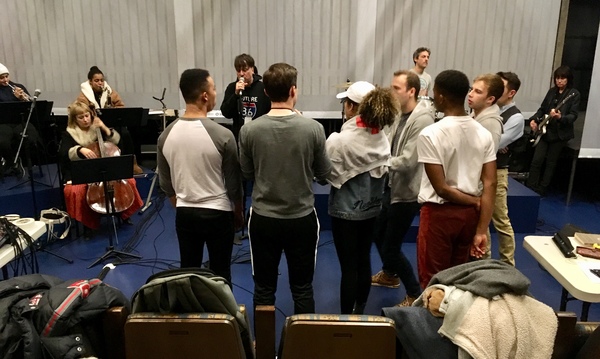 The Good Swimmer Choir in rehearsal with the band. Photo by Cindy Sibilsky.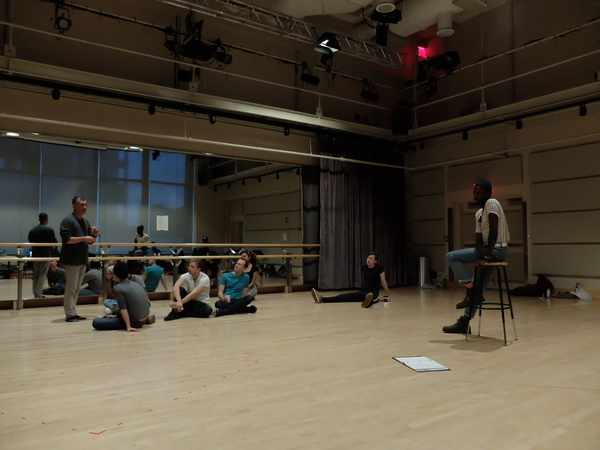 The Good Swimmer Choir in rehearsal with director Kevin Newbury and choreographer Raja Feather Kelly. Photo by Randolph Terry.

The set and stage for The Good Swimmer at BAM's Fishman Theater. Photo by Randolph Terry.