Immersive Theatrical Experience MIDWINTER MISCHIEF Returns to Old Sturbridge Village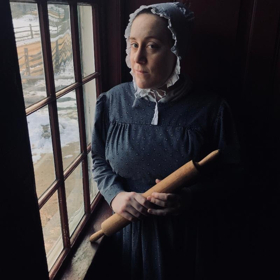 Old Sturbridge Village announces the exciting return of a winter theatrical experience that the Village first presented last year; an innovative, new way to experience New England's premier living history museum: Midwinter Mischief.
Imagine the tale of a Yankee peddler passing through the Village who decides to settle down at the Bullard Tavern on a cold winter's night. There the peddler spends every dollar he has earned on food and drink, racking up a tab far beyond his means. After being confronted over his debt, the peddler fills his cup with ashes from the hearth and promises the tavern owner that he will return with a cup overflowing of gold. From the Bullard Tavern, costumed storytellers, artisans and villagers will entice tavern guests to wander deep into the Village where they will find evidence of the peddler's adventures and schemes.
"On select weekends in January and February, small groups of guests will embark every 20minutes on a one-hour and 45-minute journey through the Village where they will encounter villagers and trades people as they learn about the trials and tribulations of winter life in 1830s New England," said Michael Arnum, Director of Marketing & PR at Old Sturbridge Village. "We are excited to bring this new experience back, which combines theatrical storytelling, historical interpretation and period dining to create an interactive and intimate journey through the Village."
Admission to Midwinter Mischief includes the one-hour and 45-minute outdoor/indoor experience and a period-inspired meal in the Village's Bullard Tavern where guests will enjoy live music, demonstrations, and a cash bar featuring hot beverages and 1830s-inspired libations. Each day, the first experience departs the Bullard Tavern at 9:00 am and the last at 3:00 pm, with tours beginning every 20 minutes.
Midwinter Mischief was conceived, written and directed by P.J. Griffith of New York, NY, and will be brought to life by Old Sturbridge Village's costumed historians, artisans
and farmers.
"At Midwinter Mischief, guests will hear, taste, smell and feel their way through a wintertime adventure set in 1830s rural New England," said P.J. Griffith, creator and director of Midwinter Mischief. "The curated journey through Old Sturbridge Village is designed to be equal parts entertaining and educational. I grew up in rural Connecticut - just a half hour from Old Sturbridge Village, and am thrilled to be returning to the Village to share my passion for early American history and experiential storytelling."
P.J. Griffith appeared in Old Sturbridge Village's 2016 production of The Sleepy Hollow Experience and Sleepy No More, the acclaimed immersive theatrical experience in New York City. P.J.'s theater credits also include St. Jimmy in American Idiot on Broadway, Jett Rink in The Public Theater's premiere of Giant directed by Michael Greif, the first national tours of Mamma Mia and We Will Rock You, The Donmar Warehouse Mark Taper Forum Revival of Parade, the regional premiere of Rent at Musical Theatre West, the Los Angeles revival of The Who's Tommy with Alice Ripley, and the world premiere of Mark Saltzman's Setup & Punch at The Blank Theater for which P.J. received the 2010 LA Drama Critics Circle Award.
Midwinter Mischief Schedule
January 20-21, 27-28 and February 3-4, 10-11
Note - Old Sturbridge Village will be closed for regular, daytime visitation on Midwinter Mischief weekends. Both the general public and museum members will be required to purchase a ticket to Midwinter Mischief during this period.
Midwinter Mischief Tickets
Non-members: $30 Adult | $20 Youth (ages 5 - 17)
OSV Members: $20 Adult | $10 Youth (ages 5 - 17)
Note - Admission includes 105 minute outdoor/indoor experience and a 19th-century inspired meal at the Bullard Tavern - beverages not included.
Tickets for the program may be purchased online at www.osv.org
Old Sturbridge Village will be open other weekends in January for regular daytime visitation, as well as February 17-25 for Winter School Vacation Week.
More Hot Stories For You