Hamiltunes Sing Along to Celebrate HAMILTON's Arrival in Boston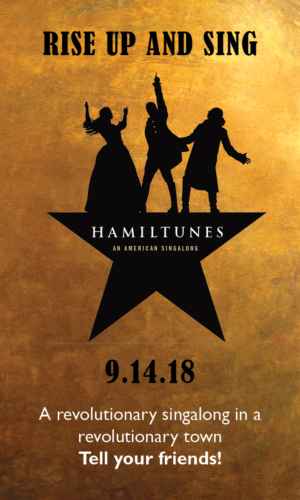 With "Hamilton" fever due to strike Boston in mid-September, Lexington Historical Society has come up with a way for the whole community to be in The Room Where It Happens.
The Pulitzer-Prize winning blockbuster opens at the Boston Opera House Sept. 18. Four days prior to that, the Historical Society is staging "Hamiltunes," a singalong program sanctioned by "Hamilton" creator Lin Manuel Miranda.
Some of those who signed up for the singalong, scheduled for 6:30 pm Sept. 14 at Cary Hall, registered to lead the audience in the musical numbers that have already become classics, and that half the school age population of Lexington seems to know by heart. About 500 people are expected to attend -- and costumes are encouraged! Tickets are selling briskly at $4 apiece.
The song leaders and audience will sing about a dozen numbers, guided by lyric screens at the front of the Hall and emcees Rick Beyer and Paul O'Shaughnessy.
"Lexingtonians of all ages rocking the house with song and history--are you kidding me, of course I want to be a part of that!," enthused Byer. "The story of Hamilton and Burr is an inspiration, a warning, a tragedy, a murder mystery and primer on early America. That's why I wrote a book about it, that's why Lin Manuel Miranda wrote his musical, and that's why it is going to be an amazing night!"
Free cider and popcorn will be served at intermission, and all attendees will get a goodie bag with a memento of the event, a ticket to tour one of the historic house museums operated by the Historical Society, and a voucher for a free year's trial membership in the group
Lexington Historical Society is an independent nonprofit passionate about preserving Lexington's history and sharing it with the public. We give tours of our fascinating historic sites, where the events of the early days of the American Revolution unfolded. Visitors walk in the steps of John Hancock, Samuel Adams, Paul Revere, and George Washington! We pride ourselves on celebrating Lexington's growing diversity through collaborative community programs. The Society has extensive collections from throughout three hundred years of Lexington history, which we display in engaging exhibits in many venues throughout our community.
Related Articles
More Hot Stories For You