Elise Arsenault Explores Gender & Love in VIRGINIA WOOLF'S ORLANDO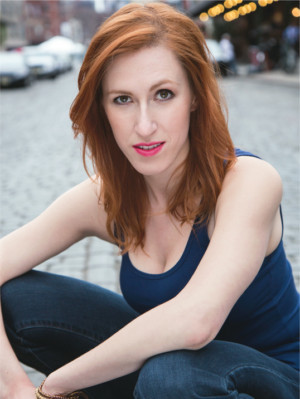 Actress Elise Arsenault explores gender and conventional love in the roles of 'Sasha', Musical Director and cellist in the new critically acclaimed production of Sarah Ruhl's adaptation of VIRGINA WOOLF'S ORLANDO, from the Lyric Stage Company of Boston and directed by A. Nora Long.
Currently running through March 25th, Virginia Woolf'S ORLANDO brings the original novel, written by Woolf as a love letter to Vita Sackville-West, to life on stage. The six-person ensemble narrates and transforms to tell the tale of Orlando the man waking up to find himself a woman. Beginning in 1588, this epic adventure reveals a love story transcending time, place and gender over five centuries. Along this journey, Orlando meets and falls in love "for the first time" with the androgynous Russian Princess Sasha (Arsenault), during one winter when the "ship of the Russian Embassy" is frozen on the Thames.
In addition to her acting skills, Arsenault also brings her musical talents to the production as the Musical Director and playing live music throughout the show. Arsenault shares, "I'm thrilled for the opportunity to play my cello as well as act in this production. Since seeing John Doyle's actor/musician production of Sondheim's Sweeney Todd (on Broadway in 2006) where young lovers played a cello duet while singing, I have been yearning for a similar opportunity. I can now officially call myself an actor/musician and will certainly be seeking more productions like this." In fact, Arsenault will next appear as an actor and cellist in Wheelock Family Theatre's production of Stuart Little.
Virginia Woolf'S ORLANDO marks a return to the Lyric Stage for Arsenault having previously appeared in Avenue Q (Elliott Norton Award, Best Ensemble) My Fair Lady, City of Angels, Into the Woods, and Company. In addition, her extensive stage experience includes recent appearances at Merrimack Rep, Stoneham, Ocean State Theatre Co, Colonial Theater, HowlRound, and Ivoryton Playhouse.
Arsenault honed her skills as a graduate of George Mason University and the British American Drama Academy at Oxford. She also studied improvisation with Gary Austin, founder of The Groundlings, and received extensive training in voice/speech with Thom Jones. She can be heard voicing national commercials and narrations for over 60 audiobooks, and co-owns The TreeCave, a full-service recording studio, with her husband, Justin Marra. Arsenault proudly shares her insight with other actors as a career coach, contributor to Backstage.com and founder of The Global Actor, a community for actors who live and work in multiple markets. As a director and teaching artist, Arsenault has facilitated workshops throughout the country with numerous organizations, including the Smithsonian Institute, The Lady Project and Washington National Opera.
For more about Elise Arsenault visit: www.elisearsenault.com
Virginia Woolf'S ORLANDO
Presented by Lyric Stage Company of Boston
Runs through March 25, 2018
Info/Tickets: www.lyricstage.com