Ciaran Sheehan and Sarah Muirhead to Headline SHOW BOAT at Reagle Music Theatre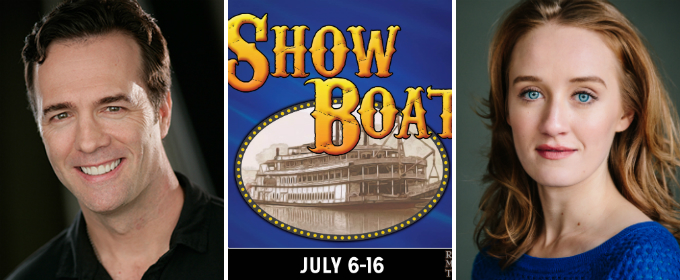 Broadway's "Phantom," Ciarán Sheehan, returns to Reagle Music Theatre of Greater Boston to take on the role of GAYLORD RAVENAL in Jerome Kern and Oscar Hammerstein II's 1927 masterpiece Show Boat. Running from July 6-16 for 8 performances only, Show Boat will also star Boston's own Sarah Oakes Muirhead (Sunday in the Park with George) as MAGNOLIA HAWKS.
A groundbreaking show when it debuted in 1927, Show Boat continues to touch audiences with timeless themes and unforgettable music. Rachel Bertone (IRNE Award Winner, Carousel, Wild Party) will direct and choreograph this intimate Goodspeed Musicals version of the production, in creative partnership with Musical Director and Conductor Daniel Rodriguez (Carousel, Barnum). Original set design by Mike Micucci. Producing Artistic Director Robert J. Eagle.
Tickets can be purchased at www.reaglemusictheatre.com, by calling 781-891-5600, or at the theater box office (617 Lexington Street, Waltham, MA).
"What's beautiful about the Goodspeed version of Show Boat, that our producer Bob Eagle has procured, is that it focuses very concisely on the themes of loss and love-the themes that bind all of us." said Rachel Bertone, Director/Choreographer. "The beauty of the theatre, to me, is how it so powerfully reflects our humanity in all its strengths and weaknesses, how it holds a mirror up to who we are so that we might learn something about our own journeys through life. Great writing, like Show Boat, accomplishes this and as a director I feel an almost sacred responsibility to convey these themes with as much truth and integrity to our audiences as I can muster."
Show Boat is based on Edna Ferber's bestselling novel, following three generations of the Hawks family on the Cotton Blossom river boat from 1887-1927. The story chronicles the fortunes of naïve Captain's daughter Magnolia and her troubled husband Gaylord Ravenal, and the lives of the performers, stagehands, and dock workers whose lives are affected by the ever-changing social current along the Mississippi River. Show Boat was the first fully integrated "book musical", tackling issues of unhappy marriage, miscegenation and racial prejudice. The musical's classic songs, including "Ol' Man River, "Only Make Believe," "Can't Help Lovin' Dat Man," and "You Are Love," have become mainstays of the Broadway canon.
Performance Schedule: Thurs, July 6th at 2:00 PM; Fri, July 7th at 7:30 PM - PRESS NIGHT; Sat, July 8th at 7:30 PM; Sun, July 8th at 2:00 PM; Thurs, July 13th at 2:00 PM; Fri, July 14th at 7:30 PM; Sat, July 15th at 7:30 PM; Sun, July 16th at 2:00 PM.
Music by Jerome Kern. Book and Lyrics by Oscar Hammerstein II, based on the novel "Show Boat" by Edna Ferber. The Reagle will be performing the latest version of the musical, arranged and premiered by Goodspeed Opera House. Show Boat is presented through special arrangement with R & H Theatricals: www.rnh.com.
ABOUT THE ARTISTS:
Ciarán Sheehan (GAYLORD RAVENAL)* - Ciarán, a native of Dublin, Ireland is thrilled to be returning to Reagle where last year he received multiple nominations for best actor in a musical for his portrayal of Billy Bigelow in Carousel. Recently he appeared to sold-out audiences in Nashville, TN in Peter Danish's award winning play The Final Days of Wolfe Tone as Wolfe Tone, a role he created last year in NYC and for which he received a best actor in a play nomination from Broadway World. Broadway - The Phantom of the Opera (1,000 as Raoul, 1,000 as The Phantom), Les Miserables (Babet/Marius), Off Broadway at The Irish Rep - The Irish...and how they got that way (Ciarán), Grandchild of Kings (Tom) written and directed by Harold Prince, The Hostage (Shaughnessy). Off Off B'way - 50 Words (Adam). Broadway Concert Performances - Finian's Rainbow (Woody), Brigadoon (Harry Beaton), Camelot w/ Jeremy Irons (Sir Dinadan), and Something Wonderful R & H with Shirley Jones. TV - Law & Order, David Letterman, One Life To Live and other daytime. PBS Specials - The Irish...and how they got that way, From Galway to Broadway, and Ciarán An Evening With Friends. Concerts and performances - four sold out concerts at Carnegie Hall, The National Concert Hall (Dublin), Cleveland Pops, Giants Stadium, Yankee Stadium, Citi Field, Barclay Center, Izod Center, and others. Currently Ciarán is one of the former Phantoms beginning a world tour in The Four Phantoms in Concert. *Member of Actors Equity Association
Sarah Oakes Muirhead* (MAGNOLIA HAWKS) is thrilled to be making her Reagle Music Theatre debut. Area credits include: Sunday In The Park With George, A Little Night Music (Huntington Theatre Company); Fiddler on the Roof (New Repertory Theatre); A Little Night Music (The Barnstormers Theatre); Arcadia (Central Square Theatre); The Women Who Mapped The Stars (The Poets' Theatre); 4,000 Miles, Spring Awakening (Gloucester Stage Company). Ms. Muirhead studied at the London Academy for Music and Dramatic Art and received her BFA in Acting from Boston University. She is also a coach for Boston-based My College Audition, helping the next generation of theatre artists to pursue their passions. www.sarahoakesmuirhead.com *Member of Actors Equity Association
Rachel Bertone (DIRECTOR/CHOREOGRAPHER) -- Rachel Bertone is a director, choreographer, and professor in the Boston area. As a director/choreographer, her work has been seen on stages both in New York and at top Boston professional theaters such as Reagle Music Theatre, Lyric Stage Company, and Moonbox Productions. Her productions have received numerous IRNE awards and nominations, including Best Choreography, Best Direction and Best Musical.
Favorite directing and choreography credits include: Carousel-IRNE Award: Best Choreography, IRNE nominations: Best Direction, Best Musical (Reagle Music Theatre), The Wild Party-IRNE Award: Best Musical, IRNE nominations: Best Direction, Best Choreography*, Barnum, Musical of Musicals* (Moonbox Productions), Creative License (FringeNYC), Joseph (Turtle Lane). Choreography credits: Guys and Dolls*, My Fair Lady, South Pacific, Les Miserables (Reagle Music Theatre), Company, City of Angels, Big River, Animal Crackers (Lyric Stage), Billy Elliot (Ocean State), West Side Story* (Turtle Lane). This fall, she looks forward to directing and choreographing Gypsy (Lyric Stage) and In the Heights (Wheelock).
Holding a BFA in Dance from The Boston Conservatory, she has also performed with several theaters and companies such as Lyric Stage, Reagle Music Theatre, Liars & Believers, Boston Ballet, Ballet Rox, Windhover Dance Company, and Prometheus Dance. She is on faculty at The Boston Conservatory, A.R.T. Institute at Harvard University, and Emerson College.
Single adult tickets for each production in Reagle's 49th Summer Season are $37-$65; discounts apply for seniors, students and groups of 10 or more. Student rush seats at 50% off are available one hour before curtain with a valid college ID. To purchase, visit www.reaglemusictheatre.com, call 781-891-5600, or visit the theater box office at 617 Lexington St, Waltham, MA, 02452. Hours of operation are Monday through Friday from 9 a.m. to 4:30 p.m., Saturdays 10:00 a.m.-2:00 p.m., with extended hours from 9:00 am to curtain on performance days.
More Hot Stories For You