BWW Review: THE BAKELITE MASTERPIECE: Truth or Consequences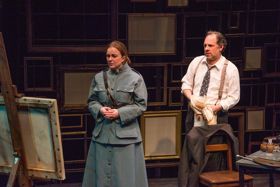 The Bakelite Masterpiece
Written by Kate Cayley, Directed by Jim Petosa; Scenic Designer, Cristina Todesco; Costume Designer, Molly Trainer; Lighting Designer, Scott Pinkney; Sound Designer, Dewey Dellay; Stage Manager, Brian M. Robillard
CAST (in alphabetical order): Benjamin Evett, Laura Latreille
Performances through April 8 at New Repertory Theatre, Mosesian Center for the Arts, 321 Arsenal Street, Watertown, MA; Box Office 617-923-8487 or www.newrep.org
Dutch artist Han van Meegeren was a noted forger whose talent landed him in a prison cell at the end of World War II, accused of treason for selling a long-lost Vermeer to the Nazis. Claiming in his defense that the painting in question was actually done by him, perpetrated to embarrass the enemy, he can only avoid death for a capital crime by proving that he is guilty of fraud. His jailer, resistance fighter and art historian Geert Piller, will also be his judge and jury. The stakes are raised higher when she insists upon being his model for a new masterpiece.
The Bakelite Masterpiece is the Boston area premiere of Kate Cayley's play which premiered at the Tarragon Theater in Toronto in 2014, and was co-produced by Berkshire Theater Group and WAM Theater in 2016. Artistic Director Jim Petosa directs the two-hander with stellar performances by a pair of top local actors, Benjamin Evett, no stranger to New Repertory Theatre's stage, and Laura Latreille, a veteran performer with numerous regional credits. Set in Amsterdam in 1946, all of the action takes place in van Meegeren's cell, rendered by designer Cristina Todesco with towering metal grids on three sides of the stage, hung with empty picture frames. A table and two chairs in the center make up the interrogation area, bathed in the glare of spotlights (lighting designer, Scott Pinkney). The prisoner looks disheveled in a brown suit, or in shirtsleeves and suspenders when he works, and his guard's appearance reflects her severe, no-nonsense persona with her drab military uniform and her hair pulled back tightly (costume designer, Molly Trainer). Haunting melodies composed by sound designer Dewey Dellay complete the effect.
From his opening monologue, van Meegeren lets us know where his talents lie. He learned early that the best way to learn is by copying and he honed his artistic skill in countless hours of copying the work of others. Rather than be satisfied with being a second-rate painter of original work, he chose to be brilliant at mimicking the brilliance of masters, such as Vermeer. Ipso facto, he could consider himself to be a brilliant artist. In order to replicate the effects of aging on a canvas, he produced a special effect by treating the forgery with Bakelite plastic before baking it. His painting of "Christ and the Woman Taken in Adultery" was good enough to convince Hermann Goering, one of Hitler's senior officers, as well as Piller when she saw it on display at a party at van Meegeren's house. The artist was proud of his secret achievement, for making a fool of the Nazis, and, once the war was over, expected to be treated like a hero as "the man who swindled Goering." Instead, he finds himself suspected of collaborating and betraying the Dutch.
While based on real people, Cayley fictionalizes the character of Piller, but gives her a strong narrative back story which Latreille tells in heartbreaking fashion. A Dutch Jew, she chose to join the Resistance and bid farewell to her parents whom she never saw again. She took on the task of rescuing works of art to keep them out of the hands of the Nazis. As van Meegeren's jailer and interrogator, the situation is very personal, but she is unabashed by her bias, coming close to crossing a line in her treatment of the prisoner. He is addicted to both morphine and alcohol, consuming both in large quantities while he paints, and Piller manipulates him by alternately confiscating and rationing the tablets.
The constant questioning of what is true and what is false, what is authentic and what is forged, and the cat and mouse game between the two characters, adds to the timeliness of the play, despite its mid-20th century setting. With the preponderance of alternate facts, fake news, and outright lies that we are bombarded with daily, The Bakelite Masterpiece resonates loudly. Remember the story last fall about the fake Renoir painting on Air Force One that Trump boasts is real? Despite evidence to the contrary that the real one hangs in the Art Institute of Chicago, that's his story and he's sticking to it. So, the question becomes, does he actually believe that the Renoir is real, or does he believe that repeating the lie often enough will make it the truth?
In The Bakelite Masterpiece, both characters are seeking redemption and cling to each other as if they are their last hope of finding it. The bond between Evett and Latreille is powerful and, at times, extremely raw to portray their desperation. Van Meegeren is a realist, suggesting that the Dutch must learn to live with what remains after the war. Piller dreams of returning to life the way it was, with culture and art and a unified people. We may face a similar conundrum.
Photo credit: Andrew Brilliant/Brilliant Pictures (Laura Latreille, Benjamin Evett)