BWW Review: CALENDAR GIRLS: Make a Date With Some of Boston's Best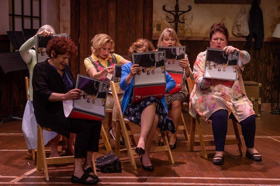 Calendar Girls
Based on the Miramax Motion Picture by Juliette Towhidi and Tim Firth, Directed by Nancy E. Carroll; Scenic Design, Jenna McFarland Lord; Costume Design, Gail Astrid Buckley; Lighting Design, Karen Perlow; Sound Design, Dewey Dellay; Assistant Sound Designer, Caroline Eng; Production Stage Manager, Rachel Sturm; Properties Master, Lisa Charlotte Berg; Dialect Coach, Christine Hamel; Photography Consultant, Maggie Hall
CAST (in alphabetical order): Maureen Brennan, Sarah deLima, Mary Potts Dennis, Kerry A. Dowling, Jade Guerra, Michael Kaye, Karen MacDonald, Sean McGuirk, Cheryl McMahon, Nael Nacer, Kathy St. George, Bobbie Steinbach
Performances through June 17 at Greater Boston Stage Company, 395 Main Street, Stoneham, MA; Box Office 781-279-2200 or www.greaterbostonstage.org
Greater Boston Stage Company has staged a major coup, lining up an incredible group of actors with decades of experience among them to form a dream ensemble for Calendar Girls, the season finale under the direction of Nancy E. Carroll, a formidable actor in her own right. Based on the 2003 Miramax motion picture by Juliette Towhidi and Tim Firth, the play is an adaptation of the true story of a group of women from Yorkshire, England, who find an unorthodox way to raise money to honor the memory of one of the women's husbands who died from leukemia. With witty banter and crack timing, the play is uproariously funny one moment, and surprisingly poignant in the next.
The women meet regularly in a church hall to practice Tai chi, sing holiday songs, and support each other through life events, both joyous and solemn. Their personalities range from the officious, take-charge Marie (Cheryl McMahon), to the feisty rebel Chris (Karen MacDonald); from Cora (Kerry A. Dowling), the pastor's daughter, to Celia (Mary Potts Dennis), who likes to take a few swigs; from the sweet, but timid Ruth (Sarah deLima), to the salty Jessie (Bobbie Steinbach), and Annie (Maureen Brennan), who leans on her friends as she copes with devastating loss. Jade Guerra makes a brief appearance in a dual role. The women are the focus, for sure, but they receive great support from Sean McGuirk (John), whose sunny disposition teaches Annie et al how to carry on; Michael Kaye (Rod), a genial, loving man who knows how to give his wife Chris what she needs; and Nael Nacer (Lawrence), the photographer whose talent and sensitivity merge to help the women achieve their goal.
Like their real-life counterparts, these women of varying ages and body shapes decide to pose nude (NOT naked!) for a calendar, planning to use the proceeds to purchase a new settee for the waiting room at the hospital where John received his treatment. Each of them selects a month to represent and an appropriate camouflage prop before disrobing behind jury-rigged screens, flashing as little flesh as they can in front of the discomfited Lawrence, who tries his best to be professional and unseeing. For each individual pose, they are all as discreet as possible, but loosen up for a group photo for December, donning Santa caps, draping garlands around the set, and making merry, until Marie walks in with the veddy proper Lady Cravenshire (Kathy St. George) for the shock of their lives. Perfect spot for intermission!
To everyone's surprise, the calendar becomes an international hit, they raise tons of money, and face unexpected challenges thanks to their new fame. Ultimately, Calendar Girls is about the relationships among these women, their courage to undertake this project, and the life lessons they take away from it. While acting upon their charitable intentions, they learn to be generous with each other; while facing loss, they learn how to nurture hope; while achieving fame and praise, they learn to be humble and realize what is truly important in their lives. Perhaps what is most astonishing about this accomplished cast is the ease with which they slide back and forth between the comedy and the drama, without telegraphing that an emotional shift is coming. Even as the characters are finding ways to take care of each other within the context of the story, the actors' expressions convey how much care they are also taking of each other as themselves.
It is a rarity to see such a preponderance of women on the stage, and all but one of the designers are women, as well. Jenna McFarland Lord (scenic) conjures up a multi-purpose church space and Karen Perlow's lighting design effectively sets up a variety of uses for the room. Each of the characters is differentiated by Gail Astrid Buckley's costume design, and properties master Lisa Charlotte Berg provides the creative accoutrements for the photo shoot. Underscoring, voiceovers, and perfectly-synched sound effects are designed by Dewey Dellay. Carroll's direction is ever mindful of a plethora of responsibilities, being sensitive to the needs of her cast, as well as her audience, and even-handedly brings out the comedy and the pathos.
GBSC has partnered with Dana-Farber Cancer Institute in presenting this production, with cast members collecting donations after select performances. You can walk out of Calendar Girls feeling relaxed and entertained, and then you can open your wallet and feel even better.
Photo credit: Nile Scott Shots (Sarah deLima, Bobbie Steinbach, Mary Potts Dennis, Maureen Brennan, Karen MacDonald, Kerry A. Dowling)