Photos: Way Off Broadway's HAIRSPRAY
The Way Off Broadway Dinner Theatre's 2011 Season continues this summer when it brings the smash hit musical comedy Hairspray to the stage. Hairspray is another in a line of shows that have had their regional or area premiere at Way Off Broadway.
Hairspray delights audiences by sweeping them away to 1960's Baltimore, where the 50's are out -- and change is in the air. Loveable plus-size heroine, Tracy Turnblad, has a passion for dancing, and wins a spot on the local TV dance program, The Corny Collins Show. Overnight she finds herself transformed from outsider to teen celebrity. She then sets out to vanquish the program's reigning princess, win the heart of the super handsome Link Larkin, and racially integrate the television show (singing and dancing all the way!).
Based on the John Waters movie of the same name, when it opened on Broadway in the fall of 2002, Hairspray became one of the most popular and energetic shows on the Great White Way. Every night was a party at the Neil Simon Theatre. After running for more than six years and 2,600 performances, the production closed on January 4, 2009. With it, it took home a number of awards including eight Tony Awards (one of which was for Best Musical), two Theatre World Awards, and ten Drama Desk Awards (another trophy for Best Musical).
The show's star, Harvey Fierstein, who stepped into the high heels of Edna Turnblad, took home the Tony and Drama Desk Award for Best Actor in a Musical. He was followed in the role by a long line of comedy stars that included Bruce Vilanch, Michael McKeon, John Pinette, and George Wendt. Also in the original cast were Laura Bell Bundy (who went on to star as Elle Woods in Legally Blonde on Broadway) as Amber von Tussle, Kerry Butler (who then appeared in Little Shop of Horrors, Xanadu, Rock of Ages, and now Catch Me If You Can) as Penny Pingleton, and Matthew Morrison (who played Lt. Joe Cable in the Lincoln Center revival of Rodgers and Hammerstein's South Pacific and now stars on the hit television series Glee) as Link Larkin.
Way Off Broadway's area premiere production brings together a wide range of performers from local talent to some who have appeared on cruise ships and traveled the country in various touring productions. Leading the cast as the larger-than-life mother and daughter pairing are Jordan B. Stocksdale and Shannon Wells as Edna and Tracy Turnblad respectively. Joining them will be Amy Cavaness as Penny, Leah Bebee as Amber Von Tussle, Derek John Tatum as Link, Jeremy Trammelle as Corny Collins, Jordan C. Allen as Seaweed, Elexsis Gibson as Little Inez, Alia Knight-Dahl and Genevieve Williams ulternating the role of Motormouth Maybelle, Sarah Melinda as Velma Von Tussle, and A.P. Kopec as Wilbur Turnblad. Rounding out the cast are Sarah Biggs, Chelsea Bondarenko, Kurtis Carter, Thomas Evich, Zach Harris, Jonny Kigin, Julia Rubert, Rebecca Faye Shorr, Dominique Smiley, Susan Thornton, and Arthur J. Whittenberger.
Based on the 1988 New Line Cinema film, the musical has music by Marc Shaiman, lyrics by Scott Wittman and Marc Shaiman, and a book by Mark O'Donnell and Thomas Meehan. Way Off Broadway's production is directed by the theatre's Executive Producer, Bill Kiska, with choreography by Jaimie Hoover, and musical direction by Jordan B. Stocksdale.
Hairspray runs June 17 - August 27, 2011 with performances every Friday and Saturday evening, matinees on the 1st, 3rd, and 5th Sunday of each month, and select Sunday evenings.
For additional information about Hairspray or any of Way Off Broadway productions, visit www.wayoffbroadway.com, or to purchase tickets, call the Box Office at (301) 662-6600 .
The Way Off Broadway Dinner Theatre has been a leader in the region's performing arts community since it first opened in 1995. Under the direction of the Kiska Family since 2002, WOB has produced such productions as A Funny Thing . . . Forum, Guys & Dolls, Steel Magnolias, Oklahoma!, Grease, Fiddler on the Roof, The Odd Couple, A Chorus Line, The Sound of Music, Thoroughly Modern Millie, Evita, Cats, The Full Monty, as well as the regional and/or area premieres of Neil Simon's The Goodbye Girl - The Musical, Jerry Herman's La Cage aux Folles, the musical comedy The Wedding Singer, Mel Brooks' The Producers, and The Drowsy Chaperone. Located along Route 40 West, the Golden Mile in Frederick, the theatre also produces a one-of-a-kind children's lunch theatre, as well as a number of special events throughout the year. Completing Way Off Broadway's Mainstage Season after Hairspray will be Chicago and Christmas Tidings.


Shannon Wells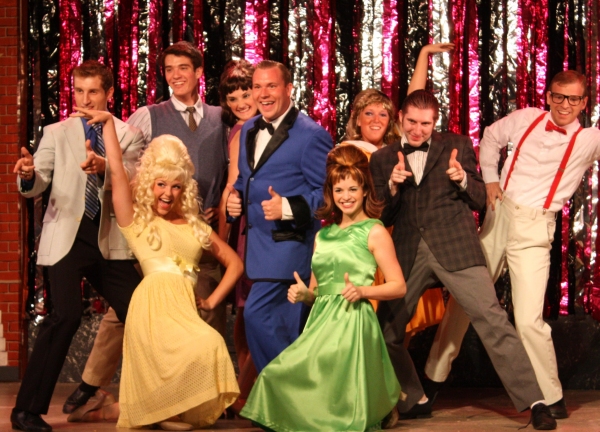 Cast of HAIRSPRAY

Shannon Wells as Tracy, Amy Cavaness as Penny, and Jordan B. Stocksdale as Edna

Sarah Melinda

Shannon Wells as Tracy and Jordan B. Stocksdale as Edna

Genevieve Williams as Motor Mouth Maybelle, Jordan B. Stocksdale as Edna, and A.P. Kopec as Wilbur