Monroe George
MOST POPULAR ARTICLES
LAST 30 DAYS
Photos: A BRONX TALE National Tour Gets Ready to Hit the Road!
Posted: Oct. 9, 2019


Photos: Meet The Cast of ESCAPE TO MARGARITAVILLE National Tour!
Posted: Sep. 13, 2019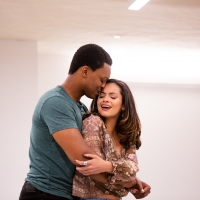 Photos: Meet the Cast of The Kennedy Center's FOOTLOOSE
Posted: Sep. 27, 2019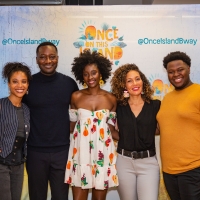 Photos: Meet The Cast of ONCE ON THIS ISLAND on Tour!
Posted: Oct. 2, 2019


LAST 365 DAYS

Exclusive: Meet The Mills- The Show Family Taking Over Broadway!
Posted: Mar. 31, 2019



Photos: KINKY BOOTS Gets Inducted Into Smithsonian
Posted: Mar. 6, 2019



BWW Exclusive: Celebrate Valentine's Day with Some of Broadway's Favorite Couples!
Posted: Feb. 14, 2019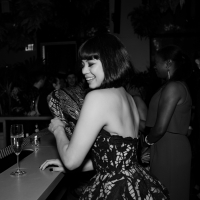 Photo Coverage: Broadway Parties Hard After the 2019 Tony Awards!
Posted: Jun. 10, 2019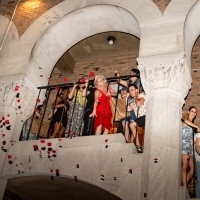 Photos: MOULIN ROUGE! Cast Greets Fans on the Fire Escape
Posted: Jun. 29, 2019


Photos: HADESTOWN Celebrates Tony Wins With Special Curtain Call
Posted: Jun. 12, 2019


Photo Coverage: Rebecca Naomi Jones Receives Portrait at Sardi's

October 11, 2019

Rebecca Naomi Jones was recently honored with a portrait at Sardi's! BroadwayWorld was there to celebrate!
---
Photo Coverage: A BRONX TALE National Tour Gets Ready to Hit the Road!

October 9, 2019

The 2019-2020 North American Tour of A Bronx Tale, the new musical featuring a book by Academy Award nominee Chazz Palminteri, music by Oscar, Grammy and Tony Award winner Alan Menken, and lyrics by Grammy Award winner and Oscar and Tony Award nominee Glenn Slater, is about to hit the road! Check out photos from inside rehearsals below!
---
Photo Coverage: Meet The Cast of The National Tour of ONCE ON THIS ISLAND

October 2, 2019

As BroadwayWorld previously reported, the tour of the Tony-winning revival of Once on This Island will launch at The Carson Center for Performing Arts in Paducah, KY on October 12, 2019, followed by its official opening in Nashville, TN at the Tennessee Performing Arts Center (TPAC) on October 15, 2019. Once On This Island will play over 25 cities in its first year on tour. Click here for a full list of tour stops.
---
Photo Coverage: Meet the Star-Studded Cast of The Kennedy Center's FOOTLOOSE

September 27, 2019

The John F. Kennedy Center for the Performing Arts will soon present the Broadway Center Stage production of Footloose. The cast is led by J. Quinton Johnson (Choir Boy, Hamilton, Broadway Center Stage: In the Heights) as Ren McCormack, Judy Kuhn (Fun Home, Les Misérables) as Ethel McCormack, Isabelle McCalla (The Prom, Aladdin) as Ariel Moore, Michael Park (Dear Evan Hansen) as Reverend Shaw Moore, and three-time Tony Award nominee Rebecca Luker as Vi Moore (Mary Poppins, the Kennedy Center's Little Dancer). They are joined by Joshua Logan Alexander as Chuck, Peter McPoland as Willard Hewitt, Tony Award nominee Michael Mulheren (Kiss Me, Kate; Bright Star) as Coach Dunbar, Lena Owens as Wendy Jo, Nicole Vanessa Ortiz (Spamilton) as Rusty, and Rema Webb (The Color Purple, Violet) as Lulu Warnicker/Eleanor Dunbar/Betty Blast, Grace Slear and Urleen, with Brandon Burks, Claire Crause, Michele Lee, Jess LeProtto, Gregory Liles, Nick Martinez, Maximilian Sangerman, Jonathan Savage, Bethany Tesarck, Tiernan Tunnicliffe, and Jamar Williams.
---
Photo Coverage: Jordin Sparks Opens Up Her Run in WAITRESS! Check Out Photos From Her First Curtain Call

September 17, 2019

Jordin Sparks has officially 'opened up' her run in Waitress! She began performances on Monday, September 16th for a limited engagement through October 27.
---
Photo Coverage: Meet The Cast of the ESCAPE TO MARGARITAVILLE National Tour!

September 13, 2019

The North American tour of Jimmy Buffett's ESCAPE TO MARGARITAVILLE is getting ready to hit the road! The musical will star Chris Clark as Tully, Sarah Hinrichsen as Rachel, Shelly Lynn Walsh as Tammy, Peter Michael Jordan as Brick, Rachel Lyn Fobbs as Marley, Patrick Cogan as J.D. and Matthew James Sherrod as Jamal/Ted.
---
Photo Coverage: Meet the Broadway Company of TINA: THE TINA TURNER MUSICAL

September 3, 2019

The company of Broadway's latest bio-musical outing, Tina: The Tina Turner Musical, met the press before they bring the life story of this revolutionary artist rollin' onto Broadway!
---
BWW Exclusive: Welcome To Parenthood! Meet The Mothers of Come From Away!

August 29, 2019

It's one of the most physically, mentally, and emotionally demanding jobs. With long hours and little sleep, you're expected to consistently portray a myriad of contrasting roles at the drop of the hat, sometimes with no prior experience or preparation - full out, no marking. All with a contract that offers no out, no sick leave, no vacation time, and no pay. Would you be down for the role?
---
Photo Coverage: Tom Hiddleston, Zawe Ashton and Charlie Cox Meet Fans After First Preview of BETRAYAL!

August 15, 2019

To celebrate the first preview of Betrayal, cast members Tom Hiddleston, Zawe Ashton and Charlie Cox met fans at the stage door for photos and autographs. Get a peek inside the event!
---
Photo Coverage: BAT OUT OF HELL Celebrates Opening Night at New York City Center!

August 9, 2019

Like a bat out of hell, Bat Out of Hell is flying to New York City Center, where the Jim Steinman musical just celebrated opening night, yesterday, August 8, and will play a six-week engagement through September 8, 2019.
---
Photo Coverage: BROADWAY BOUNTY HUNTER Celebrates Opening Night!
July 24, 2019
---
Photo Coverage: Sara Bareilles, Gavin Creel, James Harkness, and More Attend Opening Night of #DATEME!

July 22, 2019

#DateMe: An OKCupid Experiment opened just last night, July 21, at The Westside Theatre. Check out photos from the big night below!
---
Photo Coverage: Go Inside Opening Night of THE WAY SHE SPOKE At The Audible Theater!

July 19, 2019

the way she spoke, Audible Theater's New York premiere play by Isaac Gomez, directed by Jo Bonney, and starring Kate del Castillo in her English-language stage debut, just opened last night, July 18 at the Minetta Lane Theatre.
---
Photo Coverage: Vanessa Carlton, Lauren Marcus & More Celebrate Opening Night of NYMF

July 15, 2019

Just last week, the New York Musical Festival, which nurtures the creation, production, and public presentation of stylistically, thematically, and culturally diverse new musicals to ensure the future vitality of musical theatre, celebrated opening night!
---
Photo Coverage: MOULIN ROUGE! Cast Celebrates First Preview on the Fire Escape at the Al Hirschfeld Theatre

June 29, 2019

Last night, Moulin Rouge! celebrated its first preview outside the Al Hirschfeld Theatre. Following the performance, the cast greeted fans on the fire escape and showered them with rose petals.
---
Photo Coverage: Vanessa Carlton Makes Her Broadway Debut in BEAUTIFUL

June 28, 2019

Three-time Grammy Award® nominated singersongwriter Vanessa Carlton is making her Broadway debut this summer as Carole King in the hit musical Beautiful - The Carole King Musical. Carlton began performances last night, Thursday, June 27 at the Stephen Sondheim Theatre (124 West 43rd Street) for a 10-week run in the Tony®, Olivier®, and Grammy Award-winning smash hit.
---
BWW Exclusive: Making the Music of COME FROM AWAY

June 27, 2019

Last week we brought you a backstage look at some of the instruments played by Come From Away band member Ben Power. Today, we take a closer look at even more instruments with Romano Di Nillo, Caitlin Warbelow and Carl Carter!
---
Photo Coverage: ROCK OF AGES Celebrates NYC Return!

June 25, 2019

ROCK OF AGES is back in New York stage this summer in a special 10th Anniversary Production at New World Stages! The return production of the musical just had its 10th anniversary celebration last night, June 24, for a 16-week limited engagement through Sunday, October 6, 2019.
---
Photo Coverage: Erich Bergen, Noah Galvin, Isabelle Fuhrman, and More Star in THE 24 HOUR MUSICALS

June 18, 2019

Favorites of stage and screen took to the Irene Diamond Stage at the Pershing Square Signature Center last night to help The 24 Hour Plays mark its 24th anniversary with an intimate production of The 24 Hour Musicals. Erich Bergen, Jessica Hecht, Alex Moffat, Bonnie Milligan and Anthony Rapp were just a few of the exceptional group of artists who joined forces to write, compose, direct and perform four original musicals within 24 hours.
---
Photo Coverage: HADESTOWN Celebrates Their 8 Tony Wins With Special Curtain Call

June 12, 2019

After the performance of Hadestown last night, June 11, the show's cast and creative team hosted a special curtain call where they raised a glass and celebrated their eight Tony wins!
---
1