David McKibbin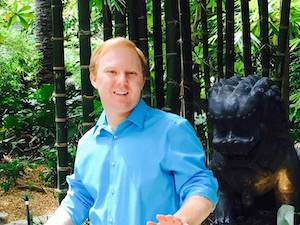 David McKibbin is ecstatic to share his love of theatre with the world by writing for BroadwayWorld.com. David holds a Bachelor's degree in Theatre with a Minor in Voice Performance from the University of Florida (#GoGators). He currently interns with Pierson Grant Public Relations in Fort Lauderdale. Previously, David has written reviews for the U.F. Chapter of The Odyssey Online and published press releases for the U.F. School of Theatre and Dance. At U.F., David also performed in productions of Spring Awakening, The Comedy of Errors, and La Boheme, in addition to singing in various vocal ensembles. David previously sang  as a professional chorister and cantor at St. Paul's Episcopal Church in Delray Beach, FL, and has served as a judge for Florida State Thespians at the middle and high school level for the past two years. Follow David on Twitter at @DMcKibbinBWW.
MOST POPULAR ARTICLES
LAST 30 DAYS
LAST 365 DAYS
---
UCF Pegasus PlayLab to Feature Nautical Children's Musical 'SPELLS OF THE SEA'

May 29, 2022

Orlando, Fla. - Spells of the Sea, a new immersive musical for children ages four and older, is scheduled to set sail at the University of Central Florida on Saturday, June 4 at 7 p.m. and Sunday, June 5 at 2:30 pm. in the Black Box Theatre at the UCF School of Performing Arts.
---
Players Theatre Celebrates 35th Show Staged Via Self-Production Residency

May 12, 2022

The Players Theatre Self-Production Residency Program just opened its 35th show since the program's launch in 2017. After Happily Ever After, which opened on May 5, recently extended its run until May 29 at the Steve and Marie Sgouros Theatre.
---
BWW Review: WATER BY THE SPOONFUL at New City Players

May 4, 2022

The COVID-19 pandemic has taught us some valuable lessons about life. When we are isolated, there will always be someone to turn to as our family in times of hardship, even if they are not blood relatives. Moreover, the people who hurt us in the past can still be there to help us heal. While Quiara Alegria Hudes' play Water by the Spoonful is set in 2009, its themes pertaining to addiction, loss, and developing interpersonal bonds still ring true in 2022. New City Players took on the challenge of staging Hudes' Pulitzer Prize-winning play with grace and respect.
---
BWW Review: INTIMATE APPAREL Feels Right At Home in Palm Beach Dramaworks' Post-Shutdown Season

April 14, 2022

You have three more performances of Lynn Nottage's play about finding love and following your dreams at Palm Beach Dramaworks.
---
Taylor Made Dance & Theatre presents 'A TAYLOR MADE CHRISTMAS SPECTACULAR'

December 8, 2020

With a cast of local students of all ages, this all-singing, all-dancing revue will feature festive songs such as 'White Christmas,' 'Happy Holidays' and 'The Twelve Days of Christmas'.  This show is sure to be a Christmas feast of fun for the whole family. 
---
Take Flight on 'A PLANE TO SOMEWHERE' with Maplewood Playhouse via Zoom

October 20, 2020

Written by Marcia Weston, A Plane to Somewhere follows two widows who experience loneliness and frustration during their golden years. Sadie Goldberg lives with her daughter and son-in-law, whose bickering family have become dependent on her Social Security checks.  Mary O'Shea lives in the deafening silence of her lonely apartment. The two women meet at New York's LaGuardia Airport, where they "people watch" to escape to the outside world. As a bonding between the two women develops, pasts and emotions are shared.  Bittersweet memories are brought to the surface, and their friendship is strengthened each time a plane leaves for its next destination. 
---
Social Distancing Doesn't Stop Kids From Making It On Broadway

July 18, 2020

Following the spread of COVID-19, theater training programs throughout South Florida were faced with the challenge of maintaining a safe and sanitary environment for students to reach their Broadway dreams.
---
Maplewood Playhouse Hosts Zoom Workshops with Broadway's Talia Suskauer
May 31, 2020
---
Measure for Measure Theatre Presents ANGELS IN AMERICA Free Virtual Reading (CANCELLED)

April 13, 2020

Measure for Measure Theatre, which recently postponed its production of Island Song due to the threat of COVID-19, will be presenting a virtual play reading of Tony Kushner's Angels in America: A Gay Fantasia on National Themes Friday, April 17 through Sunday, April 26 via Facebook Live.
---
Measure for Measure Theatre's Production of ISLAND SONG Postponed, PIPPIN Cancelled

March 13, 2020

On March 12, State Director of Emergency Management Jared Moskowitz advised that 'municipalities cancel all major gatherings in their jurisdictions until further notice.'
---
Meet Composer-Lyricist Sam Carner at Sunrise Civic Center (CANCELLED)

March 11, 2020

Audiences are invited to attend a special talkback with award-winning musical theater writer Sam Carner on Friday, March 13 at the Sunrise Civic Center. The talkback will take place following an 8 p.m. performance of his musical Island Song, staged by Measure for Measure Theatre. This talkback is an ideal opportunity for playwrights, songwriters and performers to learn about working in New York theater. He and fellow songwriter Derek Gregor form the songwriting team of Carner and Gregor. As collaborators, Carner and Gregor are best known for the musicals Island Song and Unlock'd, Measure for Measure Theatre's production of Island Song is the musical's Southeastern Regional Premiere. Island Song will run from Thursday, March 12 through Sunday, March 29.
---
Measure for Measure Theatre Stages Regional Premiere of 'ISLAND SONG' At Sunrise Civic Center

February 11, 2020

This poignant, off-beat dramedy follows five 20- and 30-somethings as they take on New York City over the course of a year. These young hopefuls must work through their own complex relationships with ambition, distraction and the desire to connect.
---
Maplewood Playhouse Stages Jason Robert Brown's THE LAST FIVE YEARS

January 2, 2020

Maplewood Playhouse presents The Last Five Years at Stage West on the Lake Worth campus of Palm Beach State College from Thursday, January 9 through Saturday, January 11.
---
Four Palm Beach County Shows Announced To Ring In The New Year

January 2, 2020

2019 has brought Palm Beach County a slew of high-quality productions. From Having Our Say at Primal Forces to A Streetcar Named Desire at Palm Beach Dramaworks to The Music Man at the Wick. Audiences can still expect to see great theater throughout 2020, even during its first month. If your New Year's Resolution is to see more live theater, don't miss these four shows.
---
Theatre Arts Productions (TAP) Stages 'ROALD DAHL'S JAMES AND THE GIANT PEACH' at Wellington High School

January 2, 2020

Based on the classic children's book of the same name, Roald Dahl's James and the Giant Peach tells the story of a young boy and his human-sized insect friends as they travel across the ocean in an oversized peach.
---
Theatre Arts Productions (TAP) Launches TAP SHORTS: A Festival of Short Plays

December 13, 2019

Theatre Arts Productions (TAP) will stage TAP Shorts, an evening of short plays written, performed and directed by up-and-coming artists. This festival will take place on Saturday, December 28 at 7:30 p.m. at Standing Ovation Performing Arts.
---
---
Maplewood Playhouse Stages Jason Robert Brown's THE LAST FIVE YEARS

December 11, 2019

Maplewood Playhouse presents The Last Five Years at Stage West on the Lake Worth campus of Palm Beach State College from Thursday, January 9 through Saturday, January 11.
---
---