Mandy Patinkin and Kathryn Grody Deliver Heart and Humor at Congregation B'nai Israel
Mandy Patinkin will later appear in Sarasota Thursday, February 16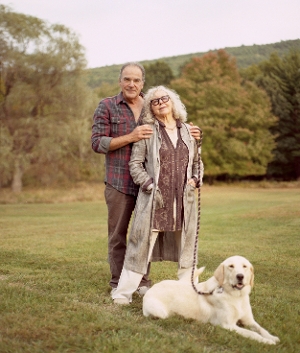 Mandy Patinkin has graced many of the world's stages and dazzled audiences on screens of all sizes. Broadway fans of a certain age may recognize him in his Tony Award-winning role Che in Evita or the title character in Sunday in the Park with George. TV and streaming audiences may remember his Emmy-winning performance as Dr. Jeffrey Geiger in Chicago Hope or his equally riveting portrayal of Saul Berenson in Homeland.
In the internet age, the public may recognize Patinkin wielding a sword as the troubled Inigo Montoya in Ron Reiner's cult classic The Princess Bride.
Most audiences expect to hear Mandy sing "High Flying Adored" or recite his most meme-worthy movie line.
However, this past Thursday, a sold-out crowd at Congregation B'nai Israel in Boca Raton was able to see the real Mandy at his most vulnerable in "An Evening with Mandy Patinkin and Kathryn Grody".
This engagement was presented as part of Congregation B'nai Israel's Rosenthal Speaker Series. According to Executive Director Steve Allen, "An Evening with Mandy Patinkin and Kathryn Grody" was the highest-grossing event in the series' history.
Patinkin graciously shares the sanctuary bema with Grody, his loving wife of 43 years. An Obie Award-winning actress, Grody wrote and starred in an autobiographical play titled A Mom's Life, and appeared as Lola in Primary Stages' production of The Model Apartment.
The couple recently made strides on social media after their son, Gideon Grody-Patinkin, posted videos of their daily life on various platforms during the COVID-19 pandemic.
While Patinkin began performing on his "Being Alive" concert tour earlier this month, this is the first time Patinkin and Grody appeared in this candid speaking engagement. The couple maintained an air of humility throughout the evening. Patinkin was kind enough to offer chocolate bars to congregants in the front row.
During this event, Grody-Patinkin interviewed his parents on a variety of topics, with several questions taken from audience members in advance.
The conversation began with the couple addressing their diametrically opposed relationships with Judaism. While Patinkin was raised in a conservative Jewish household, Grody was raised as a self-proclaimed "Southern California Jew," who only celebrated "Rosh Hashanah, Yom Kippur and Social Justice."
Grody joked about how she created a custom-made Haggadah for Passover marrying traditional scripture with Feminist texts and quotes from Martin Luther King. Meanwhile, Patinkin discussed the three Hebrew prayers he recites daily to his dog Becky, which became fodder for a video on Twitter. These prayers include Debbie Friedman's Mi Shebeirach, the Shema Yisrael and the Hamotzi.
Patinkin and Grody spoke at length about their storied careers. Patinkin lamented about turning down the role of Danny Zuko in the original Chicago and Broadway productions of Grease, while Grody mentioned turning down a Broadway revival of The Diary of Anne Frank which starred a 13-year-old Natalie Portman.
Other topics in this conversation included the institution of marriage, parenthood, and the couple's individual strengths and weaknesses in homemaking. "All I do for the family is clean the kitchen," Patinkin jests.
Later in the conversation, Grody-Patinkin praised his father for being emotionally open at a time when toxic masculinity was commonplace. He recalled an instance where the family was on an airplane. His older brother, Isaac was crying about something. The flight attendant chided him saying "big boys don't cry." The brother responded with a quick-witted rebuttal. "That's not true. My daddy cries all the time."
The evening also included some light-hearted moments, such as Patinkin "twerking for democracy" on TikTok during the 2020 election cycle. The younger Grody-Patinkin later led his parents in some improv exercises that showcased their loving trust as a married couple. These scenes were not rehearsed or planned.
While this event was a far cry from a concert, audiences could still enjoy a song and dance. The evening concluded with Patinkin and Son performing a rousing rendition of "Ya Got Trouble" from The Music Man.
"An Evening with Mandy Patinkin and Kathryn Grody" will be presented on Tuesday, February 14 at the McCarter Theatre Center in Princeton, N.J. Florida audiences can still see Patinkin live on stage in his "Being Alive" tour Thursday, February 16 at the Van Wezel Performing Arts Center in Sarasota.