Charlie Wilks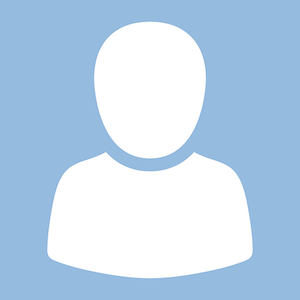 MOST POPULAR ARTICLES
LAST 30 DAYS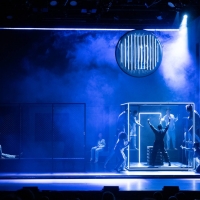 BWW Review: MESSAGE IN A BOTTLE, Sadler's Wells
Posted: Sep. 29, 2021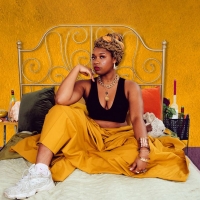 BWW Review: CURIOUS, Soho Theatre
Posted: Sep. 29, 2021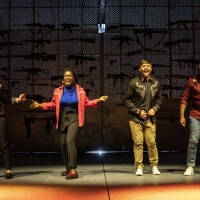 BWW Review: WHITE NOISE, Bridge Theatre
Posted: Oct. 15, 2021


LAST 365 DAYS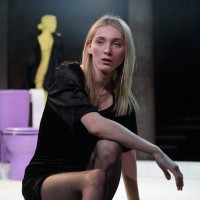 Review, Bush Theatre, Overflow
Posted: Dec. 10, 2020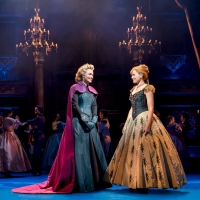 BWW Review: FROZEN, Theatre Royal Drury Lane
Posted: Sep. 8, 2021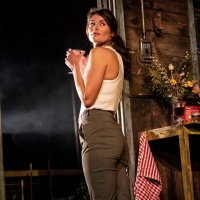 BWW Review: WALDEN, Harold Pinter Theatre
Posted: May. 30, 2021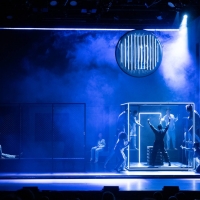 BWW Review: MESSAGE IN A BOTTLE, Sadler's Wells
Posted: Sep. 29, 2021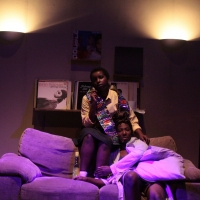 BWW Review: ...cake, Theatre Peckham
Posted: Jul. 25, 2021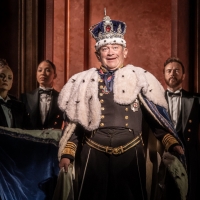 BWW Review: THE WINDSORS: ENDGAME, Prince Of Wales Theatre
Posted: Aug. 11, 2021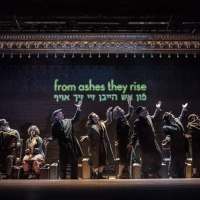 BWW Review: INDECENT, Menier Chocolate Factory
Posted: Sep. 14, 2021


BWW Review: WHITE NOISE, Bridge Theatre

October 15, 2021

Pulitzer Prize-winning writer Suzan-Lori Parks confronts the audience with big themes in her thrilling and radical play, which has received its European premiere at The Bridge Theatre. The writer describes this work as something that, "rips the face off of civilisation." And I'd agree that it certainly does. Taking an unflinching look at race in the 21st Century, from both a black and white perspective, this production is undeniably bold, but reflective of the place society finds itself in today.
---
BWW Review: MESSAGE IN A BOTTLE, Sadler's Wells

September 29, 2021

In a world where people are being displaced every day, with very little news coverage on the seriousness of the situation, Kate Prince MBE imagines a fictional story of a family trying to find a place to call a new home. They live in harmony, until civil war disrupts this existence and devastates the community. They travel shores, making impossible choices in order to survive. Along the way, they lose one another, and have to find agency to find their way on their own. Sat against the backdrop of the music of legendary artist Sting, featuring vocals from other powerhouses, this electric dance piece is a story of love, loss, hope and trust.
---
BWW Review: CURIOUS, Soho Theatre

September 29, 2021

Fresh off their debut, critically acclaimed and award-winning play, Jasmine Lee Jones brings a new solo show to Soho Theatre's main stage. Jones both writes and performs the piece, which takes a look at a multitude of things; drama school anxiety, queer discovery, lust and sex, along with Black female acting representation in the 18th century. A lot of discussed in this 90-minute story, but very little with nuanced detail - leaving the audience unsatisfied.
---
BWW Review: INDECENT, Menier Chocolate Factory

September 14, 2021

Director Rebecca Taichman and playwright Paula Vogel were both drawn to Sholem Asch's 1907 phenomenon, God of Vengeance. Their Tony-nominated, highly-acclaimed production has landed in London. A show that plays tribute a stage scandal, this is a heartfelt song to something that nearly never was.
---
BWW Review: MYRA DUBOIS, Garrick Theatre

September 9, 2021

After giving her entire life to make other people smile, legendary comedienne Myra Dubois has decided to make something all about her. In a bid to create the most attention seeking thing of all time, she stages her own funeral – ensuring that everything about her iconic energy is celebrated. Hence the show at The Garrick. It's a non-stop hoot, looking at how we find joy in grief.
---
BWW Review: FROZEN, Theatre Royal Drury Lane

September 8, 2021

I would hesitant a guess to say that most of us know about Disney's colossus beast, Frozen. Made famous when it debuted during Christmas 2013, it quickly became one of the company's audience's animated classics. Since its release we've had sequels, spinoffs, merchandise and now, a hit musical – which originally premiered in Denver, before opening in Broadway, and now recently landing in London's West End. Loosely inspired by Hans Christian Andersen's 19th Century tale, The Snow Queen, Disney's production turns much of the original story on its head.
---
BWW Review: THE WINDSORS: ENDGAME, Prince Of Wales Theatre

August 11, 2021

If you think it's too soon for jokes surrounding Prince Andrew's sex abuse allegations or the Meghan and Kate wedding feud, it's probably best you don't see this show. Because this story, inspired by the hugely popular Channel 4 favourite of the same name, holds nothing back. There are jokes from minute one to minute end, all of which tread the line of being hilarious and too much. All of them poke fun at the royals, so if you're one of them who hold them up to a high esteem, avoid yourself the discomfort. However, if like me you do love humour that makes a large spoof of things, and does it successfully, then this is a fantastic night out.
---
BWW Review: ...cake, Theatre Peckham

July 25, 2021

babirye bukilwa's …cake is an equally heartbreaking and heartwarming exploration of love of all kinds. Part of a trilogy of work from the writer, this story is the prequel to bukilwa's acclaimed play …blackbird hour, which was shortlisted for the Women's Prize for Playwriting, the Bruntwood Prize and the Alfred Fagon Award. Directed by Theatre Peckham's Associate Director, malakaï sargeant, this 90-minute story is exceptional at every moment.
---
BWW Review: LAVA, Bush Theatre

July 23, 2021

Ronkẹ Adékoluẹjo is sensational in Benedict Lombe's full-length debut currently running at The Bush Theatre. Directed by Anthony Simpson-Pike, the piece is an explosive and complex exploration of identity, belonging and self-love. Moving through tumultuous Congo, post-Apartheid South Africa, and hostile Ireland and England, we watch a woman find herself, through exploring her and the world's history.
---
BWW Review: RAYA, Hampstead Theatre

June 22, 2021

30 years after former flames Jason and Alex last saw one another, the pair reunite at Jason's old student house – each bringing different past life experiences to the encounter. Played by Bo Paraj and Claire Price, the duo flirt, somewhat reigniting their passion and they both attempt to rediscover what their relationship meant to them then, and now. Deborah Bruce's play, directed by Hampstead Theatre Artistic Director Roxana Silbert, explores carefree university adventure through the lens of people who now should know better.
---
BWW Review: THE DEATH OF A BLACK MAN, Hampstead Theatre

June 5, 2021

Alfred Fagon's overlooked play is given a revival at the Hampstead Theatre, following its premiere at the same space in 1975. 46 years ago it was the first play by a Black British writer to be presented there. Quite a shocker back then, the play in Dawn Walton's new production seems to aim to reignite that same provocation with audiences today. A piece about sexual politics and post-colonial legacy, the piece feels flimsy in its execution.
---
BWW Review: REASONS YOU SHOULD(N'T) LOVE ME, Kiln Theatre

May 30, 2021

Amy Trigg performs in her own award-winning debut play at The Kiln Theatre. Winner of the inaugural Women's Playwriting Prize from Paines Plough and Ellie Keel Productions, the play is a joyous and poignant look at a woman's experience of spina bifida. Directed by Paines Plough co-artistic director Charlotte Bennett, the piece is a laugh from start to finish – whilst still at the same time contains moments of real emotional impact.
---
BWW Review: WALDEN, Harold Pinter Theatre

May 30, 2021

To use any other word than 'crisis' to describe what is happening with today's climate is ridiculous. Temperatures rise, natural resources dwindle and human beings waste more than ever. Is our planet saveable? Can we heal mother earth, or is it better to admit defeat and divert all resources into finding another place to build a sustainable ecosystem. This is the main question grappled with in Amy Berryman's Walden.
---
BWW Review: CRUISE at The Duchess Theatre

May 21, 2021

As the likes of classic hit favourites Wicked and The Lion King reopen round the corner, the West End also returns with a more alternative offering, in the form of Jack Holden's Cruise – the story of a gay man in the 80s embarking on one last hedonistic purge. Diagnosed with HIV, and given only a short window to live, it's time to party, dance, sweat, fuck and take every drug available. It's 1988 Soho, and Michael's supposedly last day on earth.
---
BWW Review: OVERFLOW, Bush Theatre

December 10, 2020

When Rosie is confined and cornered into a flooding toilet cubicle, she is determined to rescue herself from the situation for once. Confronted by a lurking danger outside, she finds solace and tranquillity within the four walls of a space she has frequented many times. This particular bathroom may not be the most familiar, but the essence of it is. These places have become catalysts for new conversations, the forging of friendships and the hiding from enemies. Rosie has experienced a lot in them.
---
BWW Review: NORA: A DOLL'S HOUSE, Young Vic

February 11, 2020

Three distinct doorways separate three different time periods. Between them stands three Nora's, played superbly by Natalie Klamar, Amaka Okafor, and Anna Russell-Martin. The eras they occupy are a post-war 1948, a vibing 1968 and a more contemporary 2018. The women are subject to political, personal and societal suffocation.
---
BWW Review: COLLAPSIBLE, Bush Theatre

February 8, 2020

The Bush Theatre's studio feels like a perfect place for this play, as it demands close proximity between the audience and actor. Sitting on a raised ledge, Essie tells us the story of her job displacement, intertwining conversations she's had with her friends, family and former partners. Her aim is to make a list of words that describe her - in order for her to pull them out when being asked about herself in interviews. Words like smart, practical, and perfectionist are a few that have been chosen to be used.
---
BWW Review: COMING CLEAN, Trafalgar Studios

January 10, 2020

The King's Head Theatre continues its track record of moving shows from Islington to the West End, with the arrival of Kevin Elyot's drama of 80s polyamory. In this two act play the ethics of a modern relationship are questioned. There are conflicts in morality and human decency, providing no clear answer as to what is right.
---
BWW Review: MAGIC GOES WRONG, Vaudeville Theatre

January 8, 2020

Mischief Theatre continue their epic takeover of the West End, with their brand new show all about magic going terribly wrong. This time the company have collaborated with superstar magicians Penn & Teller; two people who are at the top of their game, and normally headline their own show in Las Vegas. The whole evening is a delight from start to finish a?' something you come to expect at a Mischief night.
---
BWW Review: LEXICON, Roundhouse

January 8, 2020

Who doesn't love a bit of circus? It's the medium that really pushes the limits of the human body, generating moments that wow audiences and inspire so much drama. They're adrenaline-fuelled, magical creations that make you think 'wow, how did they do that?' That's pretty much the feeling in this production, brought to the Roundhouse by leading experts No Fit State Circus.
---