BWW Previews: TURANDOT at NOVÁ SCENA THEATRE BRATISLAVA
TURANDOT THE MUSICAL EUROPEAN PREMIERE AT THE DIAVADLO NOVÁ SCÉNA
Who would not know the story of Turandot? The story of a cruel princess, who refuses all suitors and has them mercilessly beheaded if they do not guess her riddle?
The originally Persian legend inspired the Italian playwright Carlo Gozzi, who gave it the image of a Chinese fairy tale. Two centuries later, it was brilliantly turned into the immortal opera by Giacomo Puccini. The current musical form of the story of Turandot was developed by the Korean musical creators - the composer Jang Soyeong and librettist Lee Haeje.
Divadlo Nová scéna (New Stage Theatre) will introduce the originally Korean musical Turandot in its European premiere on 6 and 7 March 2020.
Directed by the eminent Hungarian director Róbert Alföldi and accompanied by the 11-piece orchestra conducted by Ľubomír Dolný, starring in the main role of Princess Turandot Miroslava Drínová and Lenka Fecková, and Peter Makranský and Patrik Vyskočil playing the role of Calaf.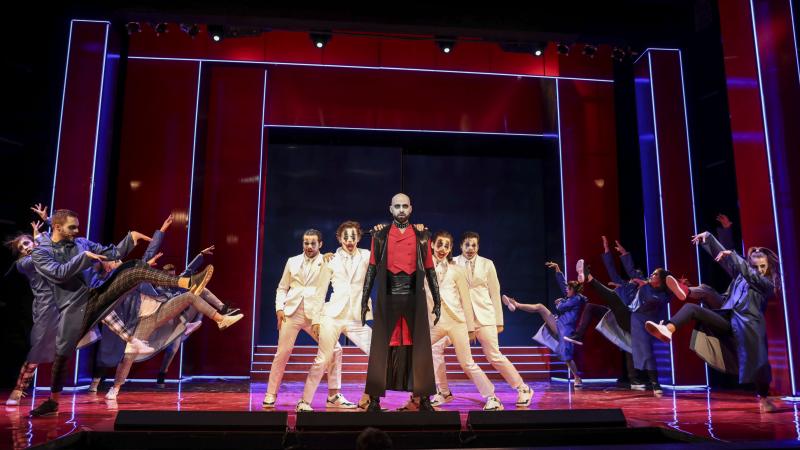 The musical TURANDOT had its première in December 2010 at the International Music Festival DIMF Daegu, in South Korea, and won many awards and the extraordinary audience response.
During a visit at the DIMF, the Divadlo Nová scéna creatives had the opportunity to see the spectacularly produced Korean musical Turandot.
"Quality music, comparable with many foreign titles, inspired us to introduce the very first Asian dramatic-musical work in Europe. The story of Princess Turandot is known in various adaptations. Probably the most well-known are its classical opera adaptations. We bring the current view of the forever live topic of love with its different forms and offer a modern show of love and bitterness, sacrifice, pride, and humility, on the power of spirit directed by the world-famous Hungarian director Róbert Alföldi."
According to the director Róbert Alföldi, the story of Turandot is still accurate: "We also carry inside ourselves the pains, unsolved hardships of our families, or parents. These untold and blocked family stories and traumas can even destroy our lives, in the same way as they are destroying Turandot and everybody around her. However, at the same time, her story also gives us hope. If we pay close attention, it can even offer us a solution to different situations in life.
At the end of the day, everybody has already experienced the joy of love. There was no chance to requite it, or we were not able to love somebody. Or to love the way we wanted to."
About working at Divadlo Nová scéna (New Stage Theatre) Alfödli said:
"I met here young, open and very curious people, who were working with me attentively and with great respect. On the one hand, it was touching for me and made me feel embarrassed from time to time. However, on the other hand, it was also highly inspirational. I tried to fulfill their curiosity."

Miroslava Drínová, about her character, the main role of Prince Turandot: "At first sight, Turandot is a negative character. A bloodthirsty princess. But as it usually goes in life, nothing is only black-and-white. Her acts have their roots in suffering that she hides behind her cold mask.
It is an interesting challenge for me as an actress, and probably it is also a form of mental hygiene. As far as the cooperation with the director, Mr. Alföldi is concerned, first of all, it is a great learning experience. He showed us a completely new way of working with actors. He is tremendously inspirational, but at the same time very humane and very, very funny. Working with Róbert Alföldi on Turandot is a dream come true that I did not know I had. And then it is all the more wonderful."
Will Prince Calaf guess the riddle of Princess Turandot and overcome her hate with true love?
And what is actually hidden behind the cruel and inaccessible mask of the cold Turandot?
The adaptation of the famous Hungarian director Róbert Alföldi responds in a language typical for the stage to these questions and brings a catching story of the curse, tears and a cold heart, a story of love that it is worth living or dying for.
The European premières of the musical Turandot will take place at Divadlo Nová scéna (New Stage Theatre) on 6 and 7 March 2020.
For more information visit: https://www.nova-scena.sk/turandot/
Persons and cast
| | |
| --- | --- |
| Turandot | Miroslava Drínová/ Lenka Fecková |
| Calaf | Peter Makranský/ Patrik Vyskočil |
| Ryu | Romana Dang Van/ Lenka Machciníková |
| Timur | Martin Kaprálik/ Pavol Plevčík |
| Ping | Michal Candrák/ Lukáš Pavlásek |
| Pong | Lukáš Pišta/ Tomáš Majláth |
| Peng | Vladislav Plevčík/ Michal Candrák |
| Pang | Tomáš Majláth/ David Árva |
| Loring | Karin Olasová/ Sisa Sklovska |
| Altium | Róbert Halák/ Stano Král |
| King of Death | David Árva |
Author team:
| | |
| --- | --- |
| Translated by | Lujza Puchalová |
| Dramaturgy | Svetozár Sprušanský |
| Poeticised by | Vladimír Puchala |
| Conductor | Ľubomír Dolný |
| Musical rehearsal and piano accompanying | Ľubomír Dolný and Iveta Weis Viskupová |
| Choirmaster | Iveta Weis Viskupová |
| Choreography | Krisztián Gergye |
| Stage set | Eszter Kálmán |
| Costumes | Martin Kotúček |
| Directed by | Róbert ALFÖLDI |
Author of photographs ©Ctibor Bachratý
Related Articles View More Austria

Stories

Shows