Photo Flash: Meet Melbourne's Matildas - Dusty Bursill, Tiana Mirra, Alannah Parfett and Ingrid Torelli!
The full cast for the Melbourne Season of the Royal Shakespeare Company's production of MATILDA THE MUSICAL was announced today, including the young actresses who will share the title role. They are (in alphabetical order) Dusty Bursill, Tiana Mirra, Alannah Parfett and Ingrid Torelli. Scroll down for a sneak peek at the four ladies!
The winner of over 50 international awards, including 12 for Best Musical, MATILDA THE MUSICAL is currently enjoying a sellout season in Sydney and will make its Melbourne Premiere at Princess Theatre from 13 March 2016, with tickets currently on sale from Ticketmaster for performances through to 22 May 2016.
Eleven-year-old Dusty Bursill enjoys being outdoors and loves camping and bushwalking. She is an enthusiastic reader and is happy trying different sports.
Tiana Mirra is eleven-years-old. She loves short distance running, reading and public speaking. Tiana enjoys spending time with her family and her dog.
Alannah Parfett is ten-years-old and an animal lover who also loves music, reading and writing. Her main passion is dancing and anything to do with performing arts.
Nine-year-old Ingrid Torelli loves to use her imagination, sing and play in the garden. She likes acrobatics, acting, craft, asking questions about the world and spending time with her family.
MATILDA THE MUSICAL is based on the beloved novel by best-selling author Roald Dahl (Charlie and the Chocolate Factory, Fantastic Mr. Fox). It is the story of an extraordinary girl who armed with a vivid imagination and a sharp mind, dares to take a stand and change her own destiny.
Having proven an enormous success in London's West End and on Broadway, where productions continue to play to packed houses and capture the imagination of young and old alike, MATILDA THE MUSICAL opened to unqualified rave reviews in Sydney earlier this year.
The full Original Australian Adult Cast will transfer for the Melbourne season, including the principals (in alphabetical order), Marika Aubrey (Mrs Wormwood), Daniel Frederiksen (Mr Wormwood), Elise McCann (Miss Honey) and James Millar (Miss Trunchbull). They are again joined by Stephen Anderson, Reece Budin, Rachel Cole, Andrew Cook, Danielle Cook, Eli Cooper, Cristina D'Agostino, Glenn Hill, Travis Khan, Nadia Komazec, Zoe Komazec, Leah Lim, Mitchell Mahony, Cle Morgan, Daniel Raso and Clay Roberts.
The eight children's roles of Bruce, Lavender, Amanda, Nigel, Eric and the other pupils at Crunchem Hall Primary School will be played in rotation by: Charli Bowers, Freya Cantwell, Keely Corcoran, Jack Coyne, Jeremiah Duncan, Shyla Farrugia, Tahlia Gerosa, Cooper Guinea, Jazi Hall, Kushinka Jayewardene, Andre Karabajakian, Kathleen Lawlor, Campbell MacCorquodale, Thierry Mendoza, Chloe Ngo, Chihana Perera, Adam Punsalang, Kyle Reynolds, Orlando Schwerdt, Hudson Sharp, Daniel Stow, Alistair Touliatos, Caleb Waterworth, Tahlia Williams and Mackensie Young.
MATILDA THE MUSICAL is directed by Tony Award winner Matthew Warchus (God of Carnage), who helms this production with a book by Tony Award-winning playwright Dennis Kelly and music and lyrics by Australian Tim Minchin. The production has sets and costumes by Tony Award winner Rob Howell, with choreography by Tony Award winner Peter Darling (Billy Elliot), orchestrations, additional music and musical supervision by Christopher Nightingale, lighting by Tony Award winner Hugh Vanstone, and sound by Simon Baker.
MATILDA THE MUSICAL is produced in Australia by the Royal Shakespeare Company, Louise Withers, Michael Coppel & Michael Watt with André Ptaszynski and Denise Wood as Executive Producers.
Photo Credit: Jim Lee Photo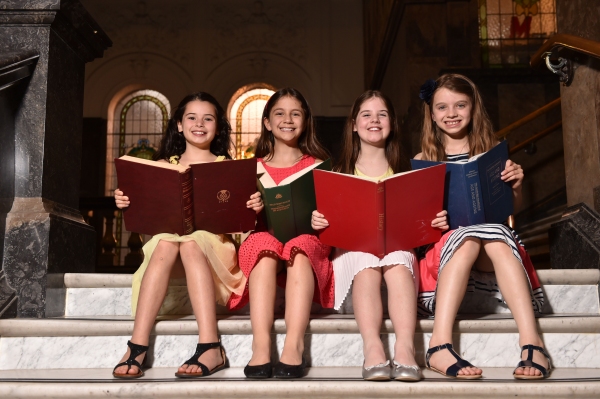 Ingrid Torelli, Alannah Parfett, Tiana Mirra and Dusty Bursill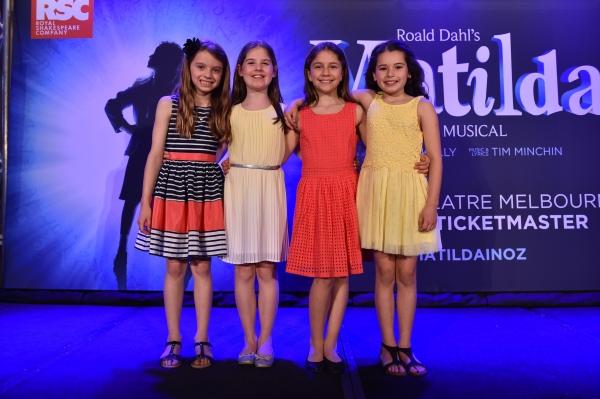 Ingrid Torelli, Alannah Parfett, Tiana Mirra and Dusty Bursill
Featured This Week on Stage Door
Shoutouts, Classes, and More from Your Favorite Broadway Stars




More Hot Stories For You