Review: Razor Sharp Black Comedy THE SECRETARY Turns the Gun Debate On Its Head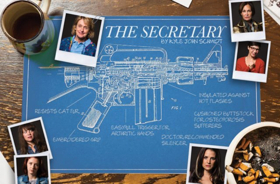 THE SECRETARY is a world premiere comedy by Kyle John Schmidt that shines a dark and wry light on America's love affair with guns. Initially developed at the Ingram New Play Lab at Nashville Repertory Theatre and workshopped earlier this season at Hyde Park Theatre, this razor sharp black comedy gets a slick, polished and professional production from Theatre en Bloc, now playing at The Long Center. When the sweet elderly secretary at a local high school deals with a threat in her office by firing off six bullets, the local gun manufacturer gets the idea to name their brand new gun "The Secretary", after her. Sales are slumping and they take advantage of the unfortunate modern reality that news of each new shooting is good for business. As production begins on their newest firearm, their guns begin going off without anyone pulling the trigger. Featuring an all female cast, THE SECRETARY is a black comedy with an extremely timely message.
Jenny Lavery directs this production with a deft hand focusing on timing to deliver big laughs and a shocking ending. Schmidt's script recalls the work of
John Guare
in the sharp turn it takes in the final moments. Lavery clearly understands the demands and power inherent with black comedy. Used as a structural element in THE SECRETARY are brilliantly funny audio commercials for the gun manufacturer's oddly named product line which happen between scenes and satirically romanticize gun ownership. These ads range in tone from feminine hygiene ads to infomercials and portray guns as tokens of love, life savers and job creators rather than objects of terror. These keep the show careening forward at a perfect pace and tone. These are set up by one of the funniest recorded curtain speeches ever heard, done in character by
Amber Quick
. Cheraya Esters beautiful and hyper masculine set design, combined with Rachel Atkinson's lighting provide the stylish backdrop on which Schmidt's tale of guns in rural America unfurls. Jenny Hanna-Chambers costumes work perfectly to help delineate these characters. The cast is superb from
Babs George
's emotionally shut down and no nonsense Ruby, the gun manufacturer, to
Regan Goins
' caustic April, who reminds Ruby of her own daughter. Susan Myburgh is hilarious as the slightly unhinged and over emotional office manager Janelle, delivering some riotously funny physical comedy moments along with her multiple meltdown monologues.
Amber Quick
is the picture of middle American white trash as crazy eyed Lorie and her comedic timing and body language are impeccable. She embodies that confrontational and scary office employee that we've all run across and given a wide berth for fear of setting her off. Liz Beckham is wonderful as Lorie's daughter Brandy, a conflicted ball of Kardashian-like need and entitlement on crutches. Rounding out the cast, as the school secretary Shirley, is Elise Ogden, who applies an off kilter logic to every daily situation. The scene where she does her exercises while answering questions is physical comedy gold.
Theatre en Bloc keeps raising the bar with each new production and their current offering of THE SECRETARY is their finest to date with this timely tale that turns the national gun debate squarely on its head. Offering equal servings of horror, humor and beauty this smart and slick package entertains while causing us to examine our own positions on fire arm ownership and marketing. I highly recommend THE SECRETARY as one of the finest theatrical offerings this season. This is an evening of theatre well worth your time. THE SECRETARY by Kyle
John Schmidt
Running Time: Approximately One Hour and Forty Minutes with one intermission. THE SECRETARY, produced by Theatre en Bloc, showing in the Rollins Theatre at the Long Center (701 Riverside at South First, Austin, TX, 78704). Performances are Fridays - Sundays, March 23 - April 08, 2018 at 8 PM.
Tickets are available at TheLongCenter.org or by calling (512) 474.LONG (5664). Tickets are also available at the Long Center's 3M Box Office, which is located at 701 West Riverside Drive at South First Street. For groups of 10 and more, please call 512-457-5150 or
groupsales@thelongcenter.org
.
In line with their mission to produce quality theatre that is relevant to communities and situations in Austin, TX, there will also be Optional Talk Backs regarding guns and gun culture following each performance.