BWW Review: Ken Webster Gives Tour de Force Performance in WAKEY WAKEY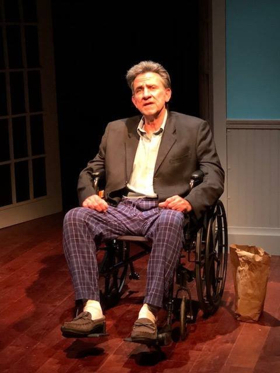 "Is it now? I thought I had more time." So begins Will Eno's new play WAKEY WAKEY, currently receiving a regional premiere production at Hyde Park Theatre. It is, in fact, only the second production of Eno's new work. These first words are spoken by Guy (Ken Webster), a man who is coming to terms with the knowledge that his time here on Earth is extremely limited. He is about to die. In a profoundly moving and luminously human meditation, Guy proceeds to utterly shatter the fourth wall in order to engage the audience in questioning why we are here and examining the various paths we take only to all arrive at the same place when all is said and done. WAKEY WAKEY is a subtly sublime examination of what, in the human experience, is actually worth celebrating and treasuring; and it does it while maintaining a decidedly dark, yet humorous tone. While this may sound like a depressing subject, Guy reminds us that "We're not here to mope, right? We're here to listen to music and drink some grape juice, maybe get a free T-shirt. We're here to say goodbye, of course - there's always someone or something to say goodbye to, and it's important to honor the people whose shoulders we stood upon and fell asleep against."

There isn't an actor or director in Austin who is more in tune with the dry wit, unexpected pathos and unique rhythm and timing of Will Eno than Ken Webster. Webster's performance almost makes you wonder if Eno wrote the script with Ken in mind when antithetical feelings collide like bumper cars. "Nothing is being asked of you here." Webster, as Guy, tells us, immediately putting the audience at ease. He then proceeds to engage us in a conversation reminiscent of those best moments of late night discussion with a lifelong friend, at turns both sage and trivial. It is a rumination on the importance of life's simple pleasures. Guy is here to deliver a "eulogy for the eulogist." The two men in Eno's 2012 play, The Realistic Joneses, struggled with their bodies and minds beginning to shut down from a rare degenerative neurological disease. Guy clearly suffers with a similar condition, but at an advanced state. Webster gives a riveting tour de force performance as we witness his trembling hands, the moments of fatigue, the split seconds of embarrassment when Guy momentarily loses his train of thought. It is a performance both playful and possessing layer upon layer of depth.

Supporting this eulogy is a wealth of slides, childhood photos, music, word puzzles, banal factoids, video clips of animals and plenty of superb tech. Lowell Bartholomee has created an impressively illustrious video design that not only supports the script, but is, in its own right, extremely clever and, at times, flatly hilarious. Robert S. Fisher's sound design is superb, so subtle in execution that more than once you question if it is part of the sound design of the show or the world happening outside the theatre that is leaking in. Mark Pickell's set design is full of symbolism. Is this a hospital room? Is it some sort of purgatory? Is that exit sign above the lone door the exit to the room or the proverbial final exit? The packing boxes serve as an indication of material things that aren't really important any longer. Don Day's lighting design wavers from illumination of the action on stage to including the audience as part of the proceedings, cluing us to the changing realities of the inevitable.

For most of the hour long performance, Guy is on stage alone. Toward the end, he is joined by Lisa (Rebecca Robinson), a woman who may be a hospice worker, or perhaps an end of life care professional. Her role is unspecified; but her dramatic purpose is clearly one of love and support in making the final transition smooth and Robinson delivers a beautiful and touching performance full of affirmation and positive energy.

As the end approaches, there's a lot to say and far too little time to say it. "Time is your friend and time is your enemy," says Guy, as he cues his memory with his index cards, "and for a while you get to decide which one is true." And, most importantly, he reminds us all to "take care of each other." WAKEY WAKEY is reminiscent of Eno's 2005, Thom Pain (based on nothing), in both style and execution. However, where the former was about the imbalances between what life promises and what it delivers; WAKEY WAKEY is a wake up call to recognize the joys of life along the way and to acknowledge that other people are our path to immortality.

WAKEY WAKEY is one of the most moving experiences I have had in a theatre. In many ways, it is a call for us to start conversations with strangers, to form connections where none have existed in the hope that we might walk out into the night air a little bit changed and a lot more loved. Please do yourself a favor and go experience this unique and slightly off kilter celebration of the things that, in the final analysis, truly matter. It is an intimate experience that is perfect for the space that is Hyde Park Theatre and one that, like life itself, is meant to be felt rather than merely observed.


WAKEY WAKEY by Will Eno
Running Time: Approximately One Hour with No Intermission

WAKEY WAKEY, produced by Hyde Park Theatre (511 West 43rd Street, Austin, TX, 78751).

Thursdays-Saturdays, March 01 - March 31, 2018 at 8 PM
Reservations / Tickets:
Thursdays are Pay What You Can Nights at the door.
For the first four weeks (March 1 - 24), Friday tickets are $22 and Saturday tickets are $24.
For the final weekend (March 29 - 31), Friday tickets are $24 and Saturday tickets are $26.
Tickets are $2 off for students, seniors, military, and Austin Creative Alliance members).
Purchase tickets at www.hydeparktheatre.org or call 512-479-PLAY (7529) for reservations.
Related Articles View More Austin

Stories

Shows
A Kansas native, Frank Benge has been involved in the Austin area theatre scene as a Director, Designer, Writer and Performer for the past 20 (read more...)