Austin Theatre Mourns The Loss of BroadwayWorld Austin's Frank Benge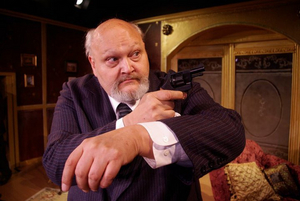 BroadwayWorld Austin Senior Editor, Franklin Edward Benge passed away Saturday, March 14 at 11:37 AM.
A larger than life presence in the Austin theatre scene, Frank leaves behind many memories and a full life well lived.
Frank was born in Topeka, Kansas, where he attended Washburn University majoring in theatre. It was in college that he toured with the '70's sensation UP WITH PEOPLE. He enjoyed working as a DJ at a local radio station in Topeka. Anyone who ever met Frank would remember his booming bass along with his encyclopedic knowledge of modern music.
Popular among his peers, Frank acted and directed for over 20 years in the Austin area, making his mark as a visionary and dedicated performer. Among his favorite roles were Sheridan Whiteside in THE MAN WHO CAME TO DINNER, Saunders in LEND ME A TENOR and Claudius in HAMLET.
He won critical praise for his direction of shows including THE CHALK GARDEN, AUNTIE MAME, CHICAGO and his steampunk version of THE TEMPEST PROJECT based on the Shakespearean play.
A little over 6 years ago Frank joined the staff of BroadwayWorld Austin. He found his true calling attending all the performances he could manage and helping to promote the theatre community he loved so much. Frank was a proud member of the Austin Critics Table where he shared his love of the arts in all its forms.
His last few years were unfortunately marred by illness, but he forged ahead keeping a busy reviewing schedule as long as he was able. As he had no living relatives, Frank leaves behind a large theatre family who adored him, cared for him during his illness and was by his side in his final moments.
As a friend said, "His wit, his compassion towards others, and his perseverance through his darkest times made him an inspiration to everyone lucky enough to cross his path. No one can fill the King's shoes. Ever."