Lynn Beaver
Austin native Lynn Beaver has been active in local theatre for the past 25 years. She saw her first play in 1974 and fell completely in love with the performing arts. Lynn has been a director, actor and technician for more productions than she cares to count. Currently she Stage Manages for various companies across the city. 
MOST POPULAR ARTICLES
LAST 365 DAYS
BWW Feature: Theatre Folks Continue To Contribute To Austin Community - Jennifer Rose Davis: The Archive Theatre
Posted: Jul. 23, 2020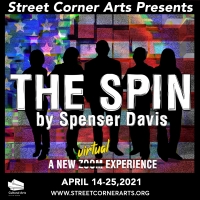 BWW Review: THE SPIN at Street Corner Arts
Posted: Apr. 17, 2021


BWW Feature: Baking For Good - Austin Theatre Community Bakes For Foundation Communities
Posted: Sep. 24, 2020


BWW Review: THE SPIN at Street Corner Arts

April 17, 2021

BWW Review: Street Corner Arts Wows Virtually With THE SPIN
---
BWW Feature: Baking For Good - Austin Theatre Community Bakes For Foundation Communities

September 24, 2020

Without a doubt the most delicious thing to come out of the global Coronavirus pandemic is the concentration on good old home cooking. If my Facebook and Instagram feeds are any guide, a culinary renaissance has taken place on an epic scale. What does this have to do with Austin theatre, you ask? Well, Baking For Good, an organization of local theatre luminaries is what and their offerings not only fill your belly, they are food for the soul of our community as well.
---
BWW Feature: Theatre Folks Continue To Contribute To Austin Community - Jennifer Rose Davis: The Archive Theatre

July 23, 2020

Today I'd like to feature award winning costume designer and lauded director, Jennifer Rose Davis, whose generosity, creativity and community spirit has shone brightly during these dark times.
---
Austin Theatre Mourns The Loss of BroadwayWorld Austin's Frank Benge

March 17, 2020

BroadwayWorld Austin Senior Editor, Franklin Edward Benge passed away Saturday, March 14 at 11:37 AM.
---
BWW Review: TRADE WITH KLAN at Southwest Theatre Productions At Santa Cruz Theatre

January 22, 2020

Ah the good old days! Back when the sky was clear, the water was clean and the red, white and blue of the 48 star spangled banner still waved true. Only not so much for people of color and immigrants who came to the 'land of opportunity'. Prejudice and racism is as American as apple pie as Southwest Theatre Productions's world premiere of TRADE WITH KLAN by Donald E. Baker so clearly illustrates.
---
BWW Review: THE NICETIES - Jarrott Productions at Trinity Street Theatre

January 21, 2020

Do you remember your American history class? I know I do, I loved history. We were told that George Washington and Thomas Jefferson were men of outstanding quality who believed that 'We hold these truths to be self-evident, that all men are created equal, that they are endowed by their Creator with certain unalienable Rights, that among these are Life, Liberty and the Pursuit of Happiness.a?? What we weren't told was that while writing these words, Thomas Jefferson owned over 600 African-American slaves. In addition, Jefferson had an enslaved mistress, Sally Hemings, with whom he fathered 6 children, who were in turn enslaved. Eleanor Burgess's play THE NICETIES takes on this type of historical discrepancy head on.
---
BWW Review: Broadway In Austin's DEAR EVAN HANSEN Tour Hits Right In The Heart

December 11, 2019

If you have never seen Broadway smash hit, DEAR EVAN HANSEN, you're in for an emotional roller coaster wrapped up in a multimedia work of art.
---
BWW Review: ZACH Theatre's A CHRISTMAS CAROL Perfect Holiday Entertainment

November 27, 2019

ZACH Theatre's A CHRISTMAS CAROL has been a holiday tradition in these parts for many years, and just when you think it can't get any better, Director Dave Steakley goes and does just that. He gives us bigger stars, better songs and a more topical message. I've been a fan of the show since I first reviewed it four years ago, but this year is the best ever, mostly due to the casting of Austin theatre legend Marc Pouhé as Scrooge.
---
BWW Review: Mèlange Theatre Company Debuts SAINT SOMEBODY

November 22, 2019

Rita Anderson's new play premiered with Mèlange Theatre Company last week at Trinity Street Theatre. The fascinating story is worthy of notice by any audience interested in American history or the human struggles that face us all.
---
BWW Review: Pollyanna Reveals Texas Cultural History With THE TEXAS CHILI QUEENS
November 14, 2019
---
BWW Review: Austin Opera Dazzles With RIGOLETTO

November 13, 2019

Austin Opera's latest effort, Verdi's, RIGOLETTO dazzles in every way. They absolutely outdid themselves this time.
---
BWW Review: THE HEARTLAND - A Mixed Bag

November 10, 2019

THE VINEYARD by Nicole Oglesby and produced by Heartland Theatre Collective plays its final performance at Trinity Street Theatre on November 10th.
---
BWW Review: HANG - A Modern Apologue

October 17, 2019

HANG by Debbie Tucker Green is a thoroughly modern play. Using only three actors, a bare bones set and lasting only 90 minutes, HANG uses clever dialogue to pull the audience in and twists the mind brilliantly. Currently showing at Ground Floor Theatre the play, that debuted in 2015, boasts an unequaled cast and crew that shatters the audience's perception with an unforeseen plot twist. Producer/Director Chuck Ney and his new production company, Horizon Line Theatre, have chosen the perfect show to make their first foray into the Austin theatre scene. Witty, articulate and provocative, HANG holds the audience in rapt attention, our heads spinning for the duration.
---
BWW Review: THE DUCHESS OF MALFI - Hidden Room Recreates Renaissance Thriller

October 17, 2019

The Hidden Room has a reputation for presenting meticulously researched historic theatre in the acting style in which they were originally produced. Their current show, THE DUCHESS OF MALFI does not disappoint. The cast and crew outdo themselves in presenting outstanding classic theatre every time. After it's run in Austin, this production hits the road to perform in London, Stratford and Cornwall.
---
BWW Review: Les Misèrables - Staged Perfection
September 13, 2019
---
BWW Review: DISNEY'S NEWSIES - Delights With A Young, High Energy Cast

September 13, 2019

Playing this month at the Georgetown Palace Theatre is DISNEY'S NEWSIES, a high voltage new musical about the newspaper strikes in New York City at the turn of the 20th century. The show follows a group of newspaper boys who are struggling to make enough to help feed their families. Prior to child labor laws, children of all ages did everything from hawk papers on street corners to deliver groceries or work in factories doing minimal paying tasks for pennies a day. Grueling work for kids but for families in dire financial situations the jobs were a godsend.
---
BWW Interview: Tarik Daniels of FIREFLIES at Whatsinthemirror?

August 13, 2019

Tarik Daniels, recent winner of an Austin Under 40 Award for his mental health advocacy using his theatre company Whatsinthemirror? presents FIREFLIES by Donna R. Love opens August 14th at Santa Cruz Center For Culture. A quiet young man with an ever ready megawatt smile, Tarik's joy in life is infectious as we sat down with him recently for a chat.
---
BWW Review: LA BOHEMÈ - Austin Opera Shines With Puccini Favorite

May 2, 2019

Over the last couple of years reviewing opera with BroadwayWorld, I have become a fan. Not only a fan of the classical work but a fan of Austin Opera and the sumptuous productions they bring to the stage. It makes my heart soar to hear the first strains of the orchestra conducted by the amazing Peter Bay and watch the curtain rise on pure magic.
---
BWW Review: THE HUNCHBACK OF NOTRE DAME - Texas State Rings In Masterpiece

May 2, 2019

With the Notre Dame Cathedral still in the news after a nearly catastrophic fire so recently it seemed strange coincidence to attend a production of THE HUNCHBACK OF NOTRE DAME. It certainly brought home for me the majesty of the medieval church but it also lent a small glimpse into the immense scope of Hugo's work. Kaitlin Hopkins takes the medieval setting and recreates it in a high concept artwork in black, white, tones of gray and slashes of crimson. The effect is a feast for the senses.
---
BWW Review: SISTER ACT - Palace Strikes Solid Gold

April 23, 2019

SISTER ACT, the musical, follows the 1992 Whoopi Goldberg movie of the same name, opened April 19th at the Georgetown Palace theatre, and the result is solid gold entertainment.
---