Photos: Inside the Junior Theatre Festival in Atlanta, With Pasek and Paul, Cynthia Erivo, Cameron Mackintosh, and More!
iTheatrics Junior Theater Festival Atlanta (#JTF) was held January 18-20, 2019 at The Cobb Galleria Centre in Atlanta.
Among the special guests included Disney Theatrical Productions President & Producer Thomas Schumacher, Frozen songwriters Kristen Anderson-Lopez & Robert Lopez, Caissie Levy (Frozen on Broadway), legendary Broadway and West End producer (and Chairman of Music Theatre International) Sir Cameron Mackintosh, songwriting team Pasek & Paul, Taylor Iman Jones (Head Over Heels), Ryan McCarten (Heathers The Musical), Billy Jenkins ("The Crown," "Holmes & Watson"), Luca Padovan (School of Rock), and Isabella Russo (School of Rock).
Check out the photos below!


iTheatrics founding chairman and Junior Theater Festival Executive Producer Timothy Allen McDonald welcomes teachers to the Director's reception at the 2019 iTheatrics Junior Theater Festival Atlanta

iTheatrics founding chairman Timothy Allen McDonald introduces the iTheatrics team who produces the iTheatrics Junior Theater Festival Atlanta

iTheatrics founding chairman Timothy Allen McDonald opens the iTheatrics Junior Theater Festival (photo: Marcus Woollen for the Junior Theater Festival)

iTheatrics founding chairman Timothy Allen McDonald opens the iTheatrics Junior Theater Festival. (photo: Marcus Woollen for the Junior Theater Festival)

iTheatrics founding chairman Timothy Allen McDonald introduces festival correspondents and Broadway performers Isabella Russo (School of Rock) and Luca Padovan (School of Rock). (photo: Marcus Woollen for the Junior Theater Festival)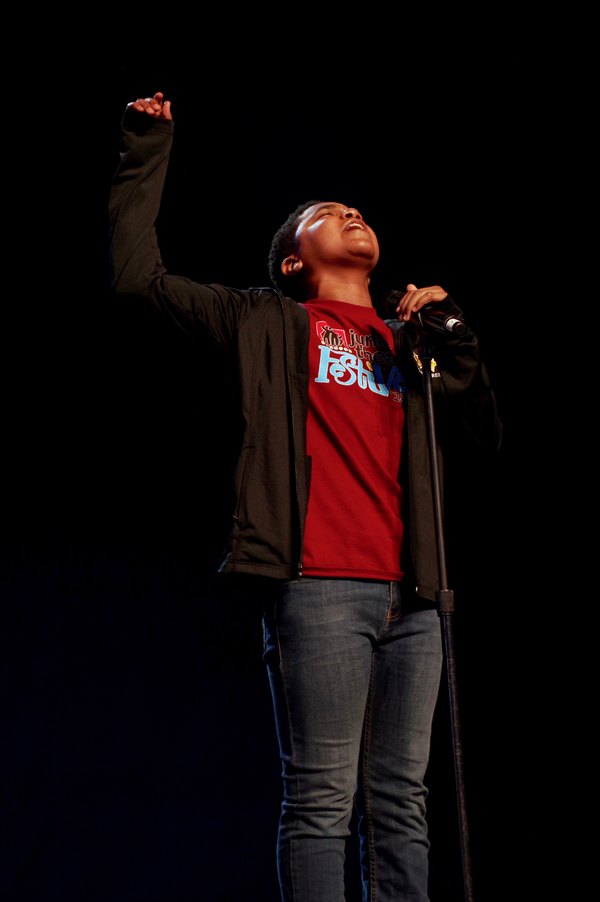 DMR Adventures student Jonah Taylor sings the National Anthem (photo: Marcus Woollen for the Junior Theater Festival)

DMR Adventures student Jonah Taylor sings the National Anthem (photo: Marcus Woollen for the Junior Theater Festival)

Play On Players from Gainesville offered a performance of Godspell JR. which made everyone cry during adjudications (photo: Marcus Woollen for the Junior Theater Festival)

John Prignano, chief operating officer and director of education and development at Music Theatre International, Freddie Gershon, Co-Chairman of Music Theatre International, and director and educator Holly Stanfield during adjudications. (photo: Marcus Woollen for the Junior Theater Festival)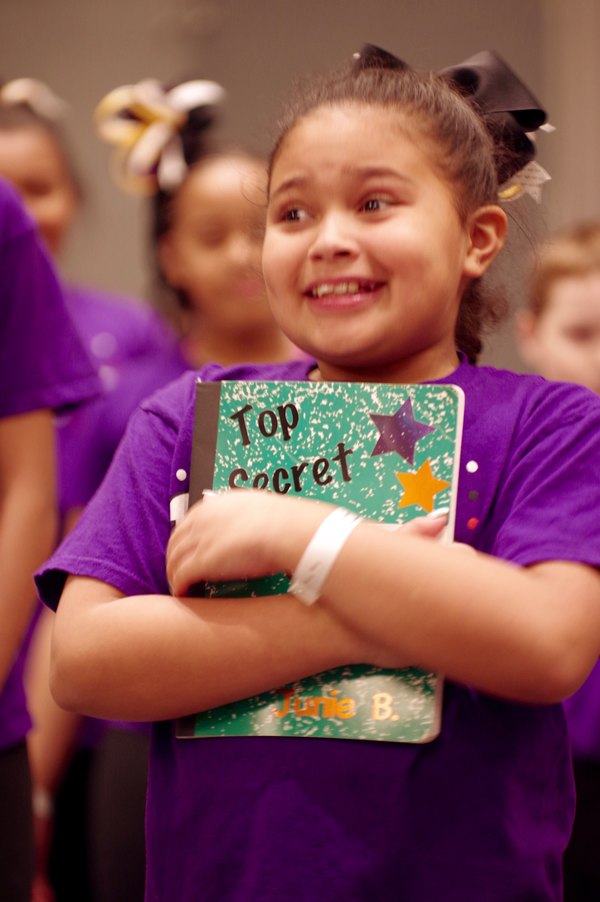 Michelle Lopez from Roy Waldron Elementary Drama in La Vergne performs Junie B. Jones JR. during adjudication. (photo: Marcus Woollen for the Junior Theater Festival)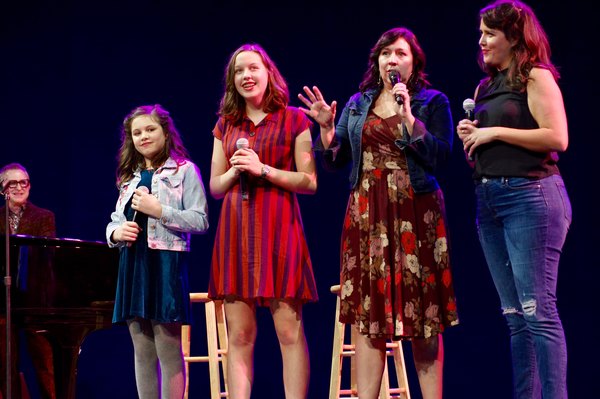 Disney Theatrical Productions President & Producer Thomas Schumacher, Annie Lopez, Katie Lopez, songwriter and composer Kristen Anderson-Lopez ("Frozen"), songwriter Kate Anderson of the songwriting team Samsel & Anderson (Between the Lines) (photo: Marcus Woollen for the Junior Theater Festival)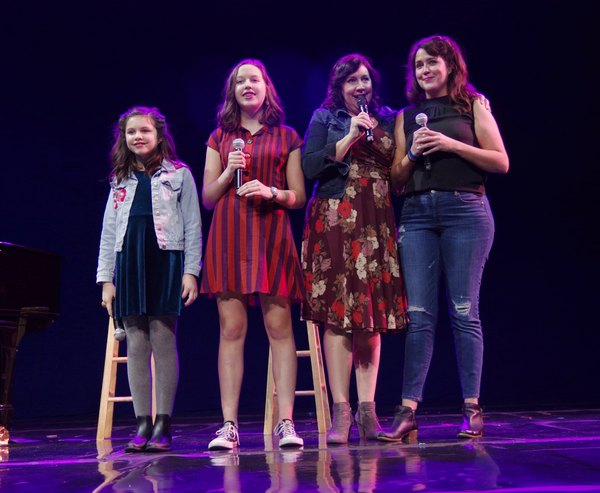 Annie Lopez, Katie Lopez, songwriter and composer Kristen Anderson-Lopez ("Frozen"), songwriter Kate Anderson of the songwriting team Samsel & Anderson (Between the Lines). (photo: Marcus Woollen for the Junior Theater Festival)

songwriter and composer (Frozen) Bobby Lopez. (photo: Marcus Woollen for the Junior Theater Festival)

Disney Theatrical Productions President & Producer Thomas Schumacher (photo: Marcus Woollen for the Junior Theater Festival)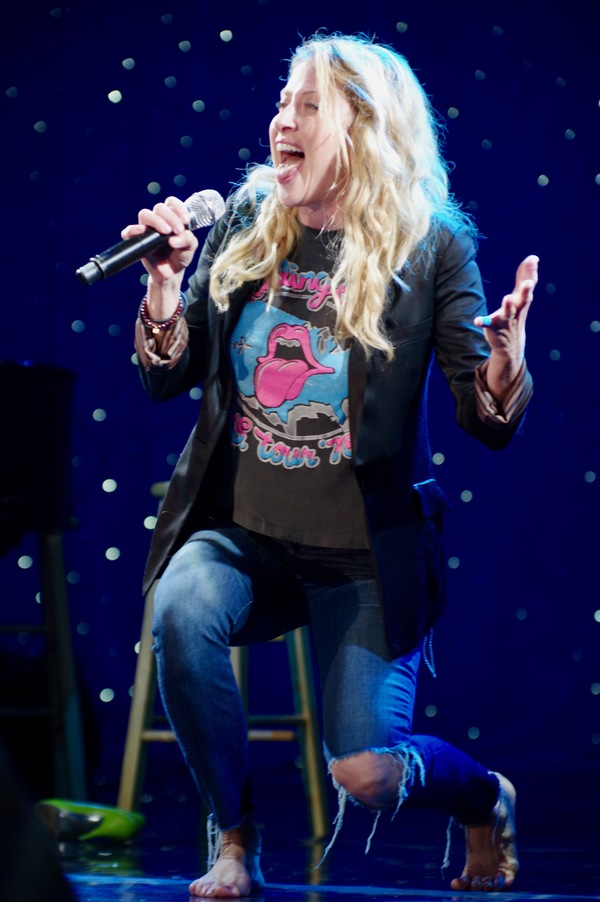 Caissie Levy (photo: Marcus Woollen for the Junior Theater Festival)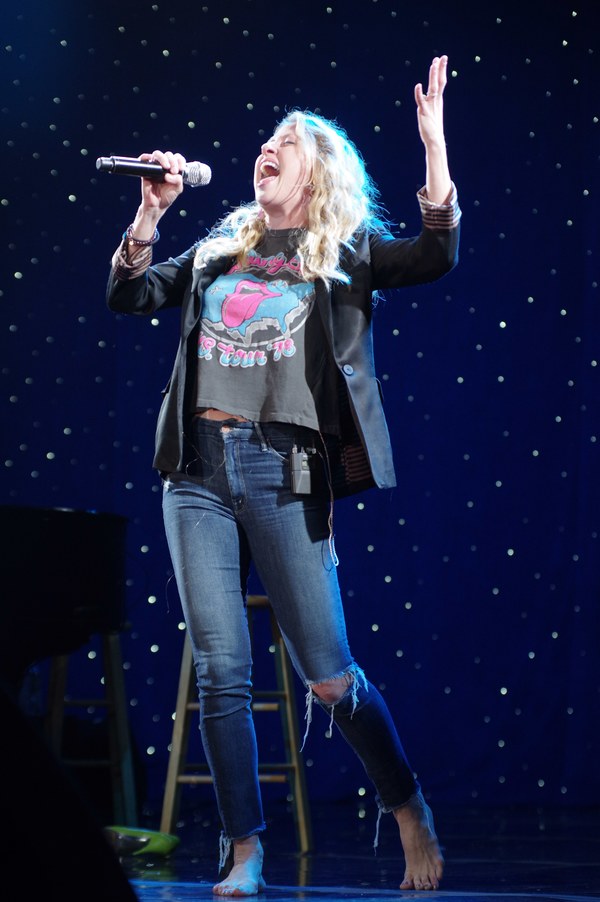 Caissie Levy (photo: Marcus Woollen for the Junior Theater Festival)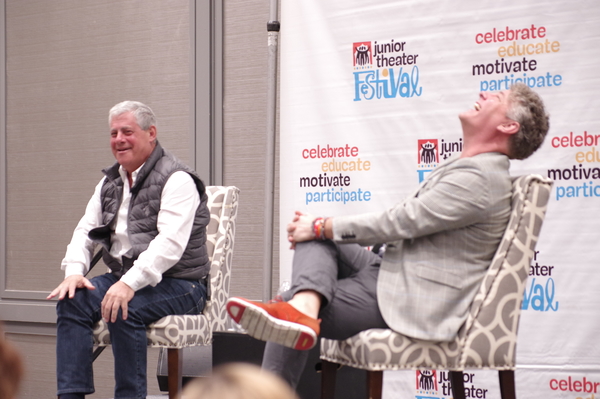 iTheatrics founding chairman and Junior Theater festival executive producer Timothy Allen McDonald moderates a panel with Sir Cameron Mackintosh (photo: Marcus Woollen for the Junior Theater Festival)

Sir Cameron Mackintosh (photo: Marcus Woollen for the Junior Theater Festival)

iTheatrics founding chairman and Junior Theater festival executive producer Timothy Allen McDonald moderates a panel with Sir Cameron Mackintosh (photo: Marcus Woollen for the Junior Theater Festival)

students from Jeter Backyard Theater students perform Frozen JR. at the New Works Showcase at the 2019 iTheatrics Junior Theater Festival Atlanta (photo: Marcus Woollen for the Junior Theater Festival)

Jeter Backyard Theater student Kaylee Bechtold performing as Elsa in Frozen JR. at the Junior Theater Festival Atlanta (photo: Marcus Woollen for the Junior Theater Festival)

Jeter Backyard Theater student Kaylee Bechtold and fellow cast members performing Frozen JR. at the iTheatrics Junior Theater Festival Atlanta (photo: Marcus Woollen for the Junior Theater Festival)

students from Jeter Backyard Theater students perform Frozen JR. at the New Works Showcase at the 2019 iTheatrics Junior Theater Festival Atlanta (photo: Marcus Woollen for the Junior Theater Festival)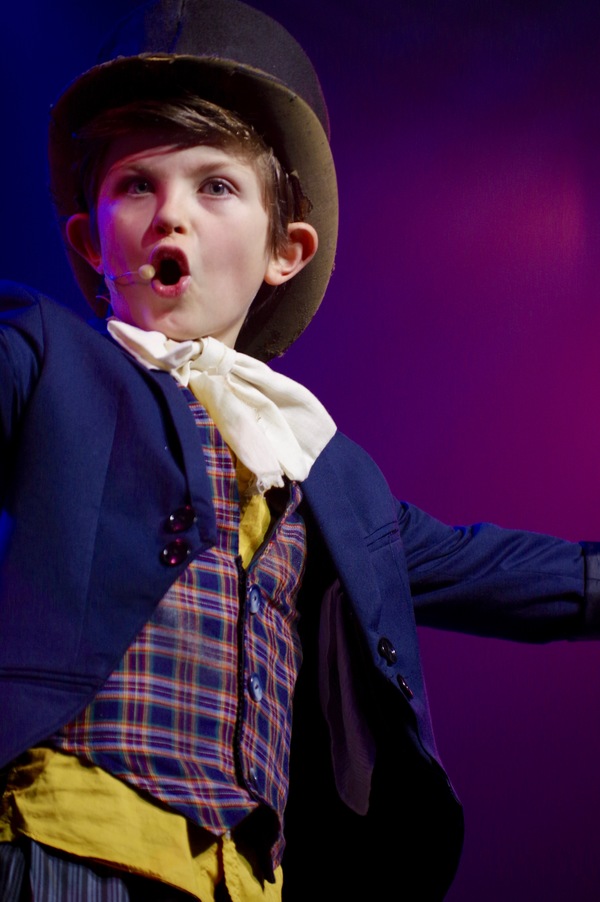 Billy Jenkins from London's The British Theatre Academy in Oliver JR. (photo: Marcus Woollen for the Junior Theater Festival)

London's The British Theater Academy is joined by students from schools across America in performing "Food Glorious Food" from Oliver JR. at the iTheatrics Junior Theater Festival Atlanta's New Works Showcase. (photo: Marcus Woollen for the Junior Theater Festival)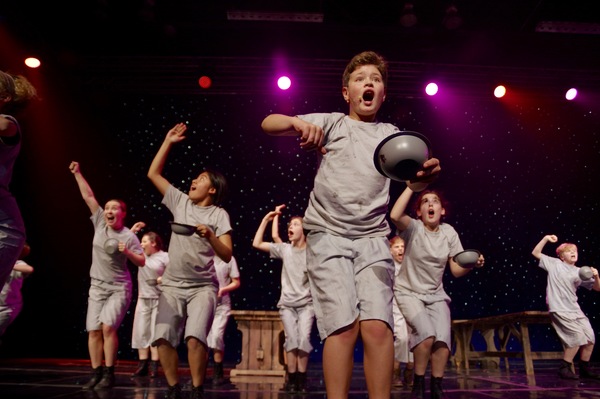 London's The British Theatre Academy performs Oliver JR. (photo: Marcus Woollen for the Junior Theater Festival)

London's The British Theatre Academy performs Oliver JR. (photo: Marcus Woollen for the Junior Theater Festival)

London's The British Theatre Academy performs Oliver JR. (photo: Marcus Woollen for the Junior Theater Festival)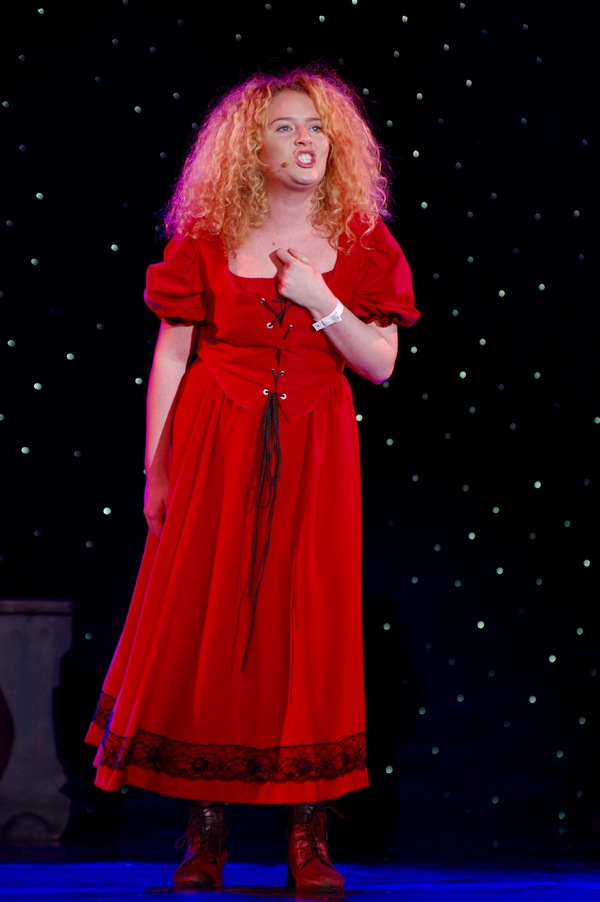 Bethan Keens from London's The British Theatre Academy performs as Nancy in Oliver JR. (photo: Marcus Woollen for the Junior Theater Festival)

Bethan Keens from London's The British Theatre Academy performs as Nancy in Oliver JR. (photo: Marcus Woollen for the Junior Theater Festival)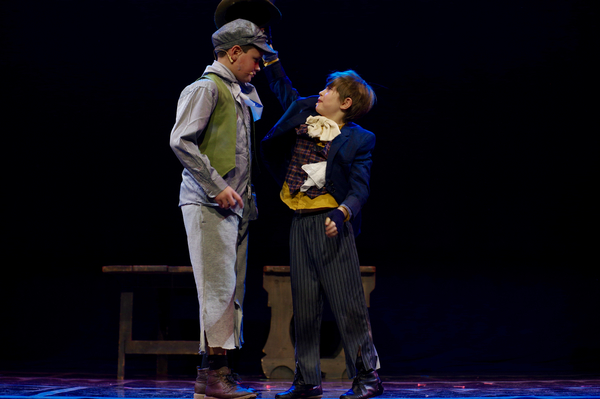 Evan Huntley-Robertson (Oliver) and Billy Jenkins (The Artful Dodger) from London's The British Theatre Academy performing in Oliver JR. at the iTheatrics Junior Theater Festival Atlanta New Works Showcase. (photo: Marcus Woollen for the Junior Theater Festival)

Audrey Flatt (Hermey the Elf) from The University School of Nashville performs in Rudolph The Red Nosed Reindeer JR. (photo: Marcus Woollen for the Junior Theater Festival)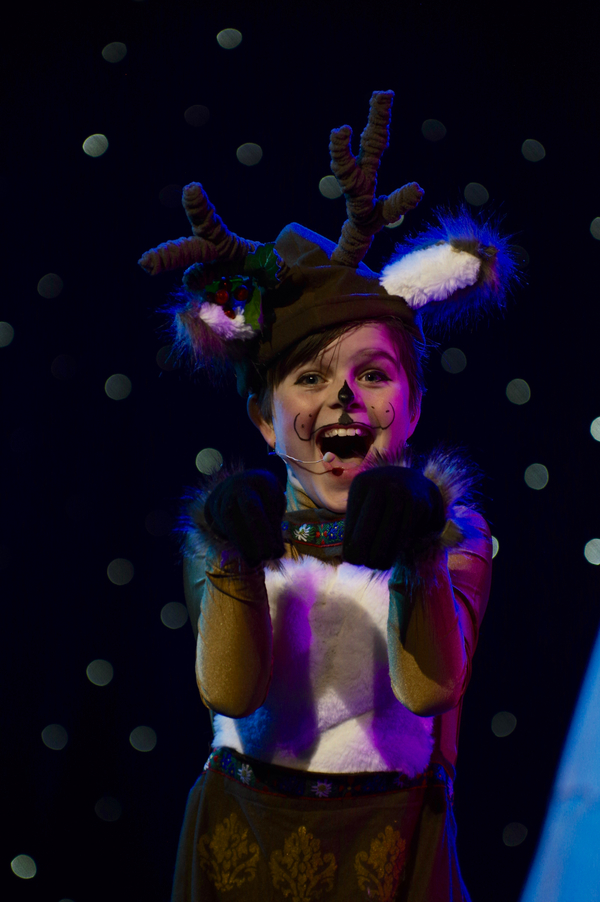 Erin Joyce (Reindeer) from The University School of Nashville performs Rudolph The Red Nosed Reindeer JR. (photo: Marcus Woollen for the Junior Theater Festival)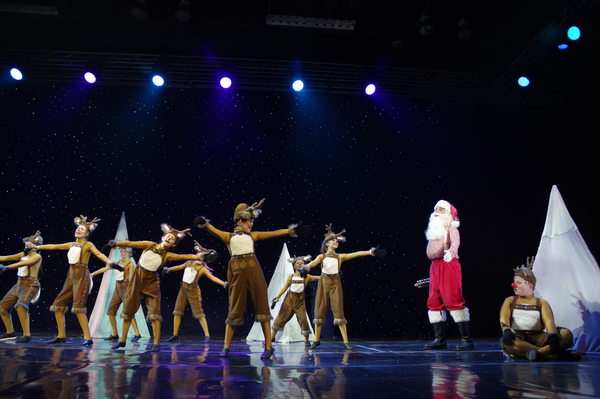 The University School of Nashville performs selections from Rudolph The Red Nosed Reindeer JR. at the New Works Showcase. (photo: Marcus Woollen for the Junior Theater Festival)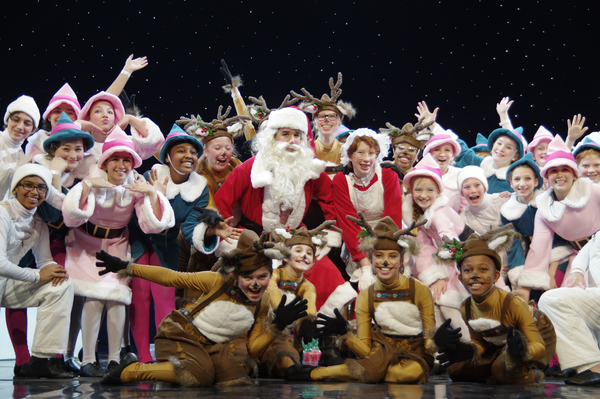 The University School of Nashville performs selections from Rudolph The Red Nosed Reindeer JR. (photo: Marcus Woollen for the Junior Theater Festival)

Students from Community Theatre of Greensboro in North Carolina and Adelaide Youth Theater in Australia present Sister Act JR. (photo: Marcus Woollen for the Junior Theater Festival)

Students from Community Theatre of Greensboro in North Carolina and Adelaide Youth Theater in Australia present Sister Act JR. at the New Works Showcase (photo: Marcus Woollen for the Junior Theater Festival)

One hundred students serenade MTI Co Chairman and Broadway Junior founder Freddie Gershon as part of his acceptance of the Broadway Junior Spirit Award, awarded to him at the 2019 iTheatrics Junior Theater Festival Atlanta (photo: Marcus Woollen for the Junior Theater Festival)

MTI Co Chairman and Broadway Junior founder Freddie Gershon accepts the Broadway Junior Spirit Award, awarded to him at the 2019 iTheatrics Junior Theater Festival Atlanta (photo: Marcus Woollen for the Junior Theater Festival)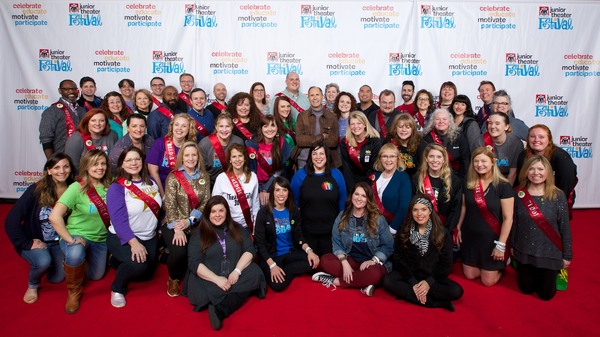 MTI Co-Chairman Freddie Gershon with current and past recipients of the Freddie G Fellowship (photo: James Barker Photography for the Junior Theater Festival)

Freddie G Outstanding Production recipient Play On Players in Gainesville, GA perform onstage at the iTheatrics Junior Theater Festival Atlanta (photo: Marcus Woollen for the Junior Theater Festival)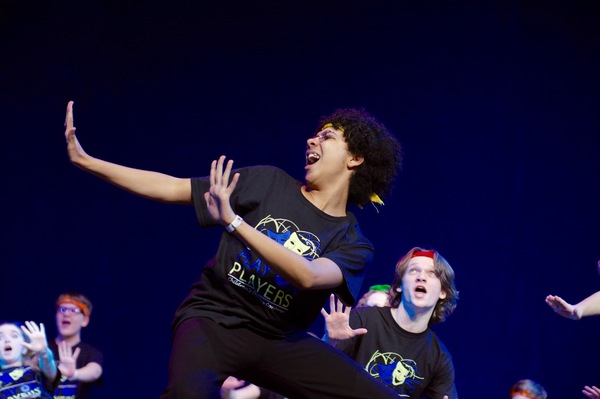 Freddie G Outstanding Production recipient Play On Players in Gainesville, GA perform onstage at the iTheatrics Junior Theater Festival Atlanta (photo: Marcus Woollen for the Junior Theater Festival)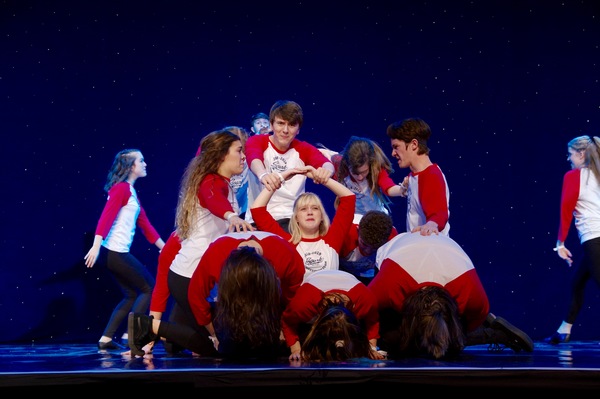 Freddie G Outstanding Production recipient Play on Players in Dothan, AL perform onstage at the iTheatrics Junior Theater Festival Atlanta (photo: Marcus Woollen for the Junior Theater Festival)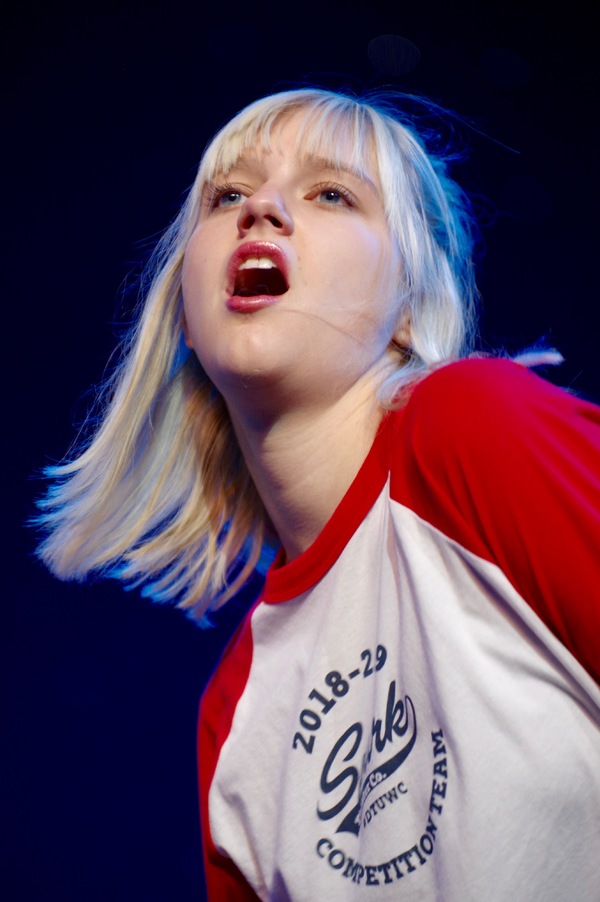 Freddie G Outstanding Production recipient Play on Players in Dothan, AL perform onstage at the iTheatrics Junior Theater Festival Atlanta (photo: Marcus Woollen for the Junior Theater Festival)

Freddie G Outstanding Production recipient Bravo in Oak Park, IL performs onstage at the iTheatrics Junior Theater Festival Atlanta (photo: Marcus Woollen for the Junior Theater Festival)

Freddie G Outstanding Production recipient Bravo in Oak Park, IL performs onstage at the iTheatrics Junior Theater Festival Atlanta (photo: Marcus Woollen for the Junior Theater Festival)

Freddie G Outstanding Production recipient Showtime Theatre Company in Rock Hill, SC performs onstage at the iTheatrics Junior Theater Festival Atlanta (photo: Marcus Woollen for the Junior Theater Festival)

Freddie G Outstanding Production recipient Showtime Theatre Company in Rock Hill, SC performs onstage at the iTheatrics Junior Theater Festival Atlanta (photo: Marcus Woollen for the Junior Theater Festival)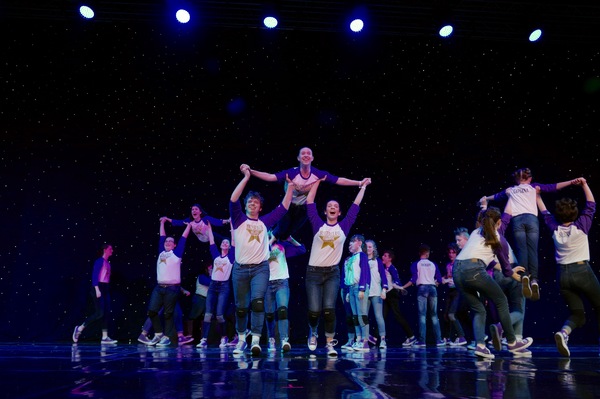 Freddie G Outstanding Production recipient Ohlook Performing Arts Center in Grapevine, TX performs onstage at the iTheatrics Junior Theater Festival Atlanta (photo: Marcus Woollen for the Junior Theater Festival)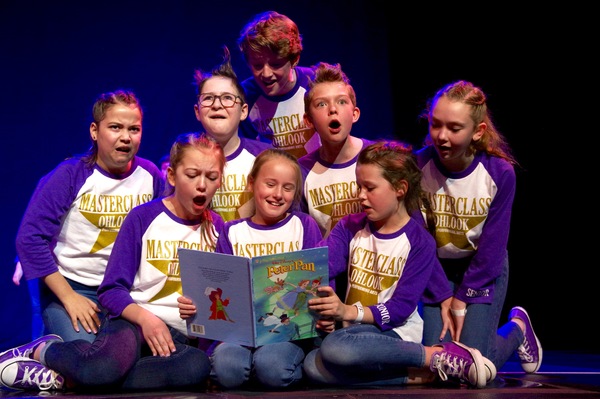 Freddie G Outstanding Production recipient Ohlook Performing Arts Center in Grapevine, TX performs onstage at the iTheatrics Junior Theater Festival Atlanta (photo: Marcus Woollen for the Junior Theater Festival)

Freddie G Outstanding Production recipient Marietta Sixth Grade Academy in Marietta, GA performs onstage at the iTheatrics Junior Theater Festival Atlanta (photo: Marcus Woollen for the Junior Theater Festival)

Freddie G Outstanding Production recipient Marietta Sixth Grade Academy in Marietta, GA performs onstage at the iTheatrics Junior Theater Festival Atlanta (photo: Marcus Woollen for the Junior Theater Festival)

Freddie G Outstanding Production recipient Melody Lane Performing Arts Center in Cape Coral, FL performs onstage at the iTheatrics Junior Theater Festival Atlanta (photo: Marcus Woollen for the Junior Theater Festival)

Freddie G Outstanding Production recipient Melody Lane Performing Arts Center in Cape Coral, FL performs onstage at the iTheatrics Junior Theater Festival Atlanta (photo: Marcus Woollen for the Junior Theater Festival)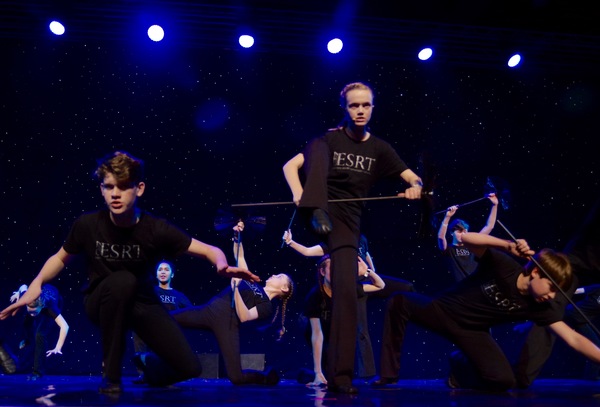 Freddie G Outstanding Production recipient Eastern Shore Repertory Theatre (Fairhope, AL) performs onstage at the iTheatrics Junior Theater Festival Atlanta (photo: Marcus Woollen for the Junior Theater Festival)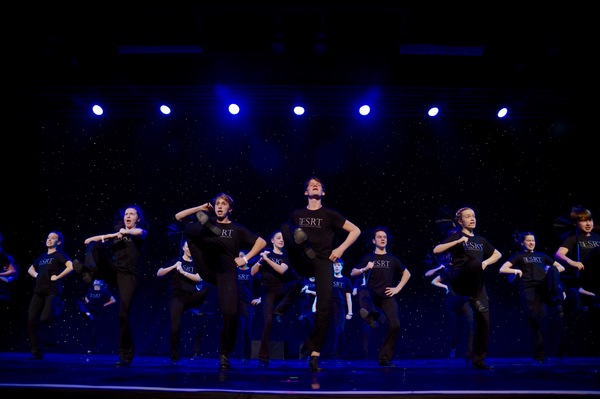 Freddie G Outstanding Production recipient Eastern Shore Repertory Theatre (Fairhope, AL) performs onstage at the iTheatrics Junior Theater Festival Atlanta (photo: Marcus Woollen for the Junior Theater Festival)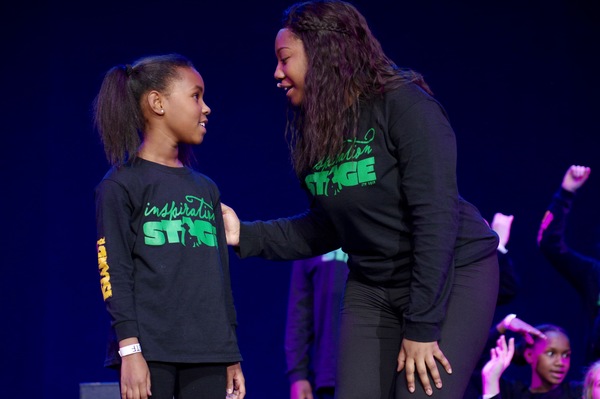 Freddie G Outstanding Production recipient Inspiration Stage (Sugar Land, TX) performs onstage at the iTheatrics Junior Theater Festival Atlanta (photo: Marcus Woollen for the Junior Theater Festival)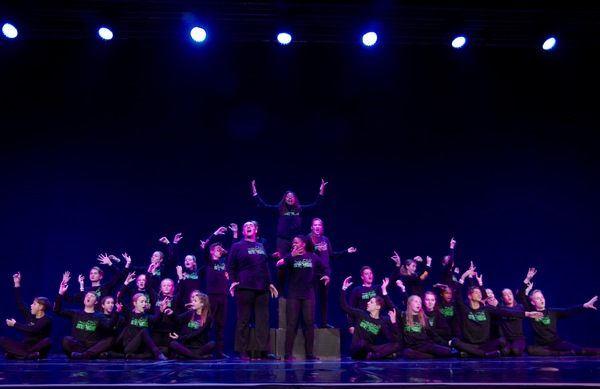 Freddie G Outstanding Production recipient Inspiration Stage (Sugar Land, TX) performs onstage at the iTheatrics Junior Theater Festival Atlanta (photo: Marcus Woollen for the Junior Theater Festival)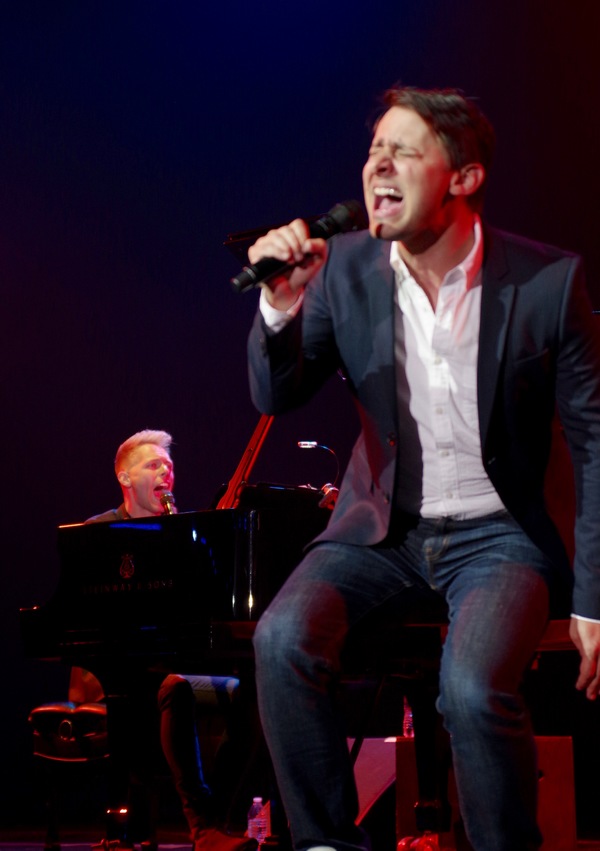 Justin Paul and Benj Pasek perform the headlining concert at the iTheatrics Junior Theater Festival (photo: Marcus Woollen for the Junior Theater Festival)

Justin Paul and Benj Pasek perform the headlining concert at the iTheatrics Junior Theater Festival (photo: Marcus Woollen for the Junior Theater Festival)

Justin Paul, Tony and Grammy-winning actress Cynthia Erivo, and Benj Pasek at the iTheatrics Junior Theater Festival Atlanta (photo: Marcus Woollen for the Junior Theater Festival)

Justin Paul, Luca Padovan, Isabella Russo, and Benj Pasek (photo: Marcus Woollen for the Junior Theater Festival)

Justin Paul and Benj Pasek perform the headlining concert at the iTheatrics Junior Theater Festival (photo: Marcus Woollen for the Junior Theater Festival)

Justin Paul, Tony and Grammy-winning actress Cynthia Erivo, and Benj Pasek at the iTheatrics Junior Theater Festival Atlanta (photo: Marcus Woollen for the Junior Theater Festival)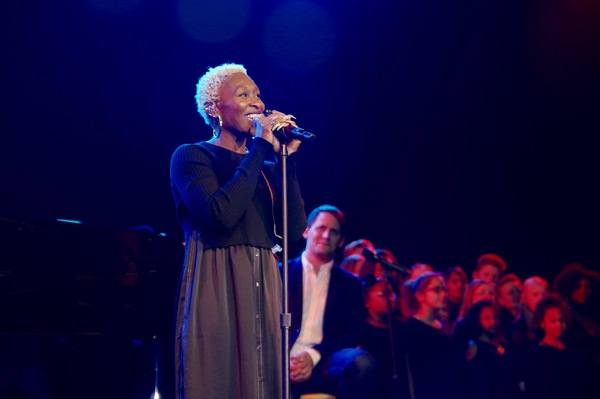 Cynthia Erivo and Benj Pasek (photo: Marcus Woollen for the Junior Theater Festival)

Justin Paul, Tony and Grammy-winning actress Cynthia Erivo, and Benj Pasek at the iTheatrics Junior Theater Festival Atlanta (photo: Marcus Woollen for the Junior Theater Festival)