Photo Flash: First Look at Georgia Ensemble Theatre's GHOST THE MUSICAL
Georgia Ensemble Theatre (GET), North Fulton's only professional theatre company, opens its 24th Season with the Southeastern premiere of Ghost The Musical at the Theatre's home in the Roswell Cultural Arts Center. Performances have limited run dates for three weeks only from September 15th through October 2nd, 2016, Wednesdays through Sundays. GET's Co-founder and Artistic Director Robert Farley will direct the production. Sponsor for this blockbuster show is longtime GET corporate partner, Macy's.
Director Bob Farley says of the production, "I am so happy to be bringing to Georgia Ensemble Theatre the Southeastern premiere of a brand new re-imagining of this beautiful musical since its Broadway incarnation with an outstanding ensemble of players and brand new, all-acoustic orchestrations. Ghost is one of the most romantic and memorable stories ever written. You will laugh, cry, and experience a roller coaster of song and excitement that is Ghost the Musical. "
With book and lyrics by Bruce Joel Rubin (based on his film), audiences will revel in this new version of the musical, a timeless fantasy about the power of love. As in the 1990 film, you can't help but be drawn in by the romance, the comedy, and the suspense of this story of two young lovers, Sam and Molly. Torn apart by a tragic crime, psychic Oda Mae Brown facilitates Sam's journey back from death to help solve his own murder. The story is brought to life with music and lyrics by Dave Stewart (The Eurythmics) and Glen Ballard (Michael Jackson's Thriller)
Ghost The Musical features an extraordinary cast of Atlanta performers, including many new comers to the GET stage.
Chase Peacock (Broadway: American Idiot. First National Tour: High School Musical. Bull Durham at The ALLIANCE THEATRE) makes his GET debut as Sam Wheat and Kylie Brown (Hello Dolly! at GET) plays Molly Jensen. Kandice Arrington (The Full Monty at The Atlanta Lyric Theatre and A Little Princess at Theatrical Outfit) also debuts as psychic Oda Mae Brown with GET favorite Jeremy Wood (Almost Heaven, John Denver's America at the Chattahoochee Nature Center in both 2015 and 2016 as well as the original production at GET's home theatre, One Slight Hitch, Camelot at GET) taking on the role of Carl Bruner. Performing multiple roles are Ptah Garvin (Calendar Girls at GET); Skyler Brown (Christmas Canteen and Memphis at Aurora/Theatrical Outfit, GET debut); T'arica Crawford (Memphis at Aurora/Theatrical Outfit, GET debut); Jasmine Ellis (GET debut); Shelli Delgado (And Then They Came For Me at GET); Matt Lewis (Buddy: The Buddy Holly Story at GET); Stephen Brown (Choir Boy, Tell Me My Dream at The ALLIANCE THEATRE, GET debut).
Ticket prices for Ghost The Musical start at $30 for Wednesdays, Thursdays and matinees; Friday nights start from $37, and Saturday nights start from $40. Book early for best prices. (Senior/Student discounts available for select performances). Tickets are available now online at www.get.org, or by calling the Box Office at 770-641-1260.
ABOUT GEORGIA ENSEMBLE THEATRE: The Georgia Ensemble Theatre and Conservatory provides quality theatre productions and arts education to the north metro Atlanta area. The Company annually produces five mainstage productions, attended by more than 30,000 patrons, as well as school tours, the new FamilyStage series, and year-round classes for all ages.
Season sponsors for the 24th Season are: Fulton County, Georgia Council for the Arts, The Imlay Foundation, Niolon Lumber, and the City of Roswell.
Georgia Ensemble Theatre's 24th Season continues with:
On the Verge, Or The Geography of Yearning directed by Carolyn Cook is GET's second production and will run November 3-20, 2016, followed by the Topher Payne World Premiere comedy, Greetings Friend Your Kind Assistance Is Required directed by Shannon Eubanks, January 5-22, 2017. Rounding out the season is Having Our Say, The Delany Sisters First 100 Years, February 16 - March 5, 2017 directed by Andrea Frye, and the final production, running April 6-23, 2017, is the mega hit musical Million Dollar Quartet being directed by Brandt Blocker.
Georgia Ensemble Theatre is located at the Roswell Cultural Arts Center, 950 Forrest Street, Roswell, GA 30075. Mailing address is P.O. Box 607, Roswell, GA 30077-0607. www.get.org


Kylie Brown

Kandice Arrington, T'Arica Crawford, Jasmine Ellis

Kandice Arrington and Chase Peacock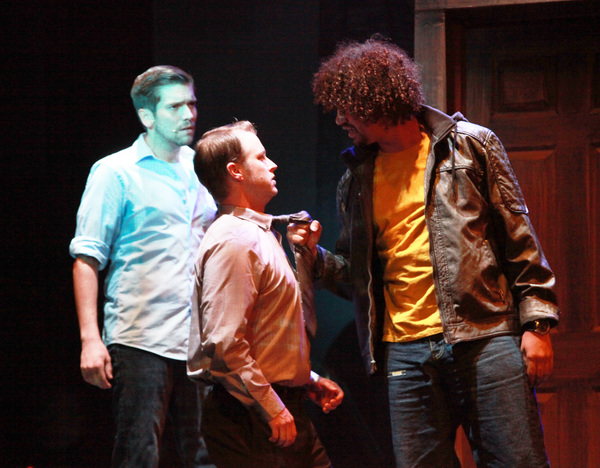 Chase Peacock, Jeremy Wood, Skyler Brown
Photo Credit: Dan Carmody/Studio 7