Celtic Woman Invites Fans To Exclusive Filming Of New Live Concert in Sept.
Celtic Woman is offering a once in a lifetime experience to their American fans by giving them the exclusive opportunity to purchase tickets and witness the filming of their brand-new live concert for broadcast on Public Television and release on DVD. For the first-time-ever a Celtic Woman project will be filmed on American soil on September 6 and 7 at the majestic Fox Theatre in Atlanta, GA (tickets on-sale August 1 at 10:00am EST through all Ticketmaster outlets). Internationally renowned for alluring stage productions and songs of heartwarming inspiration, the concert will reveal what is destined to mark a new chapter of musical enchantment to be enjoyed by the entire family.
Celtic Woman's previous smash hit Public Television programs and companion live concert DVD's were filmed at historic locations around Ireland: The Helix Dublin, Slane Castle, Powerscourt House & Gardens. Since forming in 2004, the unique all-female ensemble has emerged as a spectacular commercial success and a genuine cultural phenomenon. The beloved ensemble's evocative, uplifting music has transcended national and cultural borders to touch the hearts of a devoted fan base that spans the globe.
Since Celtic Woman's March 2005 American debut on Public Television, this unique, all-female, adult contemporary ensemble have gone on to achieve world renown success. They have succeeded by connecting directly to fans via their Public Television specials, frequent touring and then having those fans share the experience with friends and loved ones. Over 6 million CDs/DVDs sold worldwide, two Top 10 album debuts on the Billboard Top 200, 3 Gold and Platinum albums, 4 Top 5 releases on the Billboard Top Video chart and over 1.7 million concert tickets sold.
For more information, visit www.celticwoman.com.
Related Stories
Joseph Harrison has been involved with the theatre in some form or fashion all his life. He holds a Journalism degree from the University of Georgia, but his true love is the theatre which he has b... (read more about this author)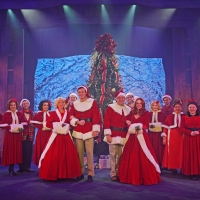 Review: WHITE CHRISTMAS at Titusville Playhouse

November 21, 2022

What did our critic think of WHITE CHThe holidays are about traditions - that special dish on the table, the favorite decoration that was handmade by your child, or a familiar song playing on the radio. And for many, nothing says tradition like watching a classic holiday film. Even though we take comfort in watching these familiar stories play out in the expected way on the small screen, for me, one of the special thrills of seeing a lot of live theater is getting to witness a timeless classic brought to vivid life on the stage. Such is the case for WHITE CHRISTMAS, the latest offering from Titusville Playhouse in Titusville, FL – a thrilling, heartwarming and thoroughly entertaining musical for everyone – young and old alike.RISTMAS at Titusville Playhouse?
---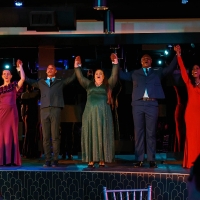 Review: THE WORLD GOES ROUND by New Generation Theatrical

October 9, 2022

"Somebody loses, and somebody wins, and one day it's kicks, then it's kicks in the shins. But the planet spins. And the world goes 'round and 'round." So goes the title song of the musical revue THE WORLD GOES ROUND – capturing the essence of life, love, loss and everything in between – and setting the stage for a journey through the iconic catalog of musical theatre legends John Kander and Fred Ebb (CABARET, CHICAGO, ZORBA). And in its latest offering of this rare gem of a revue, New Generation Theatrical delivers a stylish, sophisticated and thoroughly satisfying production – giving audiences a simple but thrilling musical with something for everyone.
---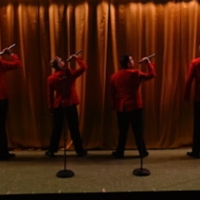 Review: SH-BOOM! LIFE COULD BE A DREAM at The Winter Park Playhouse

September 25, 2022

The Winter Park Playhouse, in Winter Park, FL is extremely good at producing intimate, sometimes lesser-known, but always high-quality musicals. In my short time here in Orlando, I have had the pleasure of visiting the Playhouse on a few occasions, and each time have been thrilled at my experience – not just because the shows themselves were outstanding, but because the environment radiates warmth, positivity and a true love of the craft of musical theatre. So, it was once again my pleasure to make it out this weekend to see the latest production of The Winter Park Playhouse's 20th anniversary season – SH-BOOM! LIFE COULD BE A DREAM, and once again I came away with a huge smile and a heartwarming feeling. This latest production is everything audiences have come to expect: a fun and entertaining night of musical theatre, presented by a highly talented cast and imagined by a strong creative team.
---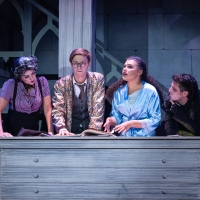 Review: YOUNG FRANKENSTEIN at Osceola Arts

September 20, 2022

There's no arguing that musicals made from movies can be hit or miss. Broadway has had it's share of them over the last few decades. Sometimes they work well (e.g., HAIRSPRAY, LEGALLY BLONDE, THE PRODUCERS) and sometimes not so much (e.g., CARRIE, KING KONG, DRACULA) but there is something particularly thrilling about seeing a fan favorite brought to life on stage. That is certainly the case for YOUNG FRANKENSTEIN, the musical version of the 1974 Mel Brooks comedy film of the same name. And lucky for fans (of either the film or the musical) the current production at Osceola Arts in Kissimmee is absolutely fabulous – from the first bolt of lighting to the last thunderclap (and audience clap) – it's a non-stop, rollicking good time.
---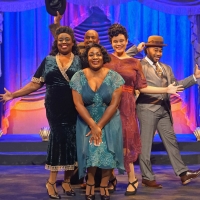 Review: AIN'T MISBEHAVIN' at Titusville Playhouse

September 17, 2022

Thomas "Fats" Waller, a pioneer in jazz piano, was a prolific composer, writing over 400 songs in his lifetime, with hits like "Ain't Misbehavin'" and "Honeysuckle Rose" even making it into the Grammy Hall of Fame. So, it is no surprise that in 1978 a Broadway Musical, AIN'T MISBEHAVIN' premiered featuring dozens of Waller's songs and a cast of five African American actors, including a young Andre de Shields (HADESTOWN) and the late, great Nell Carter who won a Tony Award for her performance. Since its premiere, AIN'T MISBEHAVIN' has lived on, thrilling audiences all around the world including the latest production at the Titusville Playhouse in Titusville, FL – an energetic and electric production that sizzles from beginning to end.
---