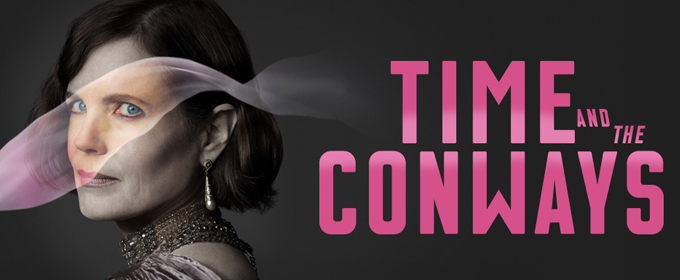 Click Here for More Articles on TIME AND THE CONWAYS
VIDEO: TIME AND THE CONWAYS' Anna Camp Talks 'Pitch Perfect' Marriage & More on 'COLBERT'
On last night's LATE SHOW, guest Anna Camp sampled a few songs that she and her husband, who she met while filming PITCH PERFECT, sing along at home. The actress also discusses her new Broadway show TIME AND THE CONWAYS, sharing "It is a really beautiful play. There's time traveling. We get to see this whole family go from young, happy vibrant to what happens twenty years from now. And not everyone is as happy!" Watch the appearance below!
Anna Camp made her Broadway debut in 2008's THE COUNTRY GIRL. She also starred in the 2009 revival of EQUUS.
Roundabout Theatre Company new Broadway production of J. B. Priestley's Time and the Conways, directed by Tony winner Rebecca Taichman (Indecent). Time and the Conways returns to Broadway for the first time since its premiere in 1938. The show began previews on September 14, 2017 and opens officially on October 10, 2017. This is a limited engagement through November 26, 2017 at the American Airlines Theatre on Broadway (227 West 42nd Street).
Time and the Conways stars Elizabeth McGovern as "Mrs. Conway," Steven Boyer as "Ernest," Anna Camp as "Hazel," Gabriel Ebert as "Alan," Charlotte Parry as "Kay," and Matthew James Thomas as "Robin," with Anna Baryshnikov as "Carol," Brooke Bloom as "Madge," Alfredo Narciso as "Gerald," and Cara Ricketts as "Joan."
In 1919 Britain, Mrs. Conway ("Downton Abbey's" Elizabeth McGovern) is full of optimism during her daughter's lavish twenty-first birthday celebration. The Great War is over, wealth is in the air, and the family's dreams bubble over like champagne. Jump nineteen years into the future, though, and the Conways' lives have transformed unimaginably. This time-jumping play by J.B. Priestley (An Inspector Calls) takes place at the crossroads of today and tomorrow-challenging our notions of choice, chance and destiny. Tony winner Rebecca Taichman(Indecent) directs.
Featured This Week on Stage Door
Shoutouts, Classes, and More from Your Favorite Broadway Stars
Related Articles
More Hot Stories For You
Breaking: Tony-Winning Choreographer Bob Avian Passes Away at 83
BroadwayWorld is saddened to report that beloved Broadway choreographer Bob Avian passed away yesterday from cardiac arrest at Holy Cross Hospital in ...

Final Lineup Announced For SAVE BIRDLAND: A Celebration Of Music, History, And Community
The fundraising campaign for Birdland Jazz Club will conclude on January 24th with a free streaming concert titled Save Birdland: A Celebration of Mus...

Disney Adaptation of BETTER NATE THAN EVER Holds Virtual Open Call
Calling all kids! Casting is underway for Walt Disney Studios Motion Pictures' film adaptation of Tim Federle's children's book Better Nate Than Ever....

Ellen's Stardust Diner Presents STARDUSTERS Concert Next Weekend
An interactive musical theatre benefit show, Broadway Alive, will stream live from Broadway's iconic Ellen's Stardust Diner, on Saturday, January 30 a...

VIDEO: Christopher Jackson Performs 'The Times They Are a-Changin' at The Creative Coalition's Inaugural Ball
On January 20, 2021, The Creative Coalition brought together leaders from entertainment, media, Congress, and the White House Cabinet and Administrati...

Social Roundup: The Theatre Community Mourns the Loss of Bob Avian
Read what theatre stars from across social media are saying about the passing of Bob Avian....