Click Here for More Articles on CAROUSEL
Up on the Marquee: CAROUSEL Arrives!
Producers Scott Rudin and Roy Furman will soon present Rodgers & Hammerstein's classic musical Carousel, directed by three-time Tony Award winner Jack O'Brien and choreographed by Justin Peck. Carousel will begin preview performances on Wednesday, February 28, 2018, and will officially open on Thursday, April 12 at the Imperial Theatre (249 West 45th Street).
Carousel will star Tony Award nominee Joshua Henry as Billy Bigelow, Tony Award winner Jessie Mueller as Julie Jordan, Renée Fleming, in her first-ever appearance in a Broadway musical as Nettie Fowler, Betsy Wolfe as Carrie Pipperidge, Alexander Gemignani as Enoch Snow, Margaret Colin as Mrs. Mullin, Amar Ramasar as Jigger, and Brittany Pollock as Louise.
The ensemble of Carousel features Colin Anderson, Yesenia Ayala, Nicholas Belton, Colin Bradbury, Andrei Chagas, Leigh-Ann Esty, Laura Feig, David Michael Garry, Garett Hawe, Rosena M. Hill Jackson, Amy Justman, Jess LeProtto, Skye Mattox, Adriana Pierce, David Prottas, Craig Salstein, Ahmad Simmons, Antoine L. Smith, Corey John Snide, Erica Spyres, Ryan Steele, Sam Strasfeld, Ricky Ubeda, Scarlett Walker, Jacob Keith Watson, and William Youmans. Additional cast members will be announced shortly.
Set in a small New England factory town, Rodgers & Hammerstein's timeless musical Carousel describes the tragic romance between a troubled carnival barker and the young woman who gives up everything for him. Elevated to an epic scale with a sweeping musical score that features some of the most beloved numbers in the American songbook, and incandescent ballet sequences, this story of passion, loss, and redemption introduced Broadway to a new manner of musical drama - one that "set the standard for the 20th-century musical" (Time Magazine) and would captivate theatergoers for generations to come.
Photo Credit: Jennifer Broski


CAROUSEL Marquee

CAROUSEL Marquee

CAROUSEL Marquee

CAROUSEL Marquee

CAROUSEL Marquee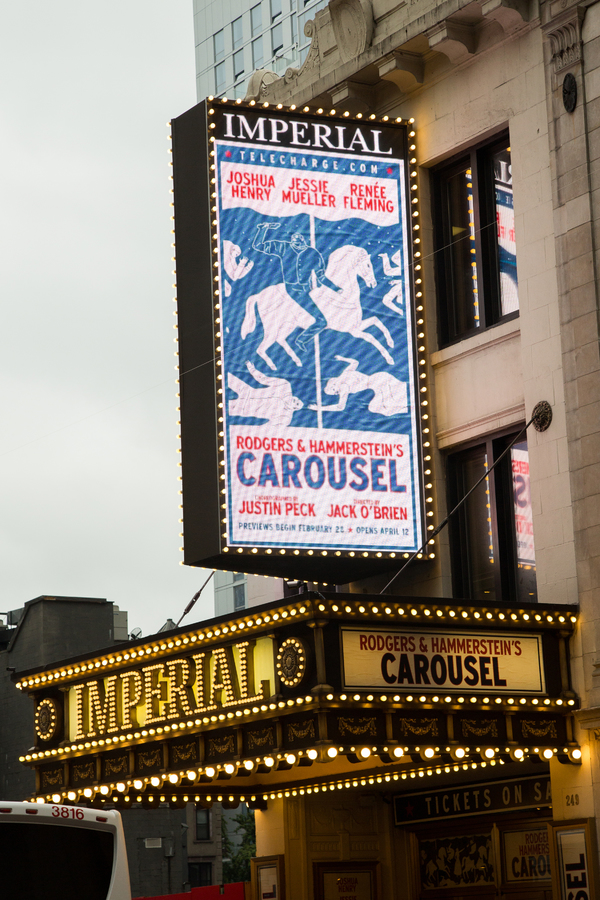 CAROUSEL Marquee