UPDATE: Broadway Theatres Will Dim Lights For Marin Mazzie Tomorrow, September 19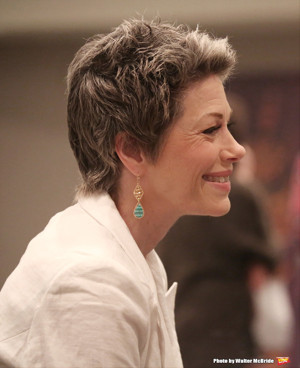 The Broadway community mourns the loss of Tony Award nominee and Theater Hall of Fame inductee Marin Mazzie, who passed away last Thursday, September 13 at age 57.
As BroadwayWorld reported yesterday, in a reversal of their previous announcement that the marquees would dim at just six Broadway theatres, the Broadway League has announced that all Broadway marquees will dim in honor of Ms. Mazzie.
UPDATE: The Broadway League has just announced that the dimming will now take place on Wednesday, September 19 at 6:45pm, to "support and accommodate her family who are unable to attend on Friday."
Mazzie's husband, Jason Danieley writes:
Dear Friends. Continued thanks for the outpouring of love. Thanks to all who may have influenced the action of ALL the lights on Broadway being dimmed. Hopeful they will keep the day as planned, Wednesday, as so many have already made plans to be here and cannot be here on Friday

- Jason Danieley (@JasonDanieley) September 18, 2018
Ms. Mazzie received Tony Award nominations for Kiss Me, Kate (2000); Ragtime (1998); and Passion (1994).Furthermore she received several nominations for the Drama Desk Award.
Some of Ms. Mazzie's film and television credits include: "Tenure," "The Big C", "Nurse Jackie," "Game On," "Without a Trace," "Numb3rs," "Still Standing," "Stacked," "Jake in Progress," "Passion," and more.