Titan Theatre Company Announces 2017-18 Season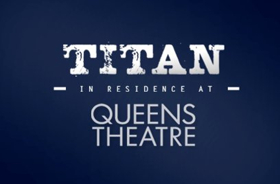 Titan Theatre Company announces its highly anticipated 2017/18 season as the official "Company in Residence" at Queens Theatre in beautiful Flushing Meadows Park.
Titan's Main Stage season is the company's most ambitious to date. With an exciting expansion to 4 Main Stage shows, Titan continues to prove itself as Queens' leading theatre company.
The company will begin its 5th full season with Shakespeare's tragedy, RICHARD III, directed by Edward Morgan. The production will feature an "A list" cast, with the title character being played by Titan Resident Company member, and audience favorite Lloyd Mulvey.
Titan's annual production of their original, Award Winning, musical version of A CHRISTMAS CAROL by Charles Dickens follows. The soaring adaptation by Titan Artistic Director Lenny Banovez & Titan Company Member Emily Trask is back by popular demand and continues a beloved family tradition and one of the hottest tickets of the citys holiday season.
After the holidays, Titan delves back into tragedy, but this time it's not Shakespeare. For the first time, the company will tackle Greek Drama with A WORLD PREMIERE translation of Euripides' MEDEA by Nefeli Vasiliadou and Lenny Banovez. It will hit the stage in January.
Titan will close their season with Shakespeare's great romantic comedy MUCH ADO ABOUT NOTHING. The production will be directed by Elizabeth Audley, and will feature Titan Co-Founders (and real life husband and wife) Laura Frye and Lenny Banovez as the beloved Beatrice and Benedick. The production promises to be one of the highlights of NYC's spring season.
Artistic Director Lenny Banovez, Managing Director Kevin Beebee and company have developed a stellar reputation by offering a consistent level of innovation and quality that has taken The New York City theatre scene by storm over the last seven years. Rising from performing in a Tex-Mex Restaurant/Comedy Club to holding the title of "Theatre in Residence" at the premier performing arts venue in the borough of Queens, the Queens Theatre.
""It's an incredibly exciting year for us at Titan." " said Beebee. "Titan continues to come into its own as a truly dynamic theatre company. In addition to our exciting Main Stage season, we continue to develop exciting partnerships and outreach programs that will provide Titan programming to all of NYC."
In Titan's outreach programming this year, the company is teaming up with The Metropolitan Museum of Art for their World Culture Festival, as well as continuing their participation in their "Teens Take the Met" event. Titan is also pleased to continue their partnership with the Ronald McDonald House, providing programming for children and their families. This year also marks Titan's 3rd season of their FREE "Shakespeare in Queens" reading series with the Queens Borough Public Libraries.
Season and single tickets are now available, as well as more info on Titan's outreach programming, Training Program, and their upcoming season please visit http://www.titantheatrecompany.com/.