THE MUSEUM OF CARE Opens At Brooklyn Public Library
To complement the museum's exhibits, BPL librarians have prepared a series of books for children and adults about caregivers and patient advocacy.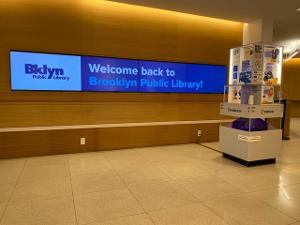 It is scientifically proven that caring for each other is healthy for us individually and collectively; yet, there are so many barriers to receiving good healthcare. That disconnect was the springboard for the Museum of Care, a new museum exploring the past, present, and future of care.
Built by MICRO, an organization whose fleet of tiny museums engage communities in conversations about the natural world, and supported by Johnson & Johnson's Center for Health Worker Innovation -an initiative focusing on what individual health care workers need to thrive on the job- the Museum of Care is on view through November 30, 2021 at Brooklyn Public Library's Central Library (10 Grand Army Plaza, Brooklyn, NY) before traveling to New York Public Library branches in Manhattan, Staten Island, and the Bronx followed by a stop in Queens in summer 2022.
About the size of a refrigerator, the special museum takes visitors on an exploration of caring across history and societies, using real stories from the front lines. It asks, "If the science is simple -our bodies and brains are designed to give and receive care- how did healthcare become so complex?"
Amplifying and celebrating the voices of healthcare workers as part of its exploration of the challenges plaguing our current healthcare system, the Museum of Care also models the skills it takes to provide care today and aims to empower people to investigate their local systems and make a change.
Despite its tiny size, the Museum delivers big on various facets of the healthcare system and its workers including:
The Beginnings of Care: Sharing scientific anecdotes and evidence about how people's ability to care for each other drove human evolution; how our bodies and brains are designed to give and receive care; and how the advancement of society has influenced the administration of care.
The Work of Care: Highlighting the skills required to provide care today through the life stories of care workers across the globe: a community health worker from the United States; a midwife working in Africa, and a nurse in the Asia Pacific region.
Care for All: Utilizing quotes of care workers as a roadmap that shows a way forward toward healthcare equity.
Your Role in Care: Emphasizes how the visitor can improve their own health, support the health of their community, and advocate for better working conditions for healthcare workers.
To complement the museum's exhibits, BPL librarians have prepared a series of books for children and adults about caregivers and patient advocacy.
"Caring for others was so important to our survival that we evolved to be really good at it. Sometimes we can forget that humans are hardwired for care," said Charles Philipp, a co-founder of MICRO, the organization that created the museum. "We could not have found a better partner than the Center for Health Worker Innovation to examine the landscape, share these stories, and make it clear to caregivers that we care deeply for them."
"We are excited to once again be working with MICRO to bring their innovative museum model to BPL," said Cora Fisher, Curator of Visual Art Programming at the Brooklyn Public Library. "As we emerge from the disruptions of the past year, we are touched and honored to help shine a light on the stories of frontline workers and the challenges they face as we all look for ways to support and care for each other in the new normal."
The Museum of Care was created with the guidance of an advisory team which included Joanne Peter, Director, Social Innovation, Center for Health Worker Innovation; Jerry Lewis Ong, Assistant Vice President, Temasek; Bolu Brea, Medic in General Practice Based in London, Social Media Activist, Founder of The Omo Yoruba Club; Annette Sampson, Registered Nurse, Warm Springs Health & Wellness Center; Lindsay Portnoy, Associate Professor, Northeastern University's Doctor Of Education Program; Whitney Schreiber, Diabetes Outreach Nurse; Lisa Fitzpatrick, Physician, Medical Epidemiologist, and Founder at Grapevine Health, Madeline Ballard, Co-Founder and Executive Director, Community Health Impact Coalition; and Margaret Gurowitz, Chief Historian, Johnson & Johnson.
MICRO collaborated with HunterGatherer on graphic design for the Museum of Care. HunterGatherer, a multidisciplinary design studio, focuses on telling its clients' stories in ways that are artful, intelligent, elucidating, and sometimes funny. The studio is based in Brooklyn, New York and specializes in art direction, illustration, animation, branding and experience design.