Sydney Lucas and More Join 'A Kids' Eye-View of Fun Home' Panel at BroadwayCon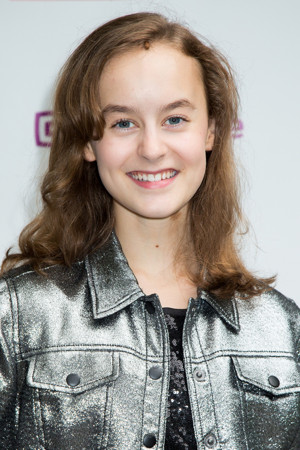 BroadwayCon's star-studded lineup continues to grow, including ten of the young actors who starred in Fun Home.
Griffin Birney, Alessandra Baldacchino, Lennon Nate Hammond, Noah Hinsdale, Georgi James, Sydney Lucas, Zell Steele Morrow, Gabriella Pizzolo, Pierson Salvador, and Oscar Williams have joined the Special Guest lineup for BroadwayCon 2018.
BroadwayCon will return to the Jacob K. Javits Convention Center Friday, January 26 through Sunday, January 28, 2018. Tickets for BroadwayCon 2018 are available for purchase now at www.BroadwayCon.com/register.
The ten young actors will appear in "A Kids' Eye-View of Fun Home," a panel detailing the development of Fun Home from early workshops through the end of the Broadway run through the eyes of the kids who lived through it all.
Previously announced Special Guests include Co-Creator Anthony Rapp, as well as Nicholas Barasch, Laura Benanti, Heidi Blickenstaff, Stephanie J. Block, Sierra Boggess, Alex Brightman, Andrea Burns, Liz Callaway, Ben Cameron, Carolee Carmello, Donna Lynne Champlin, Adam Chanler-Berat, Andrew Chappelle, Jenn Colella, Lilli Cooper, Veanne Cox, Janet Dacal, Ariana DeBose, Ben Fankhauser, Drew Gasparini, Gideon Glick, Annie Golden, Randy Graff, Molly Hager, Ann Harada, Rodney Hicks, Patrick Hinds, Emma Hunton, Jay Armstrong Johnson, Andrew Keenan-Bolger, Chad Kimball, Derek Klena, Michael John LaChiusa, Raymond J. Lee, Rick Lyon, Lesli Margherita, Chris McCarrell, Ruthie Ann Miles, Donna Murphy, Kelli O'Hara, Laura Osnes, Bryce Pinkham, Anthony Rosenthal, Kyle Scatliffe, Leigh Silverman, James Snyder, and Doug Wright. Additional Special Guests will be announced at a later date.
BroadwayCon is theatre's answer to comic-con, tailor made for fans. From January 26-28, 2018, join some of Broadway's biggest fans, performers, and creators from classic and current shows as we gather at the Jacob K. Javits Convention Center to perform, discuss, debate, and celebrate theatre. BroadwayCon 2018 will feature panels, performances, interviews, workshops, singalongs, and more, all packed into an epic three-day weekend. Past panels have included previews from upcoming Broadway shows, conversations with the casts and creatives of this season's hits, and discussions featuring the industry's top producers and designers, not to mention the giant Opening Ceremony, nighttime concerts, and dance parties. BroadwayCon is produced by Mischief Management.
Mischief Management produces fan conventions focusing on community, content, and creativity. Since 2009, it has served tens of thousands of fans, providing a fun, vibrant, and safe space to enjoy the things they love. Mischief Management's event lineup includes Con of Thrones for fans of Game of Thrones and the writings of George R.R. Martin (June 30-July 2, 2017; Gaylord Opryland Resort & Convention Center, Nashville, TN), LeakyCon for fans of Harry Potter and J.K. Rowling's Wizarding World (August 31-September 3, 2017; Dublin Citywest Hotel, Dublin, Ireland), and BroadwayCon for fans of theatre and Broadway (January 26-28, 2018; Jacob K. Javits Convention Center, New York City). More information about each of Mischief Management's events can be found at www.BroadwayCon.com, www.ConofThrones.com, and www.LeakyCon.com.