Click Here to Visit the College Center

Blogs are the opinions of the authors and do not necessarily reflect the opinions of BroadwayWorld. BroadwayWorld believes in providing a platform for open and constructive conversation.

Student Blog: The Power of Yes... And
Why everyone should try improvisation, at least once!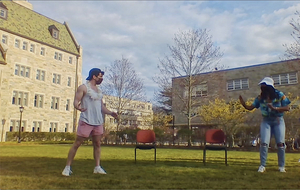 An exciting club that largely shaped my college experience this year has been The Committee For Creative Enactments, a scripted and improvisation group on campus. Through this group, I have learned so much about the world of improv as well as gained many valuable friendships. I interviewed a few members of the group to discuss their favorite parts of improv and why they think everyone should try it at least once. Annie Ruoff, BC '21, one of our awesome coaches this year, describes improvisation as "creating scenes that have never been done before, and will never be done again. The scenes aren't planned, and everything happens in the moment".
Marco Caruso, BC '21, one of our amazing coaches this year, believes "improv is all about creating something unique. The great part about it is that when you go up to do improv, something new is gonna happen. It could be bad, could be good, could be hilarious or genuinely heart warming". It is true that you never know what could happen, and that is what is so magical about this form of theater. There is something cathartic in letting go and having faith that the scene will go well without having prepared lines and scenarios. A great amount of skill goes into learning the craft of improv, but once that foundation is built, you are free to explore. Cate Hamalian, BC '23, considers improvisation a team sport and says " If you are new or are struggling with a scene, there are always people around you to help. And if a scene doesn't go the way you plan, just roll with it and you might find something even funnier"! The most important part is the environment of an improv group, and the more supportive the people are, the better the experience is! Sam Frechette, BC '22, loves how fun improv can be and says "we call them improv games for a reason"! What makes improv such a welcoming experience is the people that enjoy it, and your work is all about your scene partner. The CCE coaches emphasize how to be a supportive scene partner because "When you and your scene partner both know exactly what is about to happen but the audience doesn't and you reach that highest point in the scene, that big laugh at the end, you're on the same page and the audience loses their mind" (Annie Ruoff).
Exercising the skill of improvisation is so helpful for everyday life as well as achieving long term goals since it "teaches you how to think on your feet" (Sam Frechette). Improv is a great skill for Marco because he says that " Presentations and speeches are just second nature now. Once you do your first improv show and get over the fear of doing that live, any prepared public appearance feels like a piece of cake." The CCE presents monthly shows to the general public and they are a great way to throw yourself into the uncertainty in front of a live audience. People come to the shows to have a great time and The CCE works hard to deliver jokes and keep the audience laughing. Improv helps Cate in a different way because she believes "The skills learned help me when I am trying to think on my feet and solve a problem. And of course, it also helps with charisma in everyday conversation".
From the many ways improvisation helps in life to the supportive magic it creates, everyone should take their shot with improv. All you have to do is try it once, and maybe you will stick with it through your life! Cate started improv because 'she wanted to have a creative endeavor in college, but stuck with it because of the people'. Marco believes that " Some people have a knack for it, but it's impossible to know that until you've tried it". The most important reason to try improvisation is to learn more about yourself and life as a whole. Annie believes that "A lot of people are very steadfast in the idea of being prepared and always following a script in their lives, and improv teaches you that sometimes the best things in life aren't planned".