Student Blogger: Grace Cutler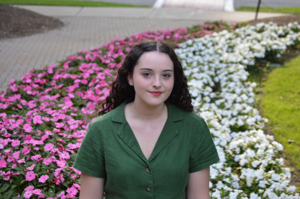 Student Blog: Summertime, When The Livin' Is Easy

June 2, 2021

With the change of the seasons it is time for those Songs of Purple Summer that create a Summer Lovin' mood. What is vacation without a perfect playlist? These are my favorite musicals that remind me of summer; some are obvious and some are only my preference. Regardless, I hope you kick back, relax, and soak in the tunes that signify sunshine!
---
Student Blog: Performer to Instructor Pipeline

May 26, 2021

Becoming a certified fitness instructor, no matter the discipline, is one of the best moves you can make for your future career as a performer. I can picture a life where I teach classes by day and act by night, and think that this is one of the smartest ways I have prepared myself for life after college.
---
Student Blog: Takeaways and Turning Points

May 18, 2021

As I packed up the last of my boxes and prepared to leave my college dorm behind, I couldn't help but reflect on everything that made my first year of college what it was. I entered a brand new place during a global pandemic and trained for an industry that could barely exist with the given health risks. After graduating through a youtube video and spending six months inside, the prospect of meeting new people, studying, and exploring a new place seemed daunting.
---
Student Blog: The Power of Yes... And

April 28, 2021

Improv is defined as creating scenes that have never been done before, and will never be done again. The scenes aren't planned, and everything happens in the moment!
---
Student Blog: My 'Serotonin Songs' Playlist

April 10, 2021

Currently spanning almost six hours long, this collection of songs include music that can raise my mood and make my day. There is no rhyme or reason to the songs I pick, beyond the rule that they need to bring me joy. I am a huge proponent of using music to relax and prepare for the day, and I think everyone could benefit from their own "Serotonin Songs" Playlist. There are many ways to go about creating this masterpiece, and I would like to share some insights to help you get started.
---
Student Blog: A Complete 180 Degree Flip

March 25, 2021

While their spins may be 'doubles' and their scenes may be tear-jerkers, I do not think any actor's performance education is complete without a technical theater background. At my university, every theater degree includes credits in production.
---
Student Blog: Here's To 'Firsts'

March 17, 2021

When most 'firsts' are due to COVID, it was nice to have a 'first' that happened despite COVID. I was reminded that life can continue and adapt to these times, and nothing can take these experiences away from me - no matter how different they might be than normal.
---
BWW Blog: The Balancing Act

February 18, 2021

How do Theater and Economics connect? Well, I am interested in the business of the entertainment industry: how shows run on a budget and how people get paid, among other things. Studying business and performance, I am able to experience the arts while learning the theory behind how they operate. 
---
BWW Blog: Through the Mask

February 1, 2021

When half of your face is covered it would seem almost impossible to deliver a performance. How could you express your emotions and convey the ideas of your piece when an audience cannot even see your mouth move?
---