Click Here for More Articles on The Great Society
Review Roundup: THE GREAT SOCIETY Opens On Broadway - See What The Critics Think!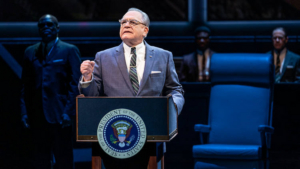 Tony Award & Pulitzer Prize-winning playwright Robert Schenkkan returns to Broadway with the second of his two exhilarating dramas celebrating Lyndon B. Johnson's legacy: The Great Society.
Capturing Johnson's passionate and aggressive attempts to build a great society for all,
The Great Society
follows his epic triumph in a landslide election to the agonizing decision not to run for re-election just three years later. It was an era that would define history forever: the rise of the Civil Rights Movement, the deaths of Martin Luther King Jr. and Robert F. Kennedy, the destruction of Vietnam, and the creation of some of the greatest social programs America has ever known-and one man was at the center of it all: LBJ.
See what the critics are saying!
Jesse Green, The New York Times: That's not enough to replicate the success of "All the Way," which won the Tony Award for best play. Mr. Cranston, whose portrayal of L.B.J. won a Tony Award as well, could carry that story, essentially a comedy, on pure skill and charisma. "The Great Society," a tragedy, needs more than that but instead gets less. It's bad enough that Johnson is so two-dimensional; the supporting characters have it worse. Their traits are parceled out on a one-per-customer basis: Humphrey's a patsy, King a worrier, Carmichael a hothead and Wallace a weasel.
Michael Dale, BroadwayWorld: THE GREAT SOCIETY is a good play, and a fine history lesson, but it appears sluggish when compared with its predecessor. With four years to cover, and the complex issue of how the seemingly uncontrollably escalating Vietnam War is getting in the way of developing domestic programs such as Medicare and Urban Renewal, the play hops from issue to issue with supporting characters doing little more than making guest appearances.
Adam Feldman, Time Out New York: Whereas Bryan Cranston brought a dogged vitality and wily command to the role, Brian Cox's version, though still spouting folksy Texas wisdoms and capable of manipulating his foes, seems older, wearier and less secure in his power. This is appropriate to Johnson's story during this period of upheaval: The great strong-armer and glad-hander is losing his grip. But in the absence of Cranston's central charisma, the play-already spread thin by the longer time frame-seems even more like an illustrated lecture.
Thom Geier, The Wrap: It's been five years since Bryan Cranston's Tony-winning turn as Lyndon B. Johnson in Robert Schenkkan's "All the Way." Now Schenkkan has followed that epic historical pageant with a sequel, "The Great Society," opening Tuesday at Lincoln Center's Vivian Beaumont Theatre, that like LBJ's second term dwells mostly in the shadows of its predecessor.
Marilyn Stasio, Variety: Schenkkan brings onstage an army of people on all sides of the fray - so many characters, in fact, that you can't tell them apart without a guide. And while a skimpy program insert does offer a bit of help in identifying the individual players, most of them are on and off in a flash. In fact, there are few extended scenes to give any of the characters a chance to make a strong impression or, more important, to keep the play grounded.
Tom Gliatto, Entertainment Weekly: Should the lack of impersonation matter? It doesn't have to, but it does, especially when David Garrison's Nixon and Bryce Pinkham's Robert Kennedy are instantly identifiable caricatures. Cox has brusque, punchy energy. He can thunder with a king's power and howl with a titan's rage. At other times he's more like an executive who's sick and tired of boardroom fighting but not ready for his severance package. What Johnson actually was is hard to pin down - a hollow colossus, a giant ego, a black hole of need and want, a master manipulator, a bleeding heart. But he was neither king nor salesman: He was an American president. Somehow he's gotten away from this play.
Adrian Horton, The Guardian: The Great Society is a man's show; the focus on Johnson and King and Kennedy, with small parts for Lady Bird Johnson and Coretta Scott King as concerned and embittered wives, ones who feel underutilized. That being said, it's difficult to justify any less stage or speaking time for Cox, whose sublime swings from bullishness and crippling guilt capture the real Johnson's notoriously volatile moods, even if the Texas drawl is more evocative than spot-on. What he lacks in Johnson's physical stature - the real president was 6ft 4in - Cox recoups in palpable energy; as he strides about the room, literally strong-arming lobbyists and senators into public promises, shading his vowels brassier or less so depending on the audience, it's a brilliant portrait of intimidation and presence.
Chris Jones, New York Daily News: It's all very interesting and fair-minded in a retro kind of way - and surely educational for the young. Its even-handed, centrist point of view is also distinctively out of step with the moment, a Biden-esque island in today's sea of activist progressive writing, even on Broadway. But the whole shebang nonetheless lacks bite.
Matt Windman, amNY: Turbulence takes over and a president's ambitious domestic agenda gets derailed by overwhelming racial prejudice and an out-of-control foreign war in "The Great Society" - a long-winded but action-packed roller-coaster of a historical drama by Robert Schenkkan examining the final years of the presidency of Lyndon Baines Johnson, from his 1964 election through the inauguration of Richard Nixon four years later.
Greg Evans, Deadline: Schenkkan's telling, while necessarily concise, offers few, if any, surprises. Each character and development is no more or less than what anyone with a passing understanding of the age - or a passing grade from first-year college history class - will anticipate.
Sara Holdren, Vulture: If it weren't so doggedly self-serious, Robert Schenkkan's The Great Society would be almost entertainingly bad. I didn't see its predecessor, All the Way, which won the Tony for Best Play in 2014 after the production, commissioned by the Oregon Shakespeare Festival and directed by Bill Rauch, came to Broadway with Bryan Cranston as Lyndon Johnson - but after almost three hours of its leaden, long-winded, blithely self-congratulatory sequel, I think I'm good.
Naveen Kumar, The Stage: Not every success story gets a sequel. The Great Society, Robert Schenkkan's follow-up to his Tony-winning play All the Way, renders President Lyndon B Johnson's second term an overstuffed yet still somewhat tedious office drama. It is less an illuminating history play with fully drawn characters than a dense and particularly animated lesson in facts and figures.
Elysa Gardner, New York Stage Review: What we get less of a sense of, despite Society's largely sympathetic portrait of its still controversial subject, is the turmoil Johnson must have endured, along with other leaders he engaged. Their dialogue is often too obvious to invite reflection, so that even the most supple actors can seem as if they're reciting lines in a well-crafted reenactment of historical events. Richard Thomas, who generally makes any production worth seeing, is wasted as Johnson veep Hubert Humphrey, presented here as part dutiful aide, part convenient foil. Marc Kudisch juggles a few heavies who contest Johnson's more progressive policies, among them Chicago's Mayor Richard J. Daley, and emerge as cardboard slimeballs-accurate in spirit, perhaps, but less interesting in execution.
Michael Sommers, New York Stage Review: Like its Broadway predecessor of 2014, which detailed Johnson's first year in office and subsequent election as President in his own right, The Great Society is again directed by Bill Rauch, employs a relatively large ensemble of 19 actors to portray more than 50 statesmen and personalities of the era, and covers a vast amount of American history within a nearly three hour-long production. Probably much too much history, as it turns out. Opening on Tuesday at the Vivian Beaumont Theater, The Great Society eventually congeals into a ponderous drama in spite of the efforts of some excellent actors who do their damnedest to inject life and excitement into a series of woeful events.
David Rooney, Hollywood Reporter: Generally, the writing is too busy sketching in historical detail to spare much attention to character development beyond the central figure, but Schenkkan can be commended for not letting his admiration for LBJ get in the way of a clear-eyed portrait. Cox provides a galvanizing center that keeps you watching, even more so as this driven, passionately civic-minded man begins to acknowledge the fatal flaws in his decision-making. It's a forceful, ultimately affecting performance that carries the sting of a disenchantment all too pertinent to American political life 51 years later.
Roma Torre, NY1: If the play feels overstuffed, it's still an important history lesson. Schenkkan calls it a tragedy. But the real tragedy is that if we don't pay enough attention, history is hellbent on repeating itself.
Jeremy Gerard, Theater News Online: You may emerge from The Great Society after two-and-three-quarters hours feeling like the show too began in the last century, your head spinning from the parade of events and people that have passed by. Orchestrating it all is the Scottish actor Brian Cox, a master of character (his vitae includes King Lear and, currently, Logan Roy, the venal patriarch of HBO's Succession), who captures Johnson's bullying gruffness but not the rough charm that made his seductions so terrifyingly persuasive. (Perhaps this will improve as Cox claims better mastery of a ferociously challenging script and he's able to settle more comfortably into LBJ's lizard-skin boots.)