Click Here for More Articles on Shutdown Streaming
Review Roundup: Live-Streamed Socially-Distanced LUNGS, Starring Claire Foy and Matt Smith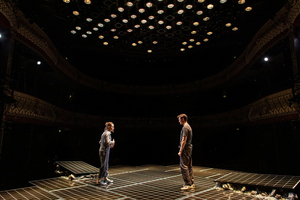 The live-streamed, socially distanced, production of Lungs starring Claire Foy and Matt Smith, has officially begun at The Old Vic.
Duncan MacMillan's Lungs will run from 26 June to 4 July. This is the first in a brand new series of performances and events created to help safeguard our theatre during this period of closure.
Let's see what the critics are saying...
---
Ben Brantley, The New York Times: Nonetheless, these performers were skilled enough to let us sense the discomfort, doubt and resentment beneath the surface of their stoical characters. I am happy to report that Foy and Smith are equally adept at delivering such ambivalence, common to nearly all long and intimate relationships, at high volume and in equally high gear. Occupying a dark and empty stage that feels as vast as an endless night, they transmit this complexity with a delicacy and clarity well suited both to probing close-ups and to long shots that suggest what the view might be like from the Old Vic balcony.
Franco Milazzo, Londonist: Lungs certainly isn't an easy watch, even over Zoom where there may be occasional temptations to hide behind a sofa or look anywhere but at the screen. With echoes of Patrick Marber's Closer, many of the scenes feature epic levels of verbal brutality but, schmaltzy final scene aside, Foy and Smith elevate this play into something as beautiful as it is heart-rending.
Ross, Times Square Chronicles: This intriguing new play is a wonderful re-entry, streaming us into a theatrical world I most dearly miss. It's a stellar idea, rekindling a live breath-taking performance of a beautifully intimate play with the 202-year-old venue's theatrical seating as the backdrop. Midway through, tears came to my eyes, and not just because of Duncan MacMillan's dynamically orchestrated, emotional rollercoaster of a play, which it truly is, but for a whole conceptual tug on my heart, because what we are witnessing and being part of is something that is happening live in a theatre at this very moment, albeit on the other side of the pond, most defiantly in the here and now.
Chris Wiegand, The Guardian: Foy and Smith are superb as the couple whose comfortable ease disguises an empathy shortfall. Smith is the languorous musician who watches on, bemused, after raising the baby question on a trip to Ikea. Foy is the PhD student who foresees a whirligig of vomit, birthday parties and Beatrix Potter. She frantically rewinds through her ancestry and fast-forwards to the child leaving home and hating them.
Dominic Cavendish, The Telegraph: You miss the freedom that sitting in a theatre gives you to look where you choose, but there's still as much actorly nuance as you could want - despite the writing, which verges on being too scripted and staccato. Winning our sympathy as she did as Her Majesty, and almost as loaded with care, Foy undertakes a marathon of thinking and feeling aloud, welling with emotional angst as she zig-zags towards motherhood, past the ordeals of a betrayal and a miscarriage. Smith - as debonair as he was as the Duke - is by turns languidly aloof, furrowed with concern and twinklingly ardent.
Clive Davis, The Times: How did this version compare with the stage production? There's no question that the absence of an audience made a difference. With the seats spilling on to the stage last year, there was an almost claustrophobic quality to the exchanges. This time you found yourself wanting a slower, more cinematic tone to the conversation. Warchus made clever use of split screens: we were watching a relationship which veered from profound intimacy to mutual incomprehension in seconds. Even if the play's final scenes make an abrupt and implausible leap into a bleak, dystopian future, Foy and Smith form a compelling partnership. They find sympathetic depths in two young people who are, at the outset, maddeningly self-righteous. As real life intrudes on their plans we see vulnerabilities emerge.
Related Articles