Improvisational Repertory Theatre Ensemble Presents IRTE Noir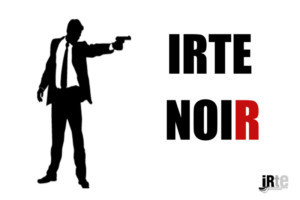 Crime, Passion, Intrigue, More Passion, Betrayal, Even More Passion, Drama, Even More & More Passion, Deception, Tons More Passion, Twists, Overflowing Passion, Turns, Buckets of Passion, Mood Lighting, Passion by the Truckload, Inner Dialogue ... oh did we mention Passion?
IRTE Noir. Fridays & Saturdays May 18 & 19, June 1 & 2 at 8:00pm at The Producers Club, 358 West 44th Street, New York City. Tickets $15 (Season Pass and Group Discounts Available). Visit http://www.irteinfo.com/tickets
Here, at the midway point of the Improvisational Repertory Theatre Ensemble's lucky seventh season transports you to the days of black & white cloak & dagger! Conceived and Directed by Curt Dixon, IRTE Noir lampoons everyone from Orson Welles to Quentin Tarantino in a wild interactive romp filled with assassins, conspirators, and other kool people! Robert Baumgardner, Izzy Church, Nannette Deasy, Jamie Maloney, Connie Perry, and Sam Katz take you on wild illegal ride. And when you need a break, New York's preeminent cabaret entertainer, Tym Moss, to serenade you.
IRTE concludes its season with its Sci-Fi tribute entitled WOW-WEE 2, June 22 - 30. Again, at the Producer's Club.

Related Articles
More Hot Stories For You