President Obama, Lin-Manuel Miranda, Bette Midler and More Honor Aretha Franklin on Social Media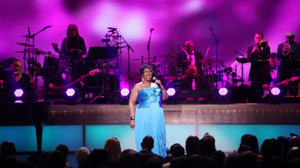 The Queen of Soul, Aretha Franklin, passed away today, August 16, in her Detroit home after a long battle with pancreatic cancer, according to the Associated Press. She was 76 years old.
Countless celebrities have taken to social media to honor Miss Franklin. See some of the many posts below.
Michelle Obama shares what seeing Franklin perform at the White House was like.
Justin Timberlake recounts the honor that was performing with Franklin and thanks her for everything she's given.
Paul McCartney thanks Aretha Franklin for her inspiration.
Lin-Manuel Miranda shares the lucky moment he got to see Franklin perform live and thanks her for her music.
Audra McDonald shares a photo a says simply for the Queen to rest.
Bette Midler says goodbye to Franklin, whom she loves.
Barak Obama shares how Franklin helped define the American experience as he shares photos of the Queen.
Idina Menzel says goodbye to Aretha and calls Franklin her idol and the greatest singer of all time.
Barbra Streisand shares a photo of her and Aretha from 2012 while sharing the difficulty that comes from imagining a world without Franklin.
Bernadette Peters thanks Aretha Franklin and shares there will never be another.
Jennifer Hudson will never forget what Franklin taught her.
Mariah Carey thanks Franklin for being her "inspiration, my mentor, and my friend."
Ariana Grande shared a simple tribute to The Queen of Soul.
Oprah tells Franklin she will be missed.
These are just a sample of the outpouring of love and support from celebrities on social media today. The top two United States trends on Twitter are "Aretha Franklin" and "Queen of Soul" showing just how missed she will be. Rest in peace.
| | | |
| --- | --- | --- |
| | Donations | Arts Orgs |
Related Articles