Click Here for More Articles on STUDENT CENTER - HIGH SCHOOL EDITION

Photo and Video Special: Original Star Michael Crawford Visits Orange County High School PHANTOM Production
This weekend, Michael Crawford made a surprise appearance at the Huntington Beach Academy for the Performing Arts' production of The Phantom of the Opera in Orange County, California. After watching the performance, Crawford appeared on-stage and met with the students to congratulate the cast, orchestra, crew and production team.
About seeing his first student production of the role he created more than thirty years ago, Michael tells us "I had a wonderful time and the Academy of the Performing Arts is an amazing program, offering students the most incredible variety of skills in the theatre. And, the fact that it's a public school, sets an excellent example to us all. Within this exceptional program, the entire production was created by the students and staff - sets, costumes, wigs, makeup, prosthetics, everything - all aged between 12 and 17!"
The production starred Patrick McCormick as The Phantom, Allison Bossart as Christine and Sean McCrimmon as Raoul and featured Direction and Musical Direction by Tim Nelson, Choreography by Diane Makas, Technical Direction by Joe Batte, and Costume Direction by Christina Perez with an orchestra Conducted by Gregg Gilboe. The Academy for the Performing Arts (APA), a magnet program of the Huntington Beach Union High School District, has been serving the students of the community since 1993. They provide an intensive educational program to cultivate in students the discipline, dedication, and commitment necessary to achieve excellence in the arts. For more information, visit hbapa.org.
Michael Crawford created the role of 'The Phantom' in the hit musical earning him an astonishing catalogue of critical recognition including Broadway's Tony, Drama Desk and Outer Critics Circle Awards, and the Los Angeles Dramalogue Award and Drama Critics Award. After opening in Phantom on October 9, 1986, he was made an Officer of the British Empire (OBE) by the Queen, as well as receiving his second Olivier Award for Best Actor in a Musical. He played the part for three and a half years as the toast of London, New York, and Los Angeles. In 2014, he was made a Commander of the Order of the British Empire (CBE) for charitable and philanthropic services, particularly to children's charities. Most recently, he again returned to the West End stage, starring in the new musical The Go-Between, which played to rave reviews and enthusiastic audiences for a limited run at the Apollo Shaftesbury Theater.
Photos: Trevin Stephenson, Video: Brian Nuzzo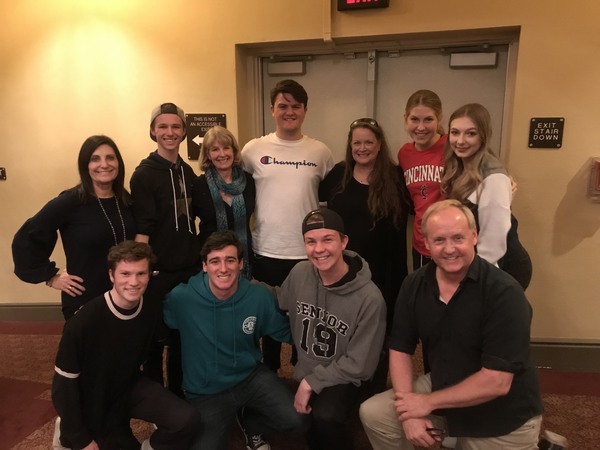 Cast members and Tim Nelson pose with longtime 'Christine' on Broadway and Los Angeles - Dale Kristien and Phantom vet Natasha MacAller
Cast members and pose with longtime 'Christine' on Broadway and Los Angeles - Dale Kristien and Phantom vet Natasha MacAller
The company poses with Michael Crawford