Click Here for More Articles on AVENUE Q
Photo Flash: theAtrainplays XXII
theAtrainplays, a celebration of New York, created by six teams while traveling the entire route of the A train (from 207th Street & Broadway to Far Rockaway and back) returned to Off-Broadway's New World Stages last night.
In what sounds like the next "reality TV show," writers, composers, lyricists, directors, choreographers, and performers teamed up to produce six separate 10-minute theater pieces, and present the work - costumed, body-miked and with orchestra in just over 24 hours!
Performers included Emy Baysic (Miss Saigon), Lisa Barnes, Todd Buonopane (Spelling Bee), Stephanie D'Abruzzo, (Tony Award nominee, Avenue Q), Kevin Daniels (Ladder 49), Darius de Haas (Kiss of the Spider Woman), Natalie Douglas (6-time MAC Award winner), Ryan Duncan (Altar Boyz), Lawrence Feeney (My Super Ex-Girlfriend), Adam Fleming (Hairspray), Eric Michael Gillett (Kiss Me, Kate), Blythe Gruda (Of Thee I Sing, Encores!), Cristin Hubbard (Pirate Queen), Cady Huffman (Tony Award winner, The Producers), Timothy Johnson (A Chorus Line), Donovan Patton ("Blue's Clues"), Thom Sesma (The Times They Are A Changin'), Darcie Siciliano, Robin Skye (Parade), Tracie Thoms (Rent film, "Cold Case"), and Melanie Vaughan (Ring of Fire).
The creative team includes writers P. Seth Bauer, Barbara Hammond, Michael Lazan, Shawn Nacol, Stephen O'Rourke, and Erica Silberman; lyricist-composers Gaby Alter, Joe Iconis, Brian J. Nash, and Brandon Patton; directors David Brind, Edie Cowan, Michael Duling, David Hilder, Mark Lonergan, and Tony Stevens; and choreographers Wendy Seyb, Carol Schulberg and Stas' Kmiec' .
On Tuesday evening, June 19th, four librettists hopped on the A train at 207th Street and began writing the books for four 15-minute musicals, all set on the A train. Before each of the teams began their journey, they picked a number between 3 and 5 to set the number of characters, and then they chose headshots from a blind draw to determine who is in each piece. When the librettists reached the Far Rockaway stop, they randomly selected, through another blind draw, their collaborative lyricists, composers, directors and choreographers, who had been awaiting their arrival at a nearby McDonald's with two playwrights joining them and just beginning their journey.
Two directors met the creators of the now finished plays at 207th Street and they all proceeded to Columbus Circle where they met the pre-selected pool of actors, deciphered their scribbles, copied the scripts and began rehearsals. They had until show time the next day, Wednesday night, June 20th at 8:00PM to develop these works into thesix exciting new musical experiences that were shared with the audience at New World Stages on the set of the hit musical Altar Boyz.
Also involved were Alec Berlin (Musical Director), Andrea 'Spook' Testani (Production Supervisor), Andrew Donovan (Original Scenic Designer), and Carol A. Sullivan (Production Stage Manager).

Actor Timothy Johnson, Choreographer Stas' Kmiec', and Cady Huffman at the post party for theAtrainplays, vol xxii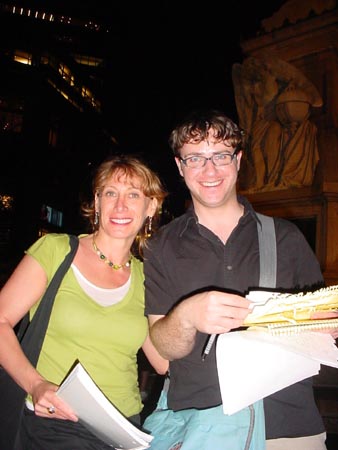 Librettist Erica Silbermen and composer/lyricist Brian J. Nash with scripts in hand at Columbus Circle, had just finished their musical Garbage-a-trois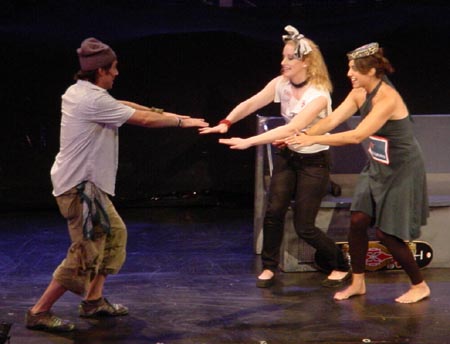 OCD stoner (Ryan Duncan) is confronted by trash that have come to life: a Pellegrino bottle (Darcie Siciliano) and a New York Post (Cristin Hubbard) desperately wanting to be recycled in Garbage-a-trois - book by Erica Silbermen; music/lyrics by Brian J. Nash, direction by Michael Duling, and choreography by Stas' Kmiec'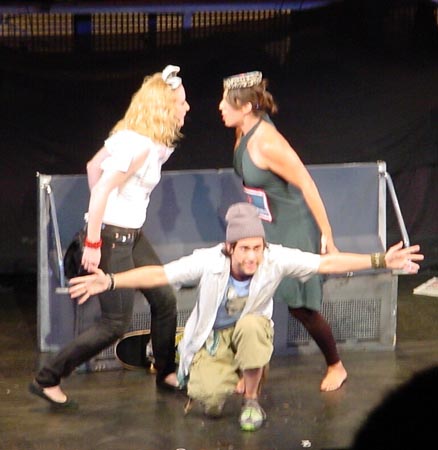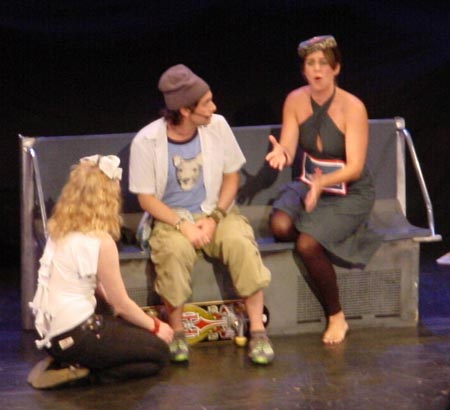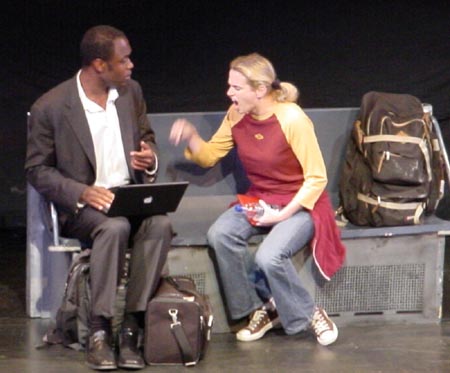 Businessman Kevin Daniels and Italian tourist Cady Huffman meet on an A-train bound for JFK in a play written by Barbara Hammond and directed by Edie Cowan.

A bickering couple (Donovan Patton and Blythe Gruda) get marriage counseling from two MTA Flagmen (Thom Sesma and Lawrence Feeney) in a musical written by Stephen O'Rourke, music and lyrics by Brandon Patton, Direction by David Brind, and Choreography by Carol Schulberg
Related Articles
From This Author BWW