Photo Flash: Tenor Todd Wilander, Countertenor Jeffrey Mandelbaum and the ARK Trio Take the Stage in PREFORMANCES WITH ALLISON CHARNEY 4/3 in NYC
"If we respected only what is inevitable and has a right to be, music and poetry would resound along the streets." The poetry of Henry David Thoreau and the music of Moshe Knoll and Michael Ching, Verdi, Mascagni and Cavalli soared Monday April 3rd from the JCC Manhattan' New York classical music series "PREformances with Allison Charney."
The concert featured Metropolitan Opera stars' tenor Todd Wilander who sang solo and in duet with soprano Allison Charney and countertenor Jeffrey Mandelbaum in a scintillating program of works by Francesco Cavalli, Pietro Mascagni and Giuseppe Verdi. The program also featured contemporary classical music for voice, cello and piano by composers Michael Ching and Moshe Knoll, written expressly for and performed by ARK Trio - soprano Allison Charney, cellist Kajsa William-Olsson with an exquisite impromptu performance by PREformances collaborative pianist Craig Ketter, stepping in for ARK Trio's founding member, pianist Reiko Uchida.
The concert, which took place at the JCC Manhattan, home to the intimate 150 seat Goldman-Sonnenfeldt Auditorium and the Lambert Center for Arts + Ideas, ended with soprano Allison Charney singing her signature concert closing work, the lied "Zueignung" by Richard Strauss
PHOTO CREDITS: Koon/ Sylvia Rubin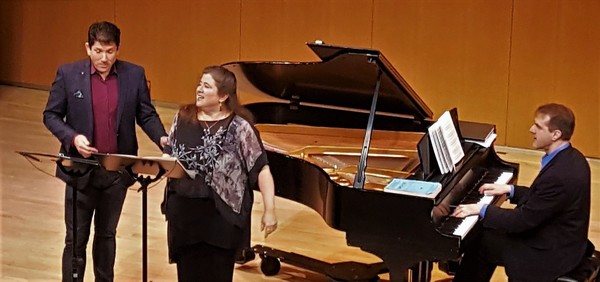 Tenor
Todd Wilander
and Soprano
Allison Charney
with pianist
Craig Ketter
in a light hearted moment before they perform "Parigi, o cara" from LA TRAVIATA by
Giuseppe Verdi
Allison Charney
soprano, Kajsa William- Olsson and
Craig Ketter
pianist open concert with ARRANGEMENTS AND DERANGEMENTS: INTERPRETATIONS OF SCHUBERT by contemporary classical composer Michael Ching
Cellist and ARK Trio founding member
Kajsa William-Olsson
captured in a moment from the cantata SIMPLICITY by
Moshe Knoll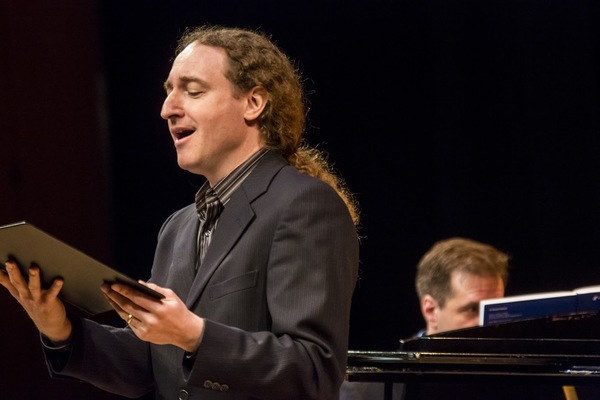 Countertenor Jeffrey Mandelbaum performs a scene from LA CALISTO by Francesco Cavalli
Tenor
Todd Wilander
performs excerpts from CAVALLERIA RUSTICANA by
Pietro Mascagni