Photo Flash: Steve Buscemi Hosts ISSUE PROJECT ROOM Benefit
ISSUE Project Room's inaugural benefit at their future home - the architecturally and acoustically beautiful jewel-box theater at 110 Livingston Street in Downtown Brooklyn - brought together an array of artists, musicians, filmmakers and writers in celebration of longtime supporter Elliott Sharp's 60th birthday. Over 250 attendees helped raise approximately $80,000 and enjoyed the first public preview of the innovative concepts for the new space. Supporters ranged from Jo Andres, Steve Buscemi, Robert Longo, Aidan Quinn, and Nanette Lepore, to Elliott Sharp, JACK and Sirius Quartets, Jack Womack, and Tracie Morris.
Board Chair Steve Wax introduced new Executive Director Ed Patuto to the guests. "ISSUE Project Room welcomes the gracious outpouring of support and enthusiasm for our programs and our new home," said Ed Patuto. "What an auspicious night to christen Brooklyn's most significant hub of progressive genre-defying performance, music and art."
Brooklyn Borough President Marty Markowitz noted, ""I commend Issue Project Room, a symbol of the forward-thinking culture that makes Brooklyn the Creative Capital of New York City, and which contributes so much to our City's performing arts and cultural communities. My office was thrilled to provide capital support to help make a reality the vision of founder Suzanne Fiol-an innovative arts space at 110 Livingston Street that she imagined as a '
Carnegie Hall
for the avant-garde.' Congratulations to Issue Project Room on its successful inaugural benefit, and all of Brooklyn looks forward to welcoming them to their new home." The March 4th benefit celebrated the 60th birthday of the prolific composer, innovator, and guitar virtuoso Elliott Sharp. Bookended by a reception and after-party, the program was hosted by ISSUE Art Advisory Board Member Jo Andres and Board Member
Steve Buscemi
, and featured the world premiere of Sharp's Occam's Razor, a double string quartet commissioned for the event and performed by JACK and Sirius. The event included collaborations among Sharp, Andres, & Buscemi, as well as between Sharp and writers Tracie Morris and Jack Womack. According to Buscemi, "Brooklyn has really become a cultural center for music, art and theatre. ISSUE Project Room supports and fosters artists here in Brooklyn, where they live and work."The beautiful 4,800 sq. foot 1925 McKim, Mead, and White jewel-box theater space is scheduled to open in late 2012. In 2008, ISSUE was competitively awarded a 20-year rent-free lease on the space. In 2009, Brooklyn Borough President Marty Markowitz awarded ISSUE a $1.133 million grant toward the $3.5 million capital campaign. Additional funds from New York State Council on the Arts, mediaThe foundation, Edwards Foundation Arts Fund, and Arnow Family Foundation have enabled ISSUE to complete a visioning process for the space with WORK Architecture Company and ARUP acousticians and engineers. ISSUE Project Room is currently located at 232 3rd Street. For a full event calendar and to purchase tickets, please visit
www.issueprojectroom.org
or call 1.800.838.3006.ISSUE Project Room, a registered 501(c)(3) organization, was established in 2003 by late visionary artist Suzanne Fiol, and is a vibrant nexus for cutting-edge, multi-disciplinary arts in Brooklyn. Led by Executive Director Ed Patuto, ISSUE supports emerging and established experimental artists through more than 200 programs each year including music concerts, literary readings, films, videos, dance, visual and sound art, new media, critical theory lectures and discussions, site-specific work, commissions, educational workshops, master classes, and genre-defying interdisciplinary performances that challenge and expand conventional practices in art. Support for ISSUE has been provided by CHORA, a project of the Metabolic Studio, a direct charitable activity of the Annenberg Foundation led by Artist and Foundation Director Lauren Bon. CHORA aims to support the intangibles that precede creativity.
www.issueprojectroom.org
Photo Credit: Lori Baily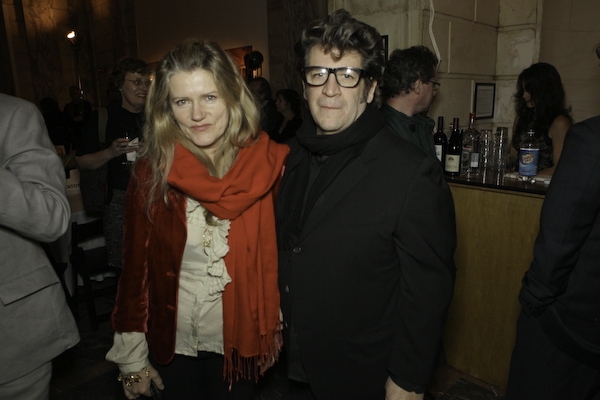 Barbara Sukowa, Robert Longo

David Puth, Leslie Puth

Dennis Amador, Michelle Amador, John Latona

Ed Patuto, Steve Buscemi, David Hernandez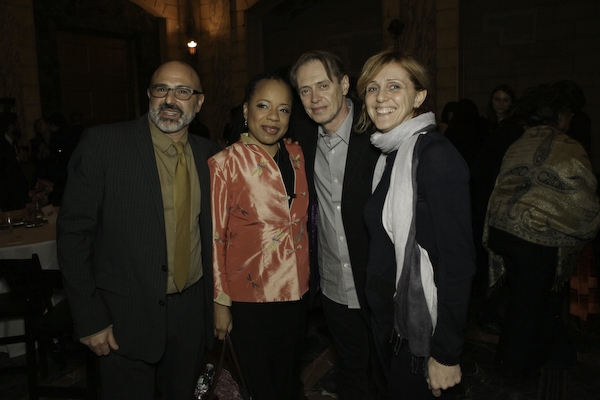 Ed Patuto, Tracie Morris, Steve Buscemi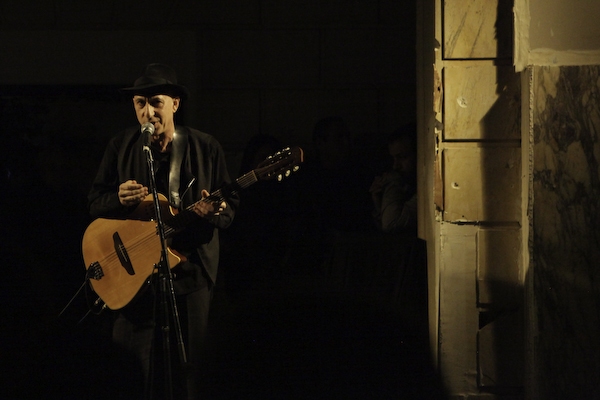 Elliott Sharp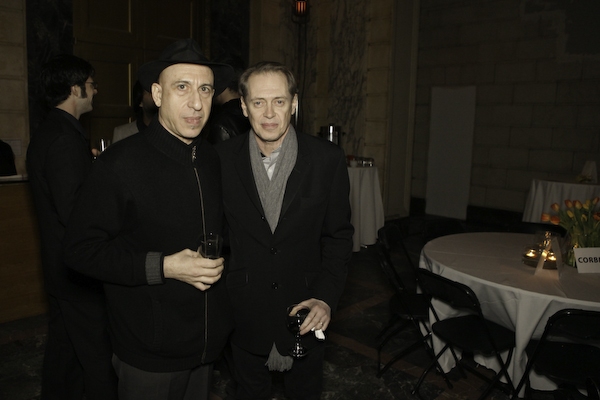 Elliott Sharp, Steve Buscemi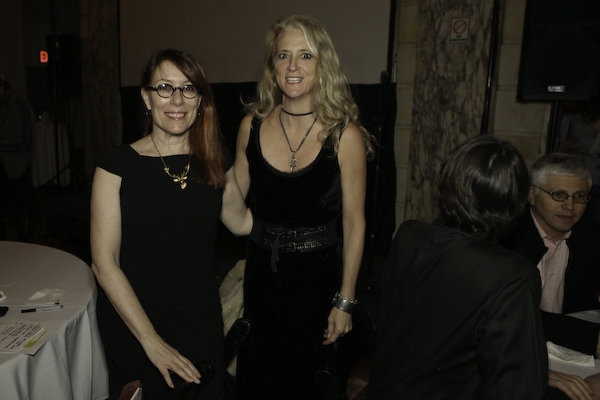 Jo Andres, Nanette Lepore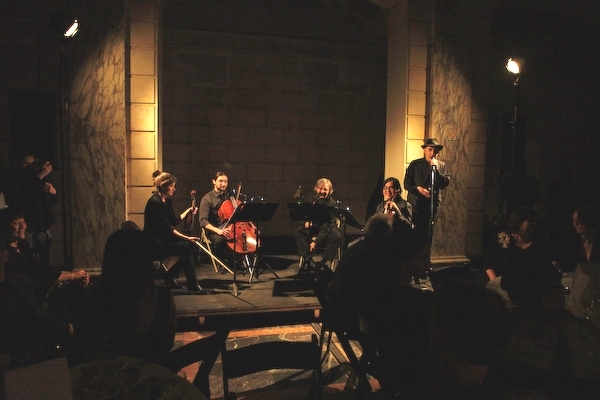 Sirius Quartet

Steve Wax, Ed Patuto, Carlo Scissura

Related Articles

More Hot Stories For You
Ben Vereen's Son, Ben Vereen Jr., Has Died
BroadwayWorld is saddened to hear of the passing of Benjamin Vereen Jr., the son of Tony-winning actor Ben Vereen....

Lin-Manuel Miranda, Leslie Odom Jr., Renée Elise Goldsberry and More to Take Part in Upcoming HAM4CHANGE Fundraiser
On Saturday, August 15th, at 4pm PT/7pm ET, members of the original cast of the Tony Award-Winning Broadway Musical Hamilton will come together for th...

VIDEO: Olivia Newton-John Talks Memories of XANADU for the Film's 40th Anniversary
In honor of the 40th anniversary of the musical film Xanadu, star Olivia Newton-John shared what it was like working on the film, what it was like to ...

Winners Announced For The 2020 BroadwayWorld Album Awards; BEETLEJUICE Wins Best New Broadway Cast Recording!
The people have spoken and the results are in for the 2020 BWW Albums/CDs Awards, recognizing the best releases from 2019 & 2020. ...

Confirmed: DIANA Will Premiere on Netflix Next Year Ahead of Broadway Opening
Diana might not be playing on Broadway right now, but it will soon get a royal welcome on Netflix. BroadwayWorld has just confirmed that the musical, ...

Audra McDonald, George Salazar, and Joshua Colley Will Headline STICKS & STONES Benefit
Grammy & Emmy-winning composer & conductor John McDaniel and lyricist/librettist Scott Logsdon will present an online highlights concert of their new ...