Photo Flash: Samuel French Honors Bekah Brunstetter
On March 23, 2009, The New School for Drama and Samuel French held a staged reading event honoring 2007 graduate Bekah Brunstetter.
Brunstetter was one of the winners of the 33rd Annual Samuel French Off Off Broadway Short Play Festival last year for her play F*cking Art. To continue the relationship between New School Drama's playwrights and
Samuel French, the two collaborated to present excerpts of
Brunstetter's newest play, Oohrah!, for an invited audience of theater producers, literary agents, and guests.
Introductory remarks were given by New School President Kerrey, who spoke of the continued success of the Drama program, as well as comments from President of Samuel French Leon Embry, Drama Director Robert LuPone, and New School Drama Playwright Chair Pippin Parker. The reading, directed by Parker, featured Dominic Fumusa, Louisa Krause, Jeremy Beck, Matthew Kelty, and Drama alums Eleanor Handley ('08) and Federico Trigo ('08).
The story of two sisters seeking stability in Fayetteville, North Carolina - home to one of the South's largest military bases - Oohrah! asks how we can remain true to ourselves when the pressures of domestic
and military expectation threaten all. Oohrah! was originally workshopped at the Ars Nova, New York City, and is currently playing at the Finborough Theater, London, as part of the Old Vic/New Voices play series.
In addition to being a twice winner of the Samuel French Short Play Festival, Brunstetter is also a winner of the New York Innovative Theater Award for Best Original Full-Length Play. Her work has received acclaim across the United States and has been produced at Boston Theatre
Works, the Ohio Theater, The ALLIANCE THEATRE, and many others.
Photos courtesy of The New School

Federico Trigo, Dominic Fumusa, Eleanor Handley, Louisa Krause, Jeremy Beck and Matthew Kelty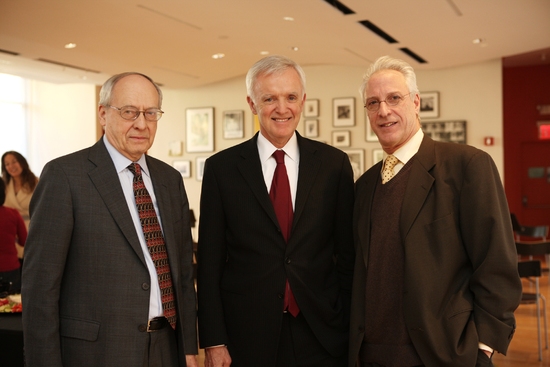 Leon Embry, Bob Kerrey, and Robert LuPone

Bekah Brunstetter with friends