Photos: McKechnie and Caulfield at The Big Voice
Tony Award-winner Donna McKechnie (A Chorus Line) and Maxwell Caulfield (Tryst) recently caught a performance of The Big Voice: God or Merman?, the new hit musical written and performed by Jim Brochu and Steve Schalchlin.  The acclaimed show, which plays The Actors Temple Theatre (339 W. 47th Street), opened on November 30th.
In The Big Voice,
"Jim and Steve musicalize their relationship and hilariously prove that showbiz is as much a calling as the priesthood. This high energy, razzle-dazzle show chronicles the lives of a Baptist from Arkansas and a Catholic from Brooklyn who find eternal salvation in the temple of musical theatre," press notes state. 
The Big Voice
"traces the couple's meeting aboard a ship in the Atlantic Ocean, Steve's struggle with AIDS, the production of their hit off-Broadway musical
The Last Session
, their separation and their reconciliation. It's a comedy about a 'gay marriage' between two men created by the couple themselves. " 
The Big Voice
is directed by
Anthony Barnao
(
Come Back Little Sheba, Lovers and Other Strangers
), and presented by
Murphy Cross
,
Paul Kreppel
and Edmund Gaynes.
The performance schedule is : Tues.-Thurs. at 8:00PM; Wed. at 3:00PM; Sat. at 3:00PM and 8:00PM; and Sun. at 3:00PM and 7:00PM.  Visit www.thebigvoice.com for tickets and more information.
Photo by Paul Kreppel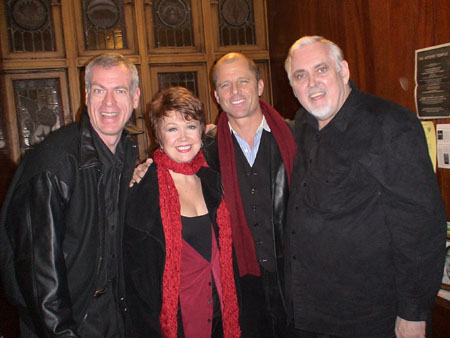 Steve Schalchlin, Donna McKechnie, Maxwell Caulfield, and Jim Brochu