Photo Flash: 'Maccabeat! The Hanukkah Musical' at NYMF
Maccabeat! The Hanukkah Musical, part of the New York Musical Theatre Festival (NYMF), has only 4 performances left at The Acorn Theatre, (410 W. 42nd St.)
"Maccabeat! is a rock musical of the story of Hanukkah. Hebrew hottie Judah Maccabee is torn between Judaism and the allure of the modern world around him.  Join him on his quest for answers as he tries out for the Olympics, falls for a Greek 'goddess' and discovers his destiny, with a little help from his crew and the world's first Valley Girl.  Forget everything you've heard about the oil lasting eight nights:  THIS is the true story of Hanukkah…sort of," describe press notes.
Songs by Harvey Shield and Richard Jarboe, Book, Add'l Lyrics & Music by Chayim ben Ze'ev.  Directed and Choreographed by Jessica Redish, with Music Direction by Daniel Feyer.
Maccabeat! features Jeremy Cohen, Jonas Cohen, Kevin Curtis, Jeff Cuttler, Michael Daly, Mitch Dean, Ryan G. Dunkin, Preston Ellis, Mark Enis, Margaret Anne Florence, Rachel Frankenthal, Zachary James, Howard Kaye, Liz Kimball, Nikka Lanzarone, Jesse Manocherian, Josephine Rose Roberts, Kaitlin Stilwell and Chris Yonan.
The remaining schedule is as follows: Sunday, September 30 at 1PM, Wednesday, October 3 at 4:30PM, and Saturday, October 6 at 4:30PM & 8PM.  All performances are at the Acorn Theatre, 410 W. 42nd St.
Tickets are $20 and may be purchased by calling Theatermania at 212-352-3101, or online at www.nymf.org. For more information visit www.maccabeat.com
Photos by Aaron Epstein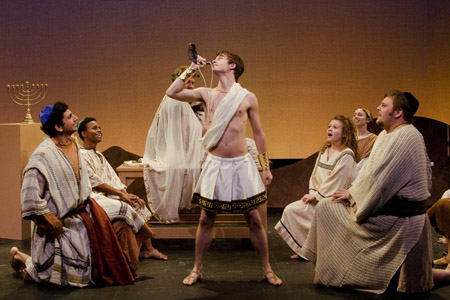 Mitch Dean (Judah) and Company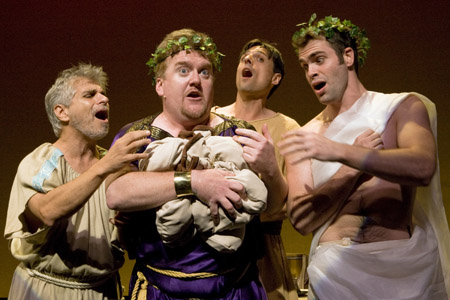 l-r Mark Enis (Menelaus), Michael Daly (Antiochus), Jonas Cohen (Jason) and Preston Ellis (Appollonius)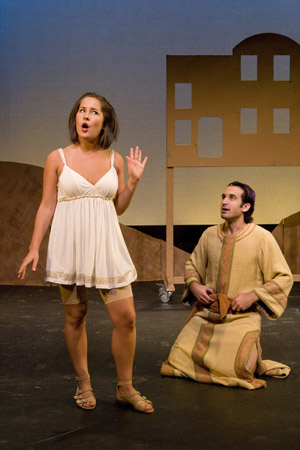 Rachel Frankenthal (Sarah) and Jeremy Cohen (John)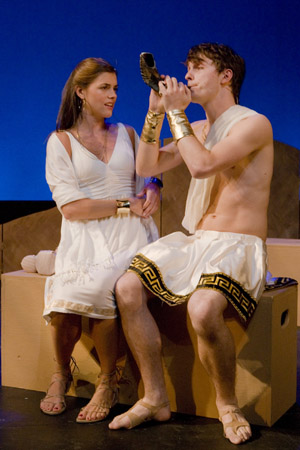 Margaret Ann Florence (Allura) and Mitch Dean (Judah)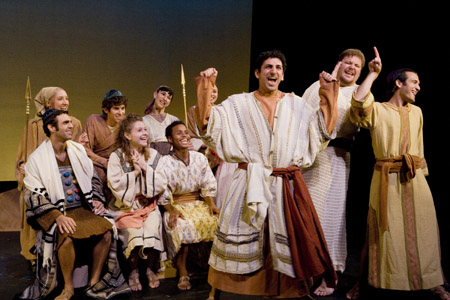 l-r Chris Yonan (Yonathan), Ryan G. Dunkin (Eliezer), Jeremy Cohen (John) and Company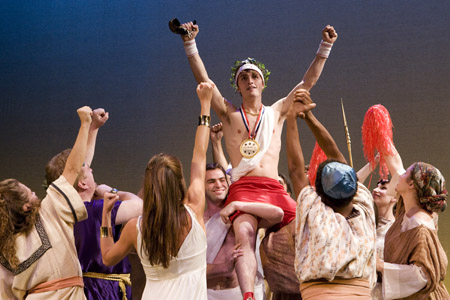 Mitch Dean (Judah) and Company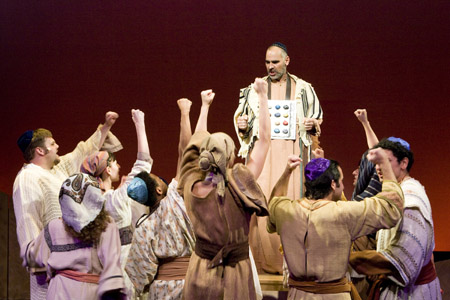 Howard Kaye (Matisyahu) and Company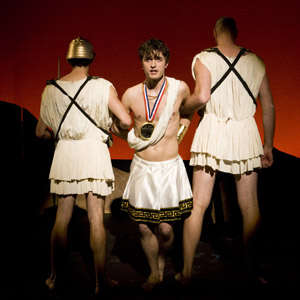 Mitch Dean (Judah) and Company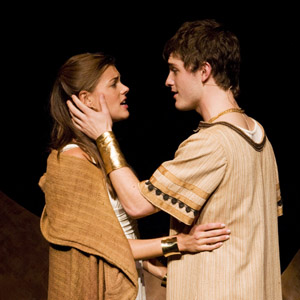 Margaret Ann Florence (Allura) and Mitch Dean (Judah)