Photo Flash: Jennifer Jancuska Leads /A•STIR/ Labs with Works by Alexander Sage Oyen, Rebekah M. Allen and More
The fall 2016 season of /A•STIR/ which included development of five new musicals, wrapped this week. The mission of the /A•STIR/ is to introduce movement as a narrative tool to writers, composers, directors, and producers of projects in the early writing and development stages. Scroll down for photos!
Established in 2014 by choreographer, Jennifer Jancuska, this season of /A•STIR/ was supported by co-curator Evan Bernardin and included the writers Rebekah M. Allen, Alexander Sage Oyen, Landon Braverman, Derek Hassler, and Elliah Heifetz. The season also provided opportunity for directors Portia Krieger, Michael Bello, and Srda Vasiljevic to join Jancuska for /A•STIR/ to collaborate on movement aiding the narrative storytelling and character development of each new work.
/A•STIR/ works with Jennifer Jancuska + The BringAbout, a nest of artists, which activates each new musical or play with a uniquely diverse yet cohesive bundle of instinct, skill, language, and movement. Their talents have surged in performances from Broadway to concerts, videos, live events and beyond.
Comprised of singers, dancers, and actors, The BringAbout includes Celeste Rose, Melissa Rose Hirsch, Eddy Lee, Alessandra Marconi (ILLUMINATE), Lauren Yalango-Grant (PILOBOLUS, QUEEN OF THE NIGHT), Avery Sobczak, Nick Sacks, Carson Higgins, Matthew Steffens (WOMEN ON THE VERGE), Chris Dwan (FINDING NEVERLAND), Fredric Odgaard (KINKY BOOTS), Gregory Haney (HAMILTON), Monette McKay (CHARLIE AND THE CHOCOLATE FACTORY), Ashley Marinelli, Zachary Stewart, Andre Malcolm and musicians Max Gordon and Clay Bradshaw of The BringAbout.
The first writing teams to work with /A*STIR/ included Adam Gwon, Sarah Hammond, Ty Defoe, Tidaya Sinutoke, Matte O'Brien and Matt Vinson. The unconventional experiments-in-process have directly lead to fully produced readings in NYC, developmental workshops at Syracuse University and College of Charleston, professional & archival videos and public presentations.
/A*STIR/ is now accepting applications for their Spring 2017 development series. Application details can be found at www.jenniferjancuska.com/#/astir.


Alexander Sage Oyen and Jennifer Jancuska observe rehearsal.

The BringAbout ensemble working with Jennifer Jancuska.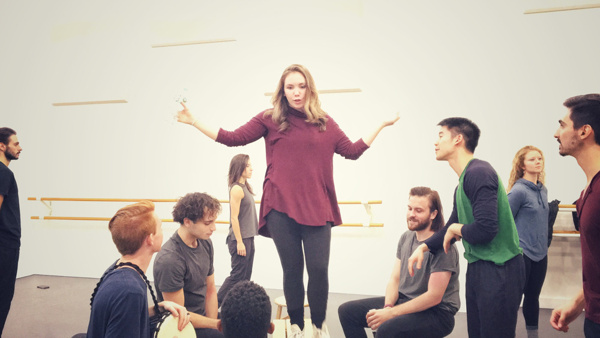 Celeste Rose and The BringAbout.

The BringAbout ensemble.