Click Here for More Articles on BARE
Photos: Jenna Leigh Green, John Hill & More Reunite at BARE!
Bare begins its final weekend of performances, playing its final performance on Sunday, February 3rd at 7:30pm after 21 previews and 65 regular performances. The original 2004 cast, including John Hill, Natalie Joy Johnson, Adam Fleming, and Jenna Leigh Green reunited at the show and took pictures backstage with the current cast. Check them out below!
Bare began previews Off-Broadway at New World Stages (340 West 50thStreet) on Monday, November 19, 2012 and opened on Sunday, December 9, 2012.
"Bringing this production of Bare to the stage has been a labor of love for all involved," producer Randy Taradash said. "We are so proud of the show and its unique ability to spread the important messages of tolerance and equality. We look forward to bringing Bareto an even wider audience with our upcoming cast album and future productions worldwide."
A cast album for the current Off-Broadway production is in the works and plans are underway for upcoming productions in Korea, Japan, Brazil and Los Angeles.
The company of Bare features Jason Hite (Jason), Taylor Trensch (Peter) andElizabeth Judd (Ivy), with Gerard Canonico (Matt), Jerold E. Solomon (Father Mike),Barrett Wilbert Weed (Nadia) and Missi Pyle (Sister Joan). They are joined by Anthony Festa (Swing), Casey Garvin (Zack), Ariana Groover (Vanessa), Sara Kapner(Madison), Alice Lee (Diane), Megan Lewis (Swing), Justin Gregory Lopez (Beto),Michael Tacconi (Nick) and Alex Wyse (Alan).
Ticket prices range from $25 (front row, night of performance, with student ID) to $126.50 (premium). Regular price tickets are $92.50. All ticket prices include a $1.50 facility fee. Please visit Telecharge.com for a complete preview performance schedule as well as holiday performance schedules. The regular performance schedule is Monday at 8pm, Wednesday - Saturday at 8pm, Saturday at 2:30pm, and Sunday at 3pm & 7:30pm. The performances on Sunday, February 3rd are at 2pm and 7:30pm.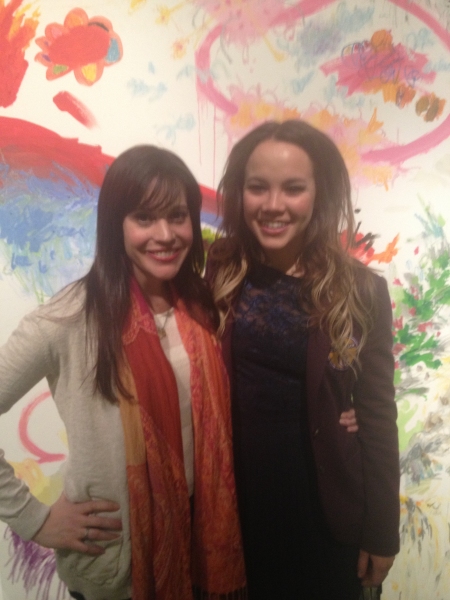 Jenna Leigh Green and Elizabeth Judd

John Hill and Jason Hite

John Hill, Jason Hite, Barrett Wilbert Weed, Natalie Joy Johnson, Adam Fleming, Elizabeth Judd and Jenna Leigh Green

Natalie Joy Johnson and Barrett Wilbert Weed

Natalie Joy Johnson and Barrett Wilbert Weed