Photos: BELLINI AND THE SULTAN at FringeNYC, Begin. 8/13
The Turkish American Repertory Theatre in association with the 17th Annual New York International Fringe Festival - FringeNYC - presents Bellini and the Sultan: A Comedy in Istanbul, a unique adventure-comedy that explores how Muslims and non-Muslims can communicate and understand one another's cultures. The cast of 8 includes Alan Smith, Eliud Kauffman, Christopher McAllister, Amir Levy, Everett Goldner, Chris Olson, Temi Hason, and Kate Szekely. Performances will be staged at Venue #16: Robert Moss Theatre at 440 Studios, 440 Lafayette Street, NYC for five performances from August 13-24, 2013. Check out a first look below!
In Bellini and the Sultan, the West and the Ottoman Empire are on the verge of war...and Renaissance painter Gentile Bellini is sent to keep the peace by painting a portrait demanded by Sultan Mehmed II. Since Islam forbids personal images, he finds himself fighting to survive and faces numerous obstacles -- a manipulative Sultan, a hostile Vizier and a plotting concubine. Along the way, the painter and the Sultan find common ground and forge a friendship despite the differences in their cultures and customs.
While Bellini and the Sultan is based on a famous encounter in the early days of the Ottoman Empire the issues it explores resonate with events in modern-day Turkey and other parts of the Islamic world: an autocratic ruler, a country in transition, clash of Eastern and Western values and the conflict of conservative religious values and democracy.
"We are proud and excited to present a work like Bellini and the Sultan which brings humor and compassion to the serious issues that divide people," explained TARTE Founder and Artistic Director Ay?e Eldek-Richardson. "While some equate Turkey's historical Ottoman civilization with traditional conservative values, the lessons to be learned from the past are actually much more complex. We invite the audience to experience Turkish culture for themselves, just as the painter Bellini and Sultan Mehmed II learn about one another's worlds in Bellini and the Sultan."
The Sultan is played by Eliud Kauffman, who is nominated for Best Actor in a Leading Role by the 2013 New York City International Film Festival for his performance in the film Lloró - the only actor in the Festival to be nominated for a U.S. film.
In 2012, TARTE produced three staged readings of Bellini and the Sultan, which is also the 2013 winner of the Stageworks Theatre Breaking New Ground Competition. Mario Fratti, author of Nine and reviewer for AmericaOggi, called the play an "Exciting interpretation of an unusual encounter between art and politics."
Performances for Bellini and the Sultan will be held on Tuesday, August 13 @ 7:00 pm; Friday, August 16 @ 6:30 pm; Sunday, August 18 @ 4:30pm; Friday, August 23 @ 2:30 pm; Saturday, August 24 @ 7:00 pm.
Tickets are $15 and can be purchased online beginning July 19th at http://www.fringenyc.org/basic_page.php?ltr=B#Bellini, by phone at 866-468-7619 up to 24 hours before the show, or in person at FringeCENTRAL (1 East 8th Street at Fifth Avenue) from 12n-8pm beginning July 19th. Tickets are $18 at the door and can be purchased 15 minutes before each performance (cash only) at Venue #16: Robert Moss Theatre at 440 Studios, 440 Lafayette Street, NYC 10003.
Photos by Mark Krieger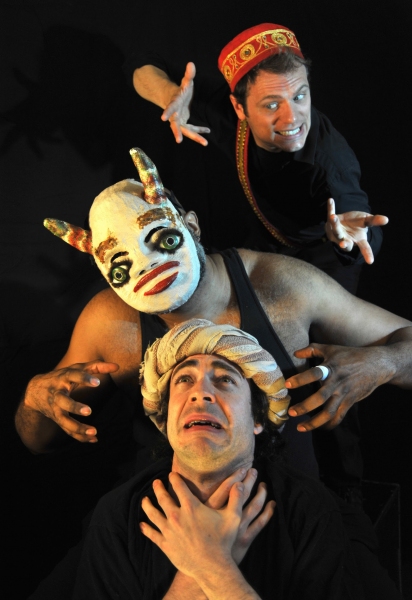 Alan Smith, Christopher McAllister, Amir Levy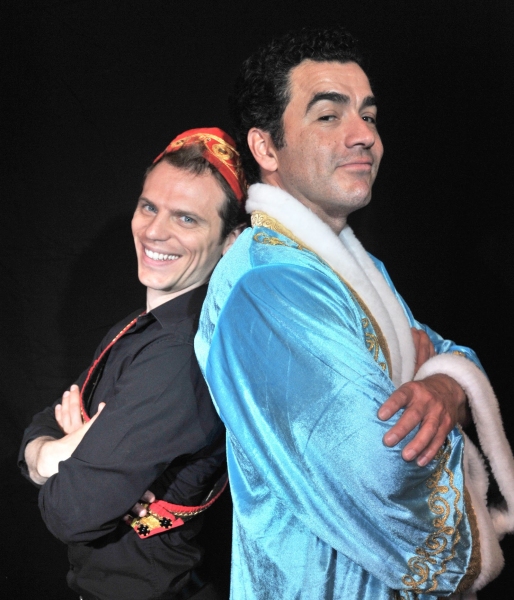 Alan Smith, Eilud Kauffman

Alan Smith, Amir Levy, Eilud Kauffman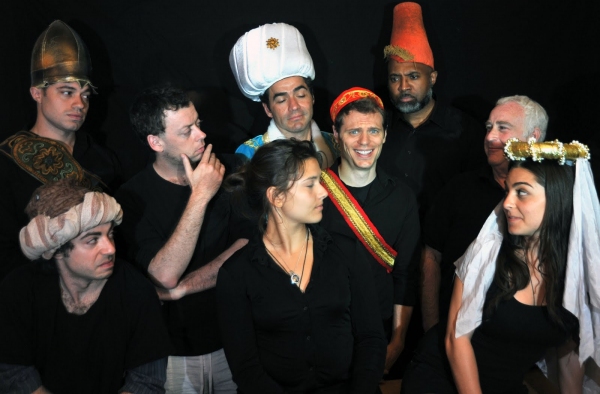 Cast of BELLINI AND THE SULTAN