Photo Coverage: World AIDS Day 'Rags' Concert
Rags was presented on December 11th, 2006 as the 4th Annual World AIDS Day Concert This year's presentation, a 20th Anniversary Concert of the musical, was held at Times Square's brand new Nokia Theater.
The concert starred 2-time Tony-nominee Carolee Carmello (Mamma Mia!, Lestat, Parade) as Rebecca, 4-time Tony-nominee Gregg Edelman (Wonderful Town, Into the Woods) as Nathan, Michael Rupert (upcoming Legally Blonde, Tony for Falsettos) as Avram, Lainie Kazan (My Big Fat Greek Wedding, Beaches, "The Nanny") as Rachel, Eden Espinosa (Wicked, Brooklyn) as young Bella, a new immigrant to America, David A. Austin (I Love You Because) as Ben, a young Jewish entrepreneur focused on winning Bella's heart, Lewis Cleale (Spamalot) as Saul, John Treacy Egan (The Producers) as Big Tim, and Struan Erlenborn (last year's Secret Garden concert, Chitty, Chitty, Bang, Bang) as young David. Max von Essen, Lisa Jolley, David Josefsberg, Colin Hanlon, and Aaron Berk were also among those featured. MTV News correspondent Sway hosted the event.
Rags, "tells the story of Rebecca, an immigrant who finds herself and her young son, David, very much alone in the brand new world of America. Through Rebecca's encounters and relationships with others experiencing similar struggles, Rags tells of the American experience when the 'melting pot,' was an ideal many hoped to be a part of. In a time when immigration is a heavily debated topic, Rags reminds us of the intense struggle so many of our immigrant ancestors fought, to make this country what it is today," state press materials. Rags features music by Tony Award-winner Charles Strouse (Bye, Bye, Birdie; Annie), lyrics by Academy and Grammy Award-winner Stephen Schwartz (Wicked, Pippin, Prince of Egypt), and a book by Tony Award winner Joseph Stein (Fiddler on the Roof, Zorba Presented by Jamie McGonnigal in association with The Joey DiPaolo AIDS Foundation, the concert was directed by Stafford Arima (Altar Boyz, The West End's Ragtime, The Secret Garden in Concert). The costumes were designed by Michael Bottari and Ronald Case.
Visit www.WorldAIDSDayConcert.org for more information

MTV's Sway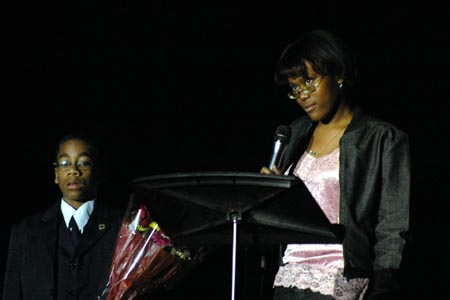 Bryson and Chenelle (young representatives of the Joey DiPaolo AIDS Foundation)

Aaron Berk (Homesick Immigrant)

Max von Essen (American)

Struan Erlenborn (David) and Carolee Carmello (Rebecca)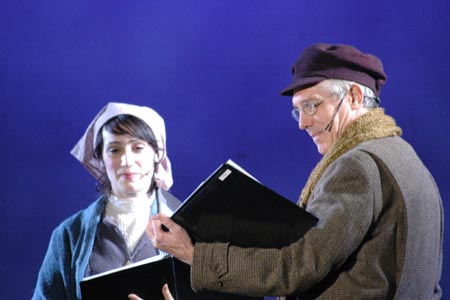 Eden Espinosa (Bella) and Michael Rupert (Avram)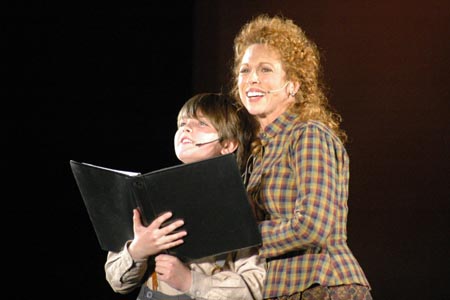 Struan Erlenborn and Carolee Carmello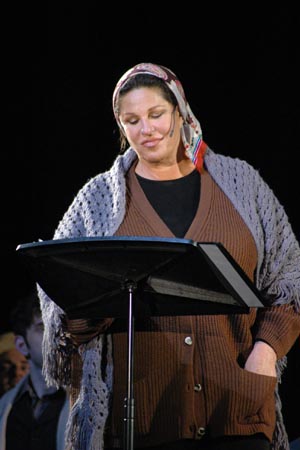 Lainie Kazan (Rachel)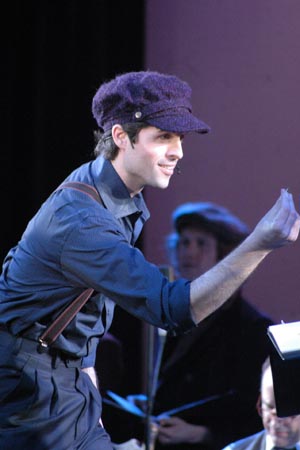 Peter Lockyer (Klezmer Leader)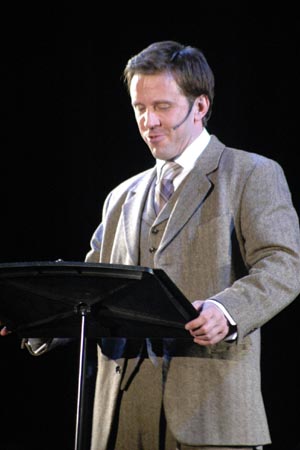 Lewis Cleale (Saul)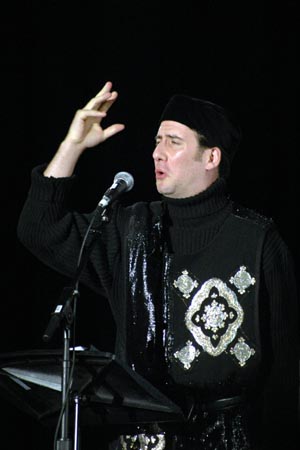 David Josefsberg (Hamlet)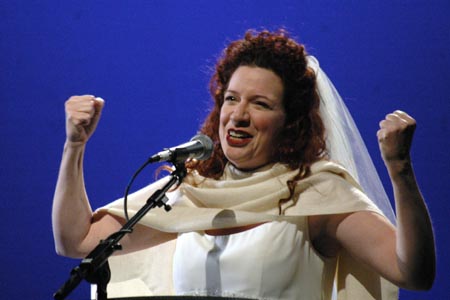 Lisa Jolley (Ophelia)

Struan Erlenborn, Carolee Carmello and Gregg Edelman (Nathan)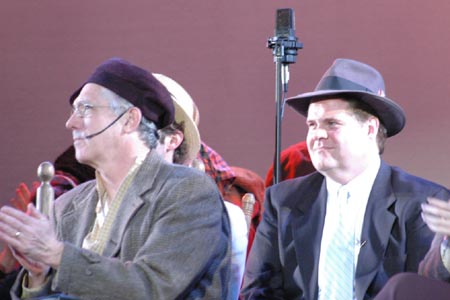 Michael Rupert and John Treacy Egan (Big Tim)

Mark Hartman (Music Director), Jamie McGonnigal and Stafford Arima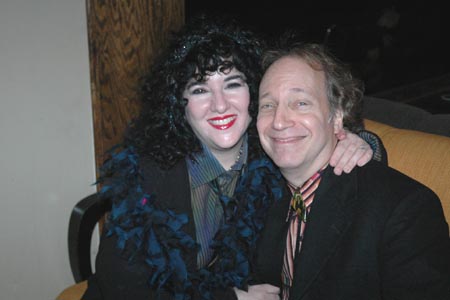 Barbara Siegel and Scott Siegel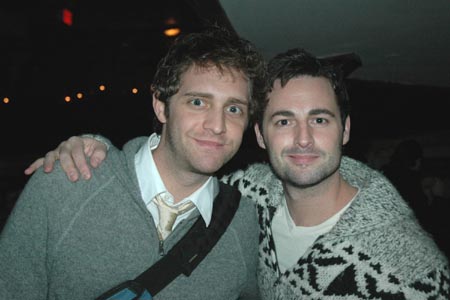 Colin Hanlon (American) and Max von Essen

Scott Siegel and David A. Austin

Zach Hensler, Eden Espinosa, Robb Sapp, and Max von Essen

Gregg Edelman and Carolee Carmello

Greg Edelman, Carolee Carmello and Struan Erlenborn

Lainie Kazan and Struan Erlenborn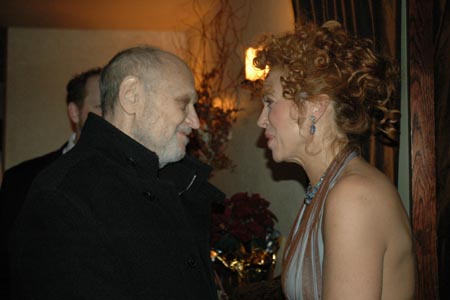 Charles Strouse and Carolee Carmello

Joey DiPaolo and girlfriend Christina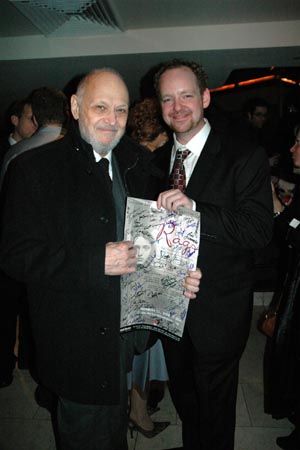 Jamie McGonnigal presenting Charles Strouse with a signed poster from the show

Carolee Carmello and Lewis Cleale

Carolee Carmello and Lainie Kazan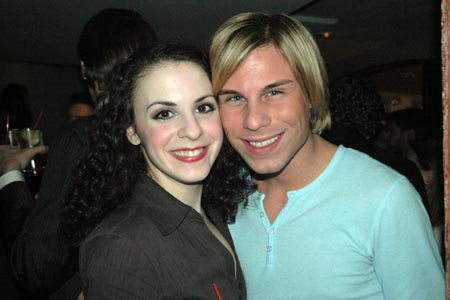 Shoshanna Richman and Matthew Parker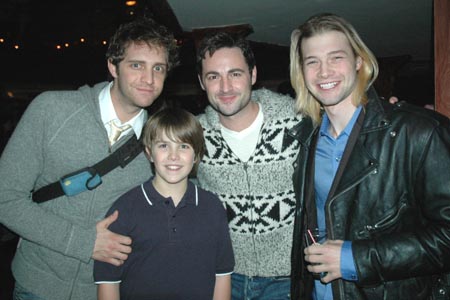 Colin Hanlon, Struan Erlenborn, Max von Essen and Brandon Ruckdashel

Related Articles