Photos: The Fire Dept. Presents 'THE MINOTAUR' at The Players Club
The Fire Dept Artistic Directors Erica Gould and Audrey Rosenberg presented The Minotaur, the first installment of the company's 2009 Salon Series, the cast for the performance included Mario Cantone, Jill Clayburgh, Phoebe Neidhardt, Ethan Peck, Campbell Scott, and Jeremy Webb.
The Minotaur, written by Anna Ziegler; directed by
Erica Gould
; and produced by Audrey Rosenberg, took place Friday, March 27 at 7:30pm at the historic Players Club, 16 Gramercy Park South at 20th Street.Casting a different light on the monster in the labyrinth, The Minotaur is a startlingly relevant adaptation of the myth of Theseus and Ariadne-a funny, whimsical, and poetic look at love, loss, forgiveness, and the primal longings that connect us to and separate us from our animal selves.
The Players presents The Fire Dept Salon Series, staged readings of new plays in non-proscenium environments that encourage an intimacy between audience and performer, followed by a discussion wit h the artists and noted guest speakers whose life experiences speak to the issues raised by the material.
A portion of the proceeds from the evening will benefit the NiteStar Program, a non-profit organization serving underprivileged, inner-city youth, that uses the performing arts and peer education to provide HIV/AIDS awareness and pregnancy, substance abuse, and relationship violence prevention; help youth to make informed decisions; provide options for changing attitudes and prejudices; and create opportunities for behavioral change.The set design for The Minotaur was by Sarah Brown & Tim Mackabee; lighting design by
Pamela Kupper
; sound design
Jill DuBoff
; costume design Jeffery Wallach; and stage manager was Emily Park Smith.The inaugural event in The Fire Dept Salon Series, "At War: American Playwrights Respond to Iraq," took place in June 2007 at the National Arts Club, and featured
Michael Cerveris
,
Peter Sarsgaard
, and
David Strathairn
, and the following winter played several nights at the Bleecker Street Theatre.Founded in spring 2006 by Audrey Rosenberg,
Erica Gould
, and
Jessica Blank
, The Fire Dept is a New York-based, non-profit theatre company made up of established and emerging theatre artists dedicated to creating work that cannot be replicated inside a television box or on a movie screen, work of visceral and heightened theatricality that not only entertains, but also wrestles with questions of importance to our society and our world. Developing theatre that combines the rigor and structure of great narrative storytelling with the vitality of formal experimentation, The Fire Dept is committed to the development of new plays and theatre pieces, as well as vital re-interpretations of existing works. Using alternative as well as traditional theatre spaces, The Fire Dept is committed to igniting questions, sparking controversy, and responding to the urgency of our times. The founding members of The Fire Dept are Rob Ackerman,
Jessica Blank
, Suzanne Bradbeer, Dave Calvitto,
Amelia Campbell
,
Kathleen Chalfant
,
Constance Congdon
,
Chuck Cooper
, Stefania de Kenessey, Jessica Dickey, Anton Dudley,
Peter Gallagher
, Janeane Gar ofalo,
Jeff Goldblum
, Nick Hallett, Judith Hawking, Sarah Nina Hayon, Brian
Keith Jack
son,
Erik Jensen
,
Toby Jones
, Rajiv Joseph,
Laurence Klavan
,
Carson Kreitzer
,
Neil LaBute
,
David lan
der,
Harry Lennix
,
Josh Lucas
,
Matthew Modine
,
Lynn Nottage
,
Denis O'Hare
, Dael Orlandersmith,
Aidan Quinn
,
Steven Rattazzi
,
Theresa Rebeck
,
Gloria Reuben
, Jose Rivera,
Jake Robards
, Lynn Rosen, Edwin Sanchez, Jonathan Schaefer, Jeremy Schwartz,
David Strathairn
,
Daniel Sunjata
, Sona Tatoyan,
Myra Lucretia Taylor
,
April Yvette Thompson
,
Jeremy Webb
, Sheri Wilner, and Rebecca Wisocky. The members of The Fire Dept Artist Advisory Board are
Peter Askin
,
Jill Clayburgh
,
Emily Mann
,
Lynn Redgrave
,
Marian Seldes
, and
Sam Waterston
.For information on the Salon Series visit 
www.thefiredept.org.
Photos by Peter James Zielinski

Mario Cantone

Jill Clayburgh

Jeremy Webb

Campbell Scott

Ethan Peck

Jeremy Webb and Phoebe Neidhardt

Campbell Scott, Jill Clayburgh, Phoebe Neidhardt, and Mario Cantone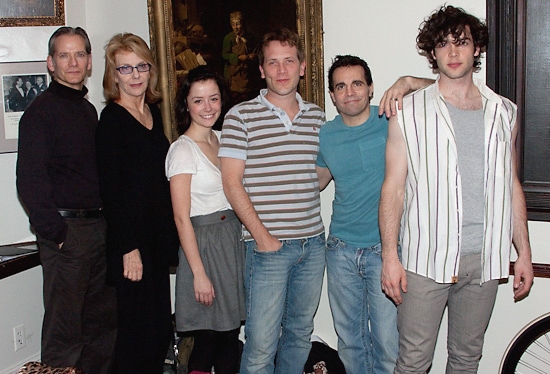 Campbell Scott, Jill Clayburgh, Phoebe Neidhardt, Jeremy Webb, Mario Cantone, and Ethan Peck