Photos: Rise and Fall of the City of Mahagonny
The Los Angeles Opera presented Kurt Weill's and Bertolt Brecht's Rise and Fall of the City of Mahagonny Saturday under the direction of Tony Award-winner John Doyle and starring Broadway divas Audra McDonald and Patti LuPone.
"Also featured in the cast are tenor Anthony Dean Griffey as Jimmy MacIntyre, tenor Robert Wörle as Fatty the Bookkeeper, tenor John Easterlin as Jack O'Brien, baritone Mel Ulrich as Bank Account Bill, baritone Donnie Ray Albert as Trinity Moses, tenor Derek Taylor as Toby Higgins and bass Steven Humes as Alaska Wolf Joe. Sopranos Catherine Ireland, Karen Vuong and Rena Harms and mezzo-sopranos Natasha Flores, Sharmay Muscacchio and Priti Gandhi will be featured as the Maidens of Mahagonny. The production is designed by set designer Mark Bailey, costume designer
Ann Hould-Ward
, lighting designer Thomas C. Hase and sound designer Dan Moses Schreier," state notes."Composer Kurt Weill and playwright Bertolt Brecht, creators of the 1928 smash hit
The Threepenny Opera
, based their opera Rise and Fall of the City of Mahagonny on a shorter music-theater piece called the "Mahagonny Songspiel," a song setting of loosely linked poems by Brecht about a fictional U.S. city devoted to life's illicit pleasures, where anything goes and the only crime is to run out of money. The full-length piece, an edgy and lyrical satire told in a highly entertaining blend of opera and raucous music hall songs, received its premiere in Leipzig, Germany, in 1930. The brilliant score, featuring the classic song "Moon of Alabama," masterfully creates a vivid picture of determination, desperation and debauchery." This limited engagement runs through March 4, 2007. Tickets range from $30 to $220 and can be purchased at the Los Angeles Opera Box Office or online at
www.LAOpera.com
or by phone at 213-972-8001. All performances take place at the Dorothy Chandler Pavilion, Music Center, 135 North Grand Avenue in Los Angeles.
Photos by Robert Millard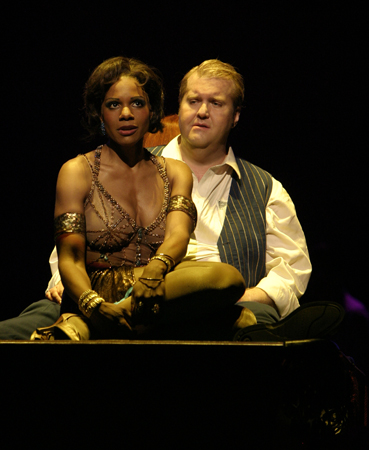 Audra McDonald and Anthony Dean Griffey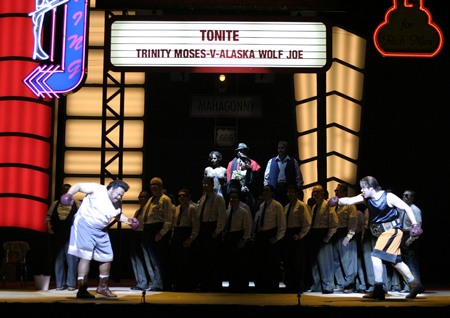 Cast of Mahagonny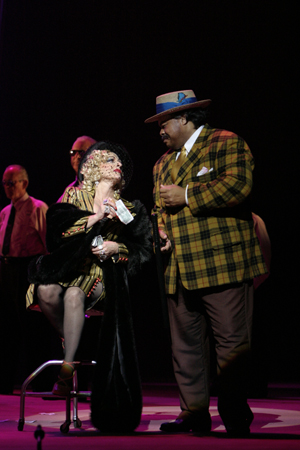 Patti LuPone and Donnie Ray Albert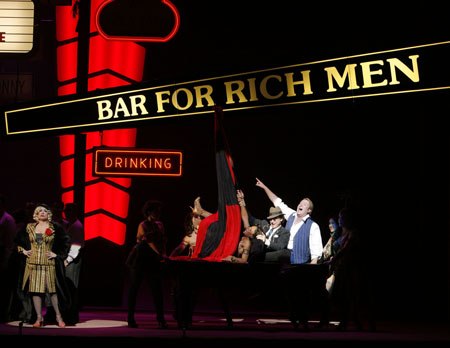 Patti LuPone, Anthony Dean Griffey and cast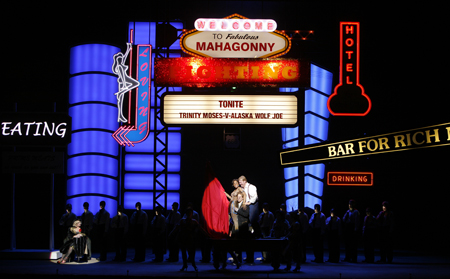 Cast of Mahagonny


Patti LuPone and cast


Patti LuPone and cast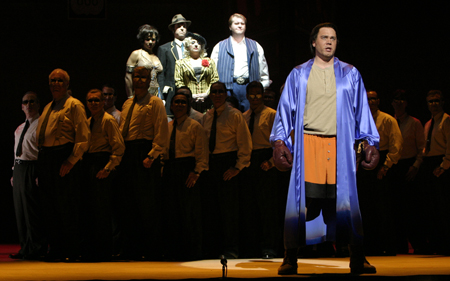 Steven Humes and cast


Patti LuPone and cast