James Sims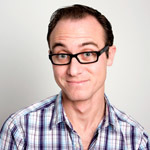 James Sims is the Senior Editor at BroadwayWorld.com. Beyond his duties on this website, James also contributes as a featured blogger for the Huffington Post.

Having grown up in Los Angeles, California, James spent time working as an entertainment reporter on the west coast before heading to New York City to attend Columbia University's Graduate School of Journalism. For more information, visit <a href="http://www.sofasnark.com">SofaSnark.com</a> and follow James on Twitter at <a href="http://www.twitter.com/simsjames">@SimsJames</a>.
MOST POPULAR ARTICLES
LAST 30 DAYS
LAST 365 DAYS
Decorating Broadway with Bright Stars for the Holidays

December 6, 2011

Not a Broadway season goes by without a soap star dipping their toe in the Chicago pool at the Ambassador Theatre-so well oiled is that bare-bones revival that it was able to survive the placement of Ashlee Simpson. It's become a petri dish for stunt casting experiments. A few blocks north, at the Circle in the Square Theatre, heartthrob Hunter Parish-he gained notoriety for 'playing' dense on Showtime's Weeds-is dancing around as the lord and savior in Godspell. Hunter has been no savior for the Stephen Schwartz musical, or so say the critics. Kara DioGuardi, Christie Brinkley-the stunts go on and on.
---
BWW TV: Finding the Characters in PETER AND THE STARCATCHER!

February 25, 2011

BroawayWorld's own James Sims recently sat down with Adam Chanler-Berat and Celia Kennan-Bolger to discuss the origin of 'Peter and the Starcatcher' and how each of the actors approach such a well-known character and fantasy in a completely different way...
---
Ask Broadway a Question on VYou.com
December 8, 2010
---
BWW TV: TIME STANDS STILL Opening Night

October 8, 2010

TIME STANDS STILL, the acclaimed Tony nominated Best Play by Pulitzer Prize winner Donald Margulies, directed by Tony Award winner Daniel Sullivan, and starring Laura Linney, Brian D'Arcy James, Eric Bogosian, and Christina Ricci opened last night, Thursday, October 7 at the Cort Theatre (138 W. 48th Street). BroadwayWorld.com was there to capture all the excitement of opening night!
---
BWW TV Special: Stephen Sondheim Theatre Unveiled

September 17, 2010

On Wednesday, September 15th at 6:30PM, the Broadway community gathered alongside Stephen Sondheim as the lights of the newly dedicated Stephen Sondheim Theatre marquee are lit for the first time...
---
Social Buzz on Spider-Man GMA Debut

September 10, 2010

The debut song, 'Boy Falls from the Sky,' established that this theatrical extravaganza - the Broadway community will be abuzz whether this fails or not - will have a strong U2 sound to it, meaning it is relying heavily on a rock and roll sound...
---
Colleen Ballinger Talks YouTube Character Miranda Sings

August 27, 2010

Colleen Ballinger has stumbled across a unique path to fame, thanks to Miranda, a zany tone-deaf character the 23-year-old California native created three years ago. What began as a mockery of YouTube musicians has turned into a career opportunity with global appeal...
---
Sofa Snark: 'Beauty and the Beast' 3D

July 27, 2010

With such a glowing history, and as one of Disney's crown jewels, why would the studio now decide to re-release 'Beauty and the Beast' in 3D? Sure, Disney's theatrical history is built on the concept of re-releasing an animated classic into the movie houses every few years. However, 3D is already overused, and has some analysts speculating that the visual technology is losing steam, fast...
---
Sofa Snark: Mamet Misses Point on Colbert

June 18, 2010

If the Broadway community could combine the sentiments of both Mamet and Foster, perhaps the next few years could be prosperous not just to the pocket books of theatrical producers but to the art form itself. Watering town Broadway with unfunny revivals and star-studded productions spells disaster for all those that call live theatre home...
---
Sofa Snark: Tonys Reflect Boring Broadway Season

June 6, 2010

It is nearly impossible to dismiss the fact that Broadway experienced a rather lackluster year, star-studded shows or not, as can easily be seen by the list of Tony nominations. When musicals like Memphis and Million Dollar Quartet are able to snag nods for best musical, and the dreaded Addams Family can be listed as having one of the best original scores, it's certain that the creative juices flowing around Times Square were strained this past season...
---
Sofa Snark: Fela! Joins Bono, Legend in Video

June 4, 2010

Bono and John Legend join dancers from Broadway's Fela! in the music video for Angelique Kidjo's spin on the classic 'Move On Up.'
---
Sofa Snark: Tom Cruise Gets 'Risky' on MTV

June 3, 2010

There is one iconic moment in Tom Cruise's film career that stands out to this day, and that's his dancing to Bob Seger's Old Time Rock and Roll. That scene in Risky Business showing Cruise in his tighty-whities sliding across his parent's living room floor...
---
Sofa Snark: Hollywood Talent Births 'Kid' Off-Broadway

May 26, 2010

Where there was plenty of opportunity to go over the top with The Kid -- the story chronicles the adoption process through the eyes of a sex columnist and his gay partner -- there was an overall sweetness to the show that left audiences feeling open to the idea of this whacky couple brining a child home...
---
Sofa Snark: Joss Whedon Tackles Misfit Angst With GLEE

May 18, 2010

Not only does 'Glee' follow Joss Whedon's creative tone, but the latest episode, Dream On, focuses on three of the main characters fantasizing about their wildest dreams...
---
Sofa Snark: Publishers Can Take Warning From 'Collected Stories'

April 29, 2010

Rupert Murdoch and Jonathan Burnham, consider yourself warned. Playwright Donald Margulies has assumed the role of a publishing soothsayer, and what he predicts isn't pretty...
---
Sofa Snark: Music's Past & Future Meet on Broadway

April 20, 2010

Broadway needs to begin taking more chances on new kinds of musicals. While 'American Idiot' shows the future of Broadway musicals, 'Million Dollar Quartet' provides the backstory to the long hard journey that the music industry took to get us to this point. Here's hoping U2 can swoop in next season with 'Spider-Man' the musical and reaffirm that rock music belongs on Broadway...
---
Sofa Snark: 'Glee' Could Save Arts Education

April 14, 2010

While most prime-time programming is filled with cookie cutter procedural dramas and a seemingly endless number of Law & Order spinoffs, all merely teaching kids how to dispose of a dead body, Glee has quickly turned into a show advocating for a positive change in America, even while maintaining its cotton candy sweetness...
---
Sofa Snark: 'Addams Family' Dead as Doornail

April 9, 2010

After the reported hefty advance sales run dry, it would suit the Broadway community to dispense of The Addams Family as fast as it did that other clunky deadly musical, Young Frankenstein...
---
Sofa Snark: ABC's 'Lost' Takes Page from 'Matrix'

April 7, 2010

Like every other LOST fanatic, I'll be tuning in every night until ABC finally wraps up this mysterious television wonder. Only five episodes left until series finale time...
---
Watch: GLEE Performs Live at the White House

April 5, 2010

As Gleeks await the return of the hit series Glee, those attending the White House's annual Easter Egg Roll, and anyone tuning in online, were treated to a live performance from the singing and dancing cast...
---