Origin's 1st Irish Gives Out Awards in New York Last Night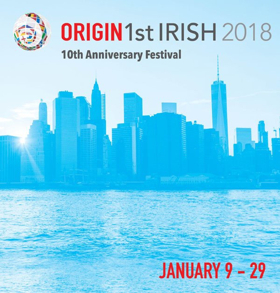 Origin's 1st Irish 2018, the world's only theatre festival dedicated to showcasing the work of contemporary Irish playwrights, handed out its Best of Festival Awards at closing night festivities at Rosie O'Grady's in Times Square last night. The awards were very evenly distributed among the seven productions in competition from Ireland and the US, but the life of the party was Isobel Mahon's comedy "Party Face," which picked up awards for Best Actress (its star Hayley Mills) and for Best Production. Produced by Robert Driemeyer, Morgan Sills and Jan Warner, the Irish hit's US premiere plays at City Center through April 8. Its New York-based cast includes Klea Blackhurst, Gina Costigan, Brenda Meaney and Allison Jean White.
The Awards also recognized local favorite Mick Mellamphy as Best Actor in "Guy Walks Into a Bar," John Keating for his direction of "Dyin' for It," and Bernard McMullan who picked up the Best Playwright honor for his internationally acclaimed "Jimmy Titanic," which is currently running at the Irish Rep through February 18.
The site-specific fantasy "The Only Jealousy of Emer," an immersive performance combining Irish folk and Noh theater, and based on the poetry of WB Yeats, took the Best Design prize for overall production design. ("The Only Jealousy of Emer" has been extended through February 11 at Torn Page in Chelsea.)
A Special Jury prize was awarded to Colin Campbell of the critically acclaimed "Disco Pigs" (running at the Irish Rep through March 4), "for his physical and verbal risk-taking in performance." Origin's Festival Fringe Award was given to three entities -- Poor Mouth Theatre in the Bronx, the NY Irish Center in Queens, as well as the company of "A Guy Walks Into a Bar," for their combined efforts to create community and new theatre for the public. Don Creedon's crowd-pleasing comedy "Guy Walks Into a Bar," which enjoyed a special Festival encore (it won Best Play in 2010), played at the NY Irish Center in Long Island City.
This year's blue-ribbon panel of judges included the Observer's veteran theatre writer Harry Haun; the actor and opera singer Elmore James, and Orla O'Sullivan the theatre critic for the Irish Echo in New York and a contributor to overseas media including The Irish Times, the Irish Independent, and RTE.
This year the Bairbre Dowling Spirit of the Festival Award, given by the Origin Theatre Company's board of directors, went to Jenny Green, a New York-based actress and costume designer, for her tireless behind the scenes efforts on behalf of the Festival.
The list of nominees is as follows: Best actress - Hayley Mills ("Party Face"); Maria Deasy ("Dyin' for It"); Evanna Lynch ("Disco Pigs"), and Gina Costigan ("Party Face"). Best actor - Mick Mellamphy ("Guy Walks Into a Bar"); Colin Hamell ("Jimmy Titanic"); Shane Allen ("Building Pain"); Roger Clark ("Guy Walks Into a Bar"). Best Director - John Haidar ("Disco Pigs"); John Keating ("Dyin' for It"); Ray Yeates ("The Only Jealousy of Emer"), and Amanda Bearse ("Party Face"). Best Playwright - Enda Walsh ("Disco Pigs"); Derek Murphy ("Dyin' for It"); Honor Molloy/Sarah Street/Brenda Meaney/Geraldine Hughes ("Building Pain"), and Bernard McMullan ("Jimmy Titanic"). Best Design -- "The Only Jealousy of Emer;" "Building Pain," and "Party Face." Best Production -- "Dyin' for It," "Disco Pigs," "The Only Jealousy of Emer," and "Party Face."
"Party Face" led the nominations this year with five. Enda Walsh's "Disco Pigs," and Derek Murphy's "Dyin' for It," which wrapped up its world premiere production at the cell on Sunday January 28, both had four nominations.
The site-specific production of "Building Pain" (four short plays about the opioid epidemic in an apartment above Bloom's Tavern), and "The Only Jealousy of Emer" both picked up three nominations. "Guy Walked Into a Bar" and "Jimmy Titanic" earned two nominations each.
Curated and coordinated by Festival founder George C. Heslin, the 10th annual Origin's 1st Irish presented 7 productions in competition and 10 special events, either imported or produced locally, from Belfast, Dublin, Boston, The Bronx, and Manhattan. Participating venues include the Irish Rep, City Center, the cell, the Irish Arts Center, the American Irish Historical Society, Symphony Space, Scandinavia House, Bloom's Tavern, the Museum of the City of New York, the Sheen Center, The Irish Consulate, NY Irish Center, and Torn Page.
Support for Origin's 1st Irish Festival in 2018 is generously provided by Lead Sponsors: Mutual of America and McVicker & Higginbotham; Presenting Partners: Bank of Ireland, Goldman Sachs, The Ireland Funds, the Irish Consulate, and the Northern Ireland Bureau; and Title Sponsors: Tourism Ireland; Culture Ireland, NY State Council on the Arts with the support of Governor Andrew M. Cuomo, the NY State Legislature, public funds from NYC Department of Cultural Affairs in partnership with the City Council, and our individual patrons.
The only festival of its kind to mix brand new and recently acclaimed productions and special projects from both sides of the Atlantic, the Festival has been recognized for its focused size, and emphasis on audience engagement through parties, panels and workshops. Its Next Generation and Breaking Ground series have proven to be a launch-pad for new projects developed collaboratively by artists from different cities, that have gone on to further success and acclaim. In 2015 The NY Times called Origin's 1st Irish "an important event that offers New York theatergoers the chance to see fascinating new work."
Since its founding in 2002, Origin has introduced works by 162 playwrights to US audiences, from such countries as the Netherlands, Sweden, Romania, Macedonia, Norway, Ireland and the United Kingdom. Origin also organizes symposia to explore cultural trends in different cities and communities across Europe.
For Festival details visit www.origintheatre.org

Related Articles
More Hot Stories For You
The Public Theater Cancels THE TRUTH HAS CHANGED Due To 'Violations of Code of Conduct'
The Public Theater took to Twitter to announced that their production of The Truth Has Changed, which was part of their Under The Radar Festival, has ... (read more)

VIDEO: Theatre Student Performs THE PHANTOM OF THE OPERA As Both Christine And The Phantom
Sing for us, our angel of music! Abby Seim, who studies musical theatre at Viterbo University, recently took to the stage to perform a song from Broad... (read more)

Oh, What a Beautiful Broadway Run- OKLAHOMA! Cast Reflects on Final Performance
In 1943, a brand new musical from new composing team Richard Rodgers and Oscar Hammerstein astounded the world and changed Broadway forever. In 2019, ... (read more)

Josh Gad, Leslie Odom, Jr., and More Will Voice Characters on CENTRAL PARK, New Series From Apple TV+
Apple TV+ has announced a new animated musical comedy, called Central Park, which will include the voices of some Broadway favorites!... (read more)

Lin-Manuel Miranda Will Be Profiled on New Apple TV+ Documentary Series DEAR...
A new documentary series on Apple TV+ will profile Broadway favorite Lin-Manuel Miranda, and more!... (read more)

Photo Flash: The Company of DIANA On Broadway Heads Into Rehearsals
The cast of the upcoming musical DIANA gathered today for their first day of rehearsal for the show's upcoming Broadway run.... (read more)