New Book First To Cover RENT Composer Jonathan Larson's Full Catalogue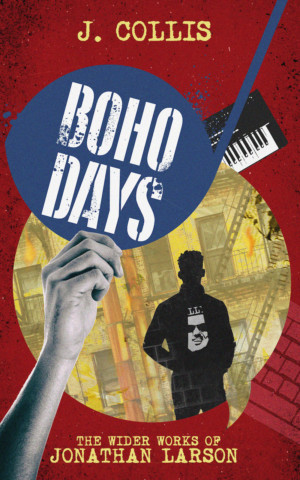 For the first time, a new book examines the complete output of Pulitzer Prize and Tony award-winning composer Jonathan Larson. "Boho Days: The Wider Works of Jonathan Larson," written by J. Collis and authorized by the Larson estate, will be released in digital and print formats on October 16, 2018.
Covering Larson's work from student cabarets at Adelphi University through RENT's creative process, "Boho Days" tells the story of a young composer on the edge of a rapidly changing New York theatre scene. Based on extensive archival research and interviews with over 60 of Larson's associates and collaborators, Collis' book features discussion and analysis of major works such as Superbia, tick, tick... BOOM!, J.P. Morgan Saves the Nation, and RENT. "Boho Days" also addresses a number of lesser-known Larson works including his educational theatre compositions, a collaboration with National Lampoon, and the children's video Away We Go!
"I initially wrote an article about Superbia," said Collis, an alumni of Royal Central School of Speech and Drama. "It became clear pretty quickly that there was so much more to write about, that nobody was writing about it, and that the first step would be to demystify the collection and let people know where to start." The article, "Static on a Screen", was published in Studies in Musical Theatre from Intellect Ltd., and a revised version featuring additional research is included in "Boho Days."
"Boho Days" is now available globally for preorder in hardback (ISBN 978-3-00-059113-6) and digitally (978-3-00-059112-9) in the US, Canada, UK, and Germany. Hard copies are available from all bookstores. Digital distribution is serviced through StreetLib. Libraries can order via Ingram and Overdrive.
J. Collis earned his Master of Arts in Theatre Studies from the Royal Central School of Speech & Drama before working as a part-time freelance theatre and media critic. Following a path into production, he has since moved into film localization and streaming media. He currently resides in Berlin, Germany.